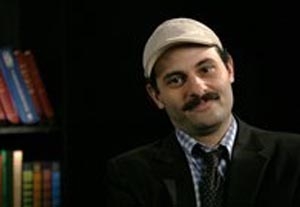 NEW YORK – Arian Moayed and his daughter have a little ritual every day when he goes off to the theater:
"Baba, where are you going?" Olive asks.
"I'm going to work," he tells the 2 1/2-year-old on his way out the door to appear in "Bengal Tiger at the Baghdad Zoo" opposite Robin Williams.
"Baba working with Peter Pan?" (Williams' role in the film "Hook.")
"Yeah, Baba's working with Peter Pan."
"Baba flying?"
"No, that's `Spider-Man.'"
Olive doesn't get it.
"That joke never lands," Moaoyed says in an interview, cracking up.
It's hard not to smile when you're around Moayed, 31, a hardworking actor, fledgling screenwriter and co-founder of an avant-garde multimedia theater company who is enjoying the most success of his young career.
His soulful turn as an Iraqi gardener-turned-translator in Rajiv Joseph's rich and powerful play has earned him more than just critical acclaim. It has also translated into a featured actor Tony Award nomination in his Broadway debut.
Later this month, he will compete against Mackenzie Crook in "Jerusalem," Billy Crudup from "Arcadia," John Benjamin Hickey in "The Normal Heart" and Yul Vazquez from "The Motherf---- With the Hat."
Moayed doesn't need much more right now. His cup runneth over. "I've already won. I've been nominated for a Tony," he says. "This Iranian-born kid from Glenview, Ill., was nominated for a Tony? Listen, I'm all set. I'm all good right now."
He's been with the play virtually since the beginning, appearing in its world premiere in the summer of 2009 at the Kirk Douglas Theatre in Los Angeles before it landed at the Mark Taper Forum last year.
Moayed compares the play — a Pulitzer Prize finalist last year — to the epic "Angels in America" by Tony Kushner. "The scope of it was so massive that it seemed impossible," he says. So taken by the play was Moayed that he refused to do any project that interfered with it.
"I knew it was a historic play. I knew that this was a play that people would be talking about for ages to come. For me, literally, everything else came second," he says. "It was very, very important for me to see this until the end."
Just don't ask him to summarize what it's about. Even though he's performed it some 200 times, "Bengal Tiger at the Baghdad Zoo" is one of those plays that's hard to pin down, exploring fate, revenge and religion — not to mention the Iraq war.
"Every three or four weeks, I have a new idea about what this play means. Right now, it's survival of the fittest. I'm sure the play is about survival of the fittest. Talk to me in two weeks," he says. "There's so much meat on that bone, that you can always find new things."
One of the things Moayed loves most about the role he plays is that the part of Musa is neither purely good nor evil. It's a complex, rich part that in many ways represents Iraq itself, a far cry from the usual stuff Moayed is offered.
"There are two categories of Middle Easterners represented in entertainment: terrorists and overly sympathetic victims. The majority of people don't live in that. It's equally wrong to put someone in the pity-me category as it is to put them in the terrorist category," he says.
Moayed, a Farsi speaker who learned lines in Iraqi Arabic and has grown a lush mustache for the role, savors the feedback he's had, including a group of Iraqi refugees who recently went backstage after a performance to congratulate and hug the cast, their faces red from crying.
"It was very emotional," says Moayed, whose voice cracks at the memory.
Robyn Goodman, who produced the play, says Moayed throws everything he has into the role. "He's incredibly connected and truthful at every performance that I see. He never strays into pandering to the audience or losing energy or anything," she says. "He's extraordinarily gifted and has a great craft. He's a real man of the theater."
While the cast remained the same as the play moved East, Robin Williams stepped into the role of the tiger for the Broadway run. Moayed says the Hollywood star shows up early to practice and always acts like a member of an ensemble.
"At the end of the day, I have a lot of people to thank for all this, but Robin really did a huge service to us because he could have picked any play," says Moayed. "He is singular. I mean, his work ethic is extraordinary."
Moayed, who moved with his family from Iran to the Chicago suburbs at age 5, graduated from Indiana University in 2002 after having acted in plays by Shakespeare and Chekhov. "I rarely played anything in the `brown' category," he says.
He's very picky about roles, especially now that he has kids. Besides Olive, he and his girlfriend Krissy Shields are parents of 3-month-old Ivy, and Moayed says he doesn't want the girls to grow up and one day catch him in an old movie wearing a mask and screaming "Death to America!"
"Everyone has a version of this. My Hispanic friends are like, `I'm not doing drug dealers.' My black friends are like, `I'm not going to do a prison scene.' We've all got our things," he says.
"It's very tricky, which means I don't do a lot of film and TV right now, which is fine. I can feel that it's changing, which is a good thing. Roles like this help. Roles like this being on Broadway help."
Moayed is also taking matters into his own hands. He and Tom Ridgely co-founded the ensemble theater company Waterwell in 2002 and have produced more than a dozen shows, including the current "Goodbar," a rock-cabaret adaptation of the 1975 novel "Looking for Mr. Goodbar." Waterwell, he says, was founded to empower, enlighten and entertain.
"We were idealistic 22-year-olds who wanted to change the world with theater. We would say that to our friends and they'd laugh, which is fine. But 10 years later, we still say the same thing: We want to change the world," Moayed says.
He's also anticipating cameras rolling next year on his debut screenplay, "This Island Made Me" starring Campbell Scott. It's about an 11-year-old Iranian immigrant trying to get his scattered family members together for a holiday concert.
"It's really the story of all immigrants, in a weird way. It's not really specifically my story but I know so many of these stories," he says. "It's an American dream story."
His own parents, who initially had to scrape by in America after sacrificing prestigious jobs and degrees in Iran, are overjoyed that their son is making it. The Tony nomination made them happy.
"When they found out they were crying and excited," he says. "Afterwards they're like, `So, maybe you'll get a movie?'"
---
Copyright 2011 Associated Press.  All rights reserved.  This material may not be published, broadcast, rewritten, or redistributed.