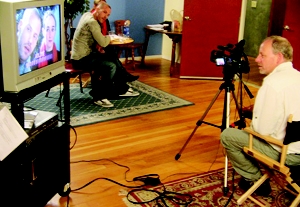 Not so many years ago, acting classes were fairly uncomplicated affairs. You needed a spacious, well-lit studio. You would add perhaps a few chairs and tables or movable blocks for scene study work. Top that with a teacher who knew what he or she was about, plus students eager to master the craft, and you were set. In some cases, that model still holds. But many, if not most, acting classes have become decidedly more complex.
Consider the catalogue of equipment that Los Angeles acting teacher Brad Greenquist (
www.bradgreenquist.com
) uses in his acting-for-the-camera classes. "I have a Panasonic DVX100A camera that I shoot with, usually on a tripod but sometimes hand-held or with a dolly," he reports. "I have a boom and a boom pole and a Røde mike, and also an Audio-Technica lavaliere system with a portable receiver-mixer, which allows me to use two lavs to pick up clean audio from two actors and/or for my instruction or commentary. I also have a basic Lowel light kit—three lights; a C-stand for backlight; and a few small specials that I employ from time to time, the latest being an on-camera Obie for quick, simple front light. And lots of cables and power cords!"
But all that is just for starters. Greenquist also uses a television monitor, a DVD/VHS player, and "these little gizmos from Pinnacle that allow me to record directly onto flash drives," he says. Then there's Greenquist's "peripheral stuff": reflectors, apple boxes, slates, sandbags, a "furnie pad," and tapes in various colors to mark the actors' positions.
So, are today's acting classes becoming more about the technology and less about the human element? Back Stage asked Greenquist and other instructors about how they incorporate technical elements into the classroom and how they manage to keep the focus on the students' artistic growth rather than on the hardware.
The Next Best Thing to Being There
Greenquist explains that he is, first and foremost, an actor. He has booked jobs consistently in theater, television, and film for decades. His goal as a teacher, he says, is to approximate the technological realities that an actor would face when stepping onto the set of a major feature film or television series.
For instance, he helps students practice with "racking focus." "You have to maybe wait a moment in the scene for the focus to land on you before you turn and say your line," he explains. He also helps students learn how to move the face toward the lens, how to speak effectively into boom and body microphones, and how to "deliver a two-shot without turning it into a profile."
Greenquist's pedagogy has evolved along with the technology. He began with a simple camcorder to record the actors' work. Only gradually did he amass his techie treasure trove. He says the focus in his classes is always on making the actor adept with actions and movements that may feel uncomfortable but that register on camera as perfectly natural:
"Last week I said to one actor, 'Look, throughout the scene, do not take your eyes off the actress you are working with, and do not blink. And if you have to blink, do it on her line. Because the editor is going to cut to her on her line, and that's when you can blink or scratch your nose or do anything with your face that you can't let anyone see. But as soon as your line starts, you have to be looking at her and not blinking.' And it made the performance so much stronger."
Falk Hentschel, a longtime student of Greenquist's who recently booked a role in the new Tom Cruise film "Knight and Day," claims that the classes have made him feel much more at ease on real-life movie shoots. "When I finally went on bigger movie sets, it definitely gave me a level of comfort, because nobody on set tells you" things, he says. "I mean, people expect you to know it or to learn quick. I felt that I had an advantage in not freaking out when this or that term was used."

See What You're Doing Here?
High-tech elements also prove valuable in courses that focus on audition technique or voiceover work. Jana Bozeman wanted to improve her commercial auditioning skills and was drawn to classes taught by Stuart K. Robinson (
www.stuartkrobinson.com
) in Los Angeles. She says the value of his course work is that it helps her understand the psychology of the audition room.
"Stuart will play the part of the camera guy in an audition," Bozeman explains. "He'll teach you how to navigate auditions and make smart choices, listening to what the camera guy tells you but also listening to your instincts and gearing your audition toward booking and toward being seen—having your eyes seen." Like Greenquist, Robinson is an actor. But he also did a stint in a commercial casting office, where he picked up tips and strategies for consistently booking work.
Perhaps his most important tool is his Sony PD-150 camera. "I like it because it doesn't require a lot of light," he says. "In situations where the background isn't great, it still gives true images. It really gives students a sense of what they look like in auditions. I can also roll tape and digitize things and edit if they need me to tape auditions that they're going to submit online."
Robinson's dexterity with the camera, he says, allows him to show students their particular audition weaknesses—something that would not be possible if he merely set up a stationary camera for a medium-range shot. "For example," he says, "one actor may have nervous energy in their body and be shuffling from foot to foot. I then open up for a very wide shot and show them how that happens. Another student may be really uncomfortable with their arms. So I make sure that I include that. A third actor has a little bit of nervous tension in the jaw line, so I zoom in."
In addition to the audition class, Robinson teaches a scene study and demo reel course, which culminates in an on-location shoot that provides students with clips featuring them in starring roles. For these shoots, he uses even more sophisticated camera, lighting, and sound equipment.

Sound Advice
These days, to be a viable voiceover actor, you need to be much more tech-savvy than in the old days, when you would travel to a studio to record your auditions. David Lawrence XVII (www.davids.com), an actor ("Heroes") who teaches voiceover classes in Los Angeles, says of the new reality, "Today you're basically receiving an email with a PDF or a Word document that has the script in it, and you're expected to have home equipment that you can record your audition with—with studio quality or near studio quality—and then send that audition back to your agent, who will assemble all the auditions that he or she has asked for." He adds, "There are some agencies that will not represent you if you do not have home equipment."
What has happened in the business of voice acting, Lawrence explains, is a phenomenon he calls "disintermediation." In effect, the middlemen have disappeared. Now, he says, with websites like Voice123.com and Voices.com, booking a job very often boils down to a two-party dialogue: "Hi, I'd like to buy your voice" and "Hey, I've got a voice you'd like to buy."
Each of Lawrence's classes focuses on either a particular line of voice work (commercials, interactive voice response, etc.) or a particular aspect of voice career management, such as how to find an agent or how to deal with online casting. He explains what would occur, for instance, in a course dedicated to children's audio books: "There will be sample material from children's books, and I'll direct on the performance of that material. Then I record that in Pro Tools and send their little miniclip later on that night. You can use that as a bridge between not having any demo at all and eventually getting a full-on demo produced" in the children's audio book category.
One tool that Lawrence uses is an application he developed called Rehearsal,
for script work and memorization
. With it, you can receive a script or audition sides in a PDF file, forward it to a secret email address on the Rehearsal server, and then bring it up on your iPad, iPhone, or iPod Touch. You can scroll through the script, highlight your lines and cues, and make notations. You can also record yourself in an audio loop that plays simultaneously as the written script scrolls.
Technology permeates Lawrence's classes. Students even register for them through an online ticketing system, using a PayPal account. He also distributes the syllabus and homework assignments online.
Picture This
Not all classes rely on the same technological bounties as those of Greenquist, Robinson, and Lawrence. Casting director Jandiz Estrada teaches auditioning-for-the-camera courses in New York City. The extent to which she is able to use technology depends in part on the various studios where she teaches. "In some classes," she says, "I use a program on a computer that is hooked up to a camera that uploads the footage and instantly converts it into a condensed file."
Even fairly basic technology—such as digital still photography—can be a boon to the acting curriculum. When Buenos Aires, Argentina–based Back Stage reader Mariana Vily took Laura Silva's Shakespearean acting course last year, she was surprised that digital photos were snapped during improvisations. When Vily saw the photos, she was struck not only by the way her memory of the exercises differed from the pictorial representation but also by the way the spontaneously generated arrangement of actors seemed pictorially designed. When it came time to stage scenes, the class drew on their memory of the improvisations. "I suppose those pictures were a good reference when choosing how to distribute the actors on stage," says Vily.
In a print modeling course at the
Colorado School of Acting
in Denver, a local professional photographs students in the class. According to one of the school's founders, Troy Horne, shots taken in class are projected onscreen and analyzed so the students become aware of which poses work for them and which do not. Photos taken of them in real-life situations are also made available to buyers of stock photography, so the students can "earn as they learn."
Horne says the school also offers students assistance in building their own websites, including instruction in search-engine optimization. "You need to find out what terms people are searching and how to get yourself to come up high under those searches," he says, "because traffic is also a big, big key toward getting exposure for your career."
Techno-Proficiency
Increasingly, technology is second nature to student actors. "It's a part of the culture," says Robinson, although he notes that a big part of his instruction still involves getting actors comfortable with the camera. "I think it's going to be a tough road to make a living in a business where you live in front of the camera if you don't have a real good relationship with the camera."
Teachers strive to have patience with technophobic pupils. Carol Herman, a student of Lawrence's, notes, "David's great sense of humor makes learning fun, even for those who consider themselves technically challenged. One can walk into a David Lawrence voiceover class feeling like a bumpkin and leave with a positive sense of accomplishment."
But even someone like Lawrence sometimes meets resistance, especially from older students. He recalls a conversation with one actor: "I said, 'So, how do you get your auditions when your agent sends them to you?' 'Oh, I have my nephew come in every other day or so and see if I have any email.' I'm like, 'Okay, if he comes in on Wednesday or Thursday and you've got an audition on Tuesday, what happens?' 'Well, I guess I miss out on that one.' And that drove me crazy."
Lawrence equates this sort of technophobia to being an actor in L.A. who refuses to drive or an actor in New York who won't use taxis or subways. Those who use technology get more turns at bat, he says. "If auditions and work is a numbers game, you're absolutely going to get more work if you get more opportunities to audition."