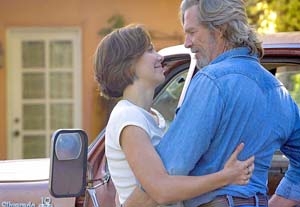 As part of Back Stage's ongoing "An Evening With…" program, Maggie Gyllenhaal spoke to a sold-out house following a screening of "Crazy Heart" on Thursday, Feb. 11 in Los Angeles. The film, which has won a Golden Globe and a Screen Actors Guild Award for lead actor Jeff Bridges, recently earned Oscar nominations for both Bridges and Gyllenhaal. The song "The Weary Kind," by Ryan Bingham and T Bone Burnett, was also nominated.
In the film, Bridges plays Bad Blake, an alcoholic country singer who falls for Gyllenhaal's journalist Jean while on the road. Jean is also the single mother of a 5-year-old son, played by Jack Nation.
Gyllenhaal revealed that she first met Bridges at the premiere of her film "Mona Lisa Smile," in 2003. "I went up to him and told him how much I loved his work," she recalled. "And he told me, 'We'll work together someday.' I couldn't stop smiling for a week, I was so happy." When she received Scott Cooper's script for "Crazy Heart," Gyllenhaal was informed that both Bridges and Robert Duvall were attached to star. "It would have had to have been an awful script for me to say no," she noted. "And it was anything but. It was beautiful."
"Crazy Heart" is distributed by Fox Searchlight and is currently in theaters. More information is available at www.foxsearchlight.com/crazyheart/.