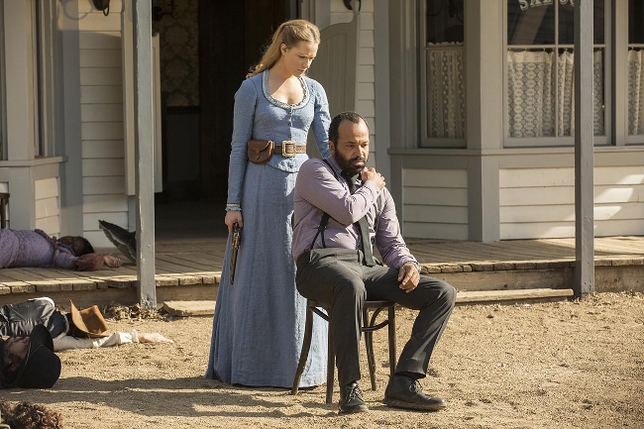 Peak TV keeps upping its game year after year. In the lead-up to the 2017 Emmy Awards Sept. 17, we're listing each nominee in major acting categories: why they're great, why they deserve the trophy, why we at Backstage can't stop thinking about their astonishing performances. Many of this year's honorees in the drama categories are first-time nominees or are appearing in brilliant new series across cable, network, and streaming platforms.
OUTSTANDING LEAD ACTOR IN A DRAMA SERIES
Sterling K. Brown, "This Is Us"
When someone has to deal with meeting their formerly drug-addicted biological father, it's not usually something you would want to watch. But you can't look away from a performer like Brown. Playing the multifaceted Randall Pearson means the Emmy winner gets to throw out solid one-liners, have mental breakdowns, and preach the truth, allowing him to craft a character so enthralling, it's no wonder this star is on the rise.
Sir Anthony Hopkins, "Westworld"
Hopkins is downright hypnotic as the creator of this HBO drama's titular theme park world. It's not just his command over the script—subtly shifting his cadences to keep us guessing at Robert Ford's underlying feelings—it's his carefully cultivated, almost viper-like demeanor. Hopkins never disappoints.
Bob Odenkirk, "Better Call Saul"
As this riveting spinoff delves deeper into the thorny morality of ambition and survival, Odenkirk continues to show us streaks of the "Bad" habits that built his character's rascally reputation. With the knowledge of that final meth-charged outcome in the back of the audience's minds, Odenkirk gives an increasingly refined performance, adding new layers to the dodgy lawyer's present tense.
Matthew Rhys, "The Americans"
Rhys one-upped his typically great performance as Soviet spy Philip yet again in the fifth season of "The Americans." Plumbing the depths of infidelity and trust while facing the repercussions of staying in his line of work has given Rhys, a double Emmy-nominated actor this year, wider emotional range to tackle—all of which he explores unflinchingly.
Liev Schreiber, "Ray Donovan"
Things just keep getting more complicated for the titular antihero of this Showtime drama—and that includes Schreiber's performance. Loving father, guilty husband, violent fixer; Schreiber brings each color to life and then seamlessly blends it with the rest of the palette. And he still makes you care about the guy.
Kevin Spacey, "House of Cards"
What's most terrifying about Spacey's increasingly daring portrayal of Frank Underwood is how prescient it turned out to be in the wake of this real-life presidential election. A charming bully who uses every tool at his disposal to accomplish his own goals and operates in politics seemingly only for the sake of power—is life imitating art?
Milo Ventimiglia, "This Is Us"
On paper, the day-to-day life of a father of three doesn't sound like it would make for a riveting TV show. But with the terrific Ventimiglia playing the character, things start to get interesting. Endless care, tireless loyalty, and dad jokes abound; Jack Pearson is the culmination of everything anyone ever wanted in a dad, yet Ventimiglia still manages to make him feel real.
OUTSTANDING LEAD ACTRESS IN A DRAMA SERIES
Viola Davis, "How to Get Away With Murder"
Davis sinks her teeth into the role of treacherous defense attorney Annalise Keating and carries a show full of murderous twists so cheesy you'll swear off lactose. The Emmy (and recent Oscar) winner is a diva for the ages, as brash and ballsy an antihero as any of her white male counterparts on television. We wish there were more characters—and performances—like hers.
Claire Foy, "The Crown"
It's no small feat to portray a real person onscreen—let alone one who is still alive—but in the first season of Netflix's "The Crown," Foy does so with grace, nuance, and a subtle fire as Queen Elizabeth II. The Golden Globe and SAG Award winner makes for a thoughtful study on the meaning of power, all while balancing a 3-pound crown on her head.
Elisabeth Moss, "The Handmaid's Tale"
Peering out from between the bone-white wings of her handmaid's bonnet, Moss takes on the role of a lifetime, navigating the despair of an oppressive dystopian world with dignity and aplomb—and a wickedly dark sense of humor. She's at her most subtle and skilled when the stakes are highest, and watching her navigate the potential pitfalls served up by the depressingly relevant Gilead can be revelatory.
Keri Russell, "The Americans"
If any current Russian spies are as ruthless as Elizabeth Jennings, we're in trouble. As both an American matriarch and a loyal Soviet agent, Russell radiates determination, even danger. And while "The Americans" features excellent dialogue, watching her magnetically wordless acting is one of its most delicious treats.
Evan Rachel Wood, "Westworld"
Wood has referred to this series as the "acting Olympics," and after watching her as Dolores for just one season, we believe her. Keeping track of the mind-boggling layers to her character—a sentient robot trying to mask her free will by pretending to still be controlled—is enough to make you short-circuit. Throw in the panache with which she strikes her various notes, and this is an especially merited nomination.
Robin Wright, "House of Cards"
While "House of Cards" started as the story of Frank Underwood, Season 4 showed audiences that the other Underwood was really the one to watch. Starting out as the wife of a congressman, Claire finds herself boosted to the highest level of government in Season 5, proving just how prepared she is for the position. With an unstoppable performance, Wright shows us what it means to be an unstoppable woman.
OUTSTANDING SUPPORTING ACTOR IN A DRAMA SERIES
Jonathan Banks, "Better Call Saul"
Banks is a master of the close-up. When the camera inches toward the actor's face, you see both sides of his Mike Ehrmantraut: the cold-blooded hitman and the weary, tenderhearted grandfather. How does Banks use a grunt, a glare, or a subtle twitch to convey either side—let alone both at the same time?
David Harbour, "Stranger Things"
Harbour is given juicy material on Netflix's surprise hit: an irascible, tough-guy character, complete with a secret, mournful past. But pure charisma is what elevates police chief Jim Hopper on the screen. Amid all the monsters and skin-crawling suspense, it's this actor's grounded approach that legitimizes "Stranger Things." You get the sense that even reading a phone book, Harbour could be absolutely engrossing.
Ron Cephas Jones, "This Is Us"
If your character is struggling with a terminal illness, your first choice as an actor might not be relentless optimism. But for an experienced actor of film, TV, and stage such as Jones, that's exactly how it's done. Hope, happiness, and a love of life is what William Hill encapsulates, and there is no one as worthy as the heartbreaking Jones to play such a lovable character.
Michael Kelly, "House of Cards"
This series gives Kelly dark material to work with, but that doesn't mean he can't make it entertaining. His ability to bring a character to life allows him to craft a whole world around Doug Stamper—and even makes the audience feel something for the man. The bluntness, dryness, and confidence that it takes to play such a role could only be successfully executed by Kelly.
John Lithgow, "The Crown"
When dealing with historical drama, an actor need not only fill the shoes of the figure in question, but also build on the legacy left behind in countless texts (and films and TV shows). Winston Churchill's story is well-known, but as the prime minister, Lithgow brings a humility, humanity, and tenderness to a titan of world history as he grapples with politics and the careful mentoring of a young queen.
Mandy Patinkin, "Homeland"
Patinkin earns his well-deserved third Emmy nod as the tough and gruff Saul Berenson in this Showtime series' sixth, New York–set season. What continues to make his performance so riveting is Patinkin's ability to wallow in the questions of right and wrong that haunt this political thriller. Nothing in counterterrorism is black and white, as Saul constantly reminds us in both word and action.
Jeffrey Wright, "Westworld"
As right-hand man to Hopkins' sinister doctor, Wright remains no-nonsense for most of this freshman series, exhibiting his character's intelligence in unassuming yet wholly captivating ways (no one can study a scene partner over the rim of his glasses like Wright). To say his late-season twist blew our minds is an understatement.
OUTSTANDING SUPPORTING ACTRESS IN A DRAMA SERIES
Uzo Aduba, "Orange Is the New Black"
Aduba's performance as Suzanne—socially inept yet hilariously confident and endlessly unstable—continues to bring the actor the awards attention she so richly deserves. "Crazy Eyes" should by all rights terrify us when, for example, she beats up her lover. Instead, we're always rooting for her, wishing the other inmates and guards at Litchfield could understand this wholly singular character.
Millie Bobby Brown, "Stranger Things"
Brown's performance on the breakout of summer 2016 makes it hard to believe this actor is only 13. Her portrayal of Jane "Eleven" Ives carries the grit of deep-seated experience that usually takes ages to cultivate. Yet here she is, delivering heart-wrenching desperation and epic ferocity like a vet. This series—and TV on the whole—is all the better for it.
Ann Dowd, "The Handmaid's Tale"
Dowd has been giving us great performances for the better part of three decades. But now, between "The Leftovers"—her other Emmy-nominated role this year—and her scrumptiously nuanced delivery on Hulu's dystopian drama, Dowd has undoubtedly hit a career high. As overseer Aunt Lydia, she's a heady mix of blunt force and for-your-own-good tenderness that does what exquisite acting can: humanizes a devil.
Chrissy Metz, "This Is Us"
For a television show to speak candidly about the struggles of being an overweight woman is groundbreaking enough, but for Metz, who plays Kate Pearson, it's only the beginning. Metz portrays her character in such a way that she becomes not only relatable to those going through the same problems, but also understandable to those who are not. The actor brings to life a fully realized woman and her struggles; in her hands, Kate could never be a one-note character.
Thandie Newton, "Westworld"
Newton has long showcased killer acting chops across film and TV, but she brilliantly bests herself again and again as fabulous brothel manager Maeve Millay in "Westworld." As the AI host learning that all's not well with her reality, her progression from the controlled to the controller over the drama's inaugural season is one of its greatest strengths. Where round two will take her is anyone's guess, but rest assured Newton will astound once more.
Samira Wiley, "The Handmaid's Tale"
This first-time nominee manages to move the needle so dramatically from the series' first episode to when she and Offred finally reconnect in Gilead, it makes us wish she'd been given more material. Wiley is perfectly cast as Moira, the rebellious friend who, despite coming close to breaking down, "gets her fucking shit together" and has us pumping our fists in the name of feminism.
Ready to audition for the small screen? Check out Backstage's TV audition listings!