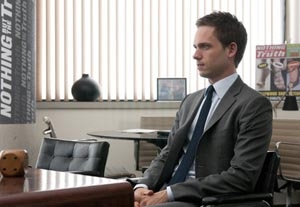 The
Emmy nominations
will be announced on Thursday morning, finally putting an end to months of speculation over who will be nominated and kicking off months of speculation over who will win. I've already given a pretty
detailed analysis of who I think will make the cut
in the acting categories, but there is always room for surprises. Here are few dark horses to keep your eye on.
The Men of USA Network:
The Outstanding Lead Actor in a Drama Series race has been ruled for years by the likes of Bryan Cranston, Michael C. Hall, Jon Hamm, and Hugh Laurie. Lately, Steve Buscemi and Timothy Olyphant have been able to sneak in. But don't underestimate Patrick J. Adams, who scored a surprise SAG Nomination this year for his work on "Suits." It's a breakthrough, star-making performance, not unlike when another USA show, "White Collar" introduced us to Matt Bomer a few years back. Adams and Bomer would both bring some lighthearted fun to a rather dour category. And don't count out affection in Outstanding Supporting Actor in a Drama Series for Bruce Campbell for "Burn Notice."

The Women of "Once Upon a Time":
Speaking of lighthearted fun, this freshman series has developed quite a following and features an outstanding ensemble cast. Particularly when it comes to women, so often downplayed in the fantasy genre. Ginnifer Goodwin and Jennifer Morrison make a fantastic mother-daughter team in lead roles and Lana Parilla gets to chew up the scenery in a supporting turn as the Evil Queen and town mayor. It's the kind of role voters love, and she just might find herself making the cut.
Movie Stars Doing Television:
I love Laura Linney, but I've never fully understood the kudos showered on her for the mediocre Showtime series "The Big C." But the Academy does like to thank movie stars for doing television—most people agree Melissa McCarthy won for "Bridesmaids" last year, not "Mike and Molly." So you might see some love for the likes of Dustin Hoffman and Nick Nolte on "Luck," Don Cheadle on "House of Lies," or pretty much anyone on "Boardwalk Empire."
Anyone from "Community" or "Parks and Recreation":
Maybe it's wishful thinking, but at some point the voters have to become aware of two of the best ensembles on television. For "Community," Joel McHale and Allison Brie have a good shot at actor and supporting actress, respectively, but it would be great to see some other cast members sneak in, as well. Chevy Chase, Donald Glover, Danny Pudi, and Jim Rash do outstanding supporting work, and Gillian Jacobs is a real breakout. Over at "Parks and Recreation," Amy Poehler gets a nod every year, and it looks like Nick Offerman might finally land his first nomination. But the rest of the cast is equally outstanding, from Rashida Jones and Aubrey Plaza to Aziz Ansari, Rob Lowe, Chris Pratt, and Adam Scott. It's an embarrassment of riches.