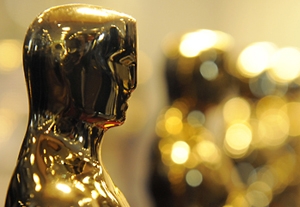 Every year brings the same two complaints leveled against the
Academy Awards
broadcast: The show is too long and too predictable. The powers that be don't seem concerned about the first problem, but if last week's
SAG Awards
were any indication, this year's ceremony might still offer a few surprises. Pundits assumed George Clooney was a lock for lead actor with his work in "The Descendants," until French actor Jean Dujardin snagged the statue for his work in "The Artist." Suddenly, the race looked a lot more competitive. So here's yet another perspective on what to expect when the envelopes are opened on Feb. 26.
First up is the sure thing: Christopher Plummer will win best supporting actor for his sublime portrayal in "Beginners" of an elderly man who comes out as gay to his son, only to be diagnosed with cancer shortly thereafter. His competition is fierce. Kenneth Branagh made a marvelous Laurence Olivier in "My Week With Marilyn" it's a flawless performance that actors love. Jonah Hill was a revelation in "Moneyball," a fast, fun turn that I'm thrilled has been recognized. Some naysayers have complained Hill isn't deserving, which just reeks of an anti-comedy sentiment to me. Everyone agrees Brad Pitt was brilliant in the film, so doesn't some of the credit lie with his scene partner? Isn't what Hill does the definition of a "supporting actor"? It seems people are more annoyed by the idea that a comedy star like Hill is now an Oscar nominee. There were some funny tweets along the lines of "When '21 Jump Street' ads play, they can now say 'Oscar nominee Jonah Hill.' "But come on—no actor has a perfect record. Need I remind anyone of the great "Norbit" debacle of 2007 in which Eddie Murphy was the best supporting actor front-runner for "Dreamgirls" at the same time billboards of him dressed as a morbidly obese woman were all over town? (And personally, I think "21 Jump Street" looks awesome.) The category is rounded out by two veterans, Nick Nolte in "Warrior" and Max von Sydow in "Extremely Loud & Incredibly Close." When I first saw "Warrior," I thought Nolte would be the one to beat. But that film's poor box office and the unstoppable Plummer have made that unlikely.
Next is the almost-sure thing: Octavia Spencer is likely winning actress in a supporting role for her wonderful work as outspoken maid Minny in "The Help." But this is a category that often pulls surprises—everyone still remembers the Marisa Tomei Incident of 1993, when the actor took home the statue for "My Cousin Vinny." So I wouldn't discount Melissa McCarthy, who is beloved by many. Or Bérénice Bejo could take it in a sweep for "The Artist." Janet McTeer was great in "Albert Nobbs," but the film wasn't seen by enough people. As for Spencer's co-star, the brilliant Jessica Chastain, I have little doubt she'll win an Oscar in the next few years. So with Golden Globe and SAG awards, Spencer is the likely choice.
For best actress, it's a race between Viola Davis in "The Help" and Meryl Streep in "The Iron Lady." Rooney Mara ("The Girl With the Dragon Tattoo") and Glenn Close ("Albert Nobbs") score victories just with their nominations. And Michelle Williams, who so beautifully embodied Marilyn Monroe in "My Week With Marilyn," poses a threat. Actors love the movie and love her, and I wouldn't discount a surprise win here. But thus far, it's been Davis and Streep running neck in neck. The SAG win puts Davis over the top, so expect to see her at the podium on Oscar night. It seems everyone wants her to win—even, to some extent, Streep. When Streep won the SAG Award in 2009 for "Doubt," she gave thanks to her co-star, saying: "The gigantically gifted Viola Davis—my God, somebody give her a movie!" Someone has, and Davis will likely best Streep at the Oscars.
Which brings us to the great unknown: best actor, a category featuring five excellent actors giving five terrific performances. I never fully believed that Clooney was the front-runner; as much as I love "The Descendants," I've heard too much grumbling from people who were left cold by the film. I was thrilled Demián Bichir scored a nod for his work as an immigrant in "A Better Life," but in many ways the nomination itself is a huge victory. And nothing made me happier than Gary Oldman receiving his first Oscar nomination for his controlled, beautiful turn in "Tinker Tailor Soldier Spy." For a long time, I've believed Pitt would pull off a win for his stunning work in "Moneyball." He's one of those actors who makes it look easy but is so good at what he does. And he's never won, despite two previous acting nominations. He's also doing the publicity rounds for the film, which is a nice push in these final weeks. But then, Dujardin won the SAG Award for "The Artist," a performance that offers something quite different from the rest. So I'm starting to think it's anyone's game. We might get a better idea on Feb. 12, when the BAFTA Award winners are revealed; the Academy shares many voters with BAFTA. If they want to recognize their fellow countryman Oldman, a win would put him in this race as a real contender. If Dujardin can win the BAFTA, it's likely over—he'll win the Oscar. But I still wouldn't discount Clooney or Pitt.
Whatever happens, Dujardin's SAG win has reinvigorated the race and brought some drama that was sorely lacking last year. But there are still things we can count on at this year's Oscar telecast: tears, laughter, and complaints about the run time.