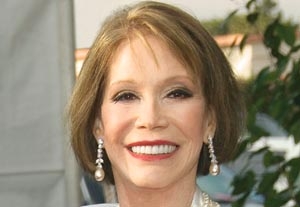 When Mary Tyler Moore turned the world on with her incandescent smile and flawless comedic timing as the co-star of CBS's "The Dick Van Dyke Show" (1961–66), a relative newcomer to showbiz quickly achieved widespread popularity. She sparkled in the role of Laura, the perky but occasionally weepy wife of TV comedy writer Rob Petrie (Dick Van Dyke). Moore subsequently made a quantum career leap when she starred in the trailblazing sitcom "The Mary Tyler Moore Show" (1970–77), the funny yet incisive portrait of a fiercely independent single career woman making her way through the urban jungle. Winning 29 Emmy Awards, the ensemble series set new standards for sophisticated television comedy. As Moore's versatility grew in a career spanning six decades, she blossomed into a highly respected and beloved performer. To honor her luminous career, the Screen Actors Guild will present Moore with its annual Life Achievement Award at the union's Jan. 29 SAG Awards ceremony in Los Angeles, airing live on TNT and TBS.
'Ordinary' Becomes Extraordinary
Among Moore's milestone performances are her mesmerizing Oscar-nominated turn as a desperately unhappy suburban matriarch in director Robert Redford's heart-wrenching drama "Ordinary People" (1980); her Tony-winning Broadway portrayal of a character originally played by a man in Brian Clark's "Whose Life Is It Anyway?" (1980); and her work in the raucously satirical film "Flirting With Disaster" (1996), in which Moore hilariously played against type as the abrasive and bawdy adoptive mother of a prodigal son (Ben Stiller).
Many acclaimed TV films grace Moore's résumé, such as "First You Cry," "Stolen Babies," "The Gin Game," and especially the bloodcurdling "Like Mother Like Son: The Strange Story of Sante and Kenny Kines," featuring Moore as a sociopathic murderer, with Jean Stapleton as a helpless victim. Moore has also scored strongly when revisiting the skills honed during her early training in dancing and singing, as in the 1967 film musical "Thoroughly Modern Millie" and on many television variety shows and specials. Besides her achievements as a performer, the multifaceted Moore is a devoted philanthropist (for animal rights and as chairman of the Juvenile Diabetes Research Foundation) and has been a television producer (for MTM Enterprises, which she founded with her then-husband, producer Grant Tinker).
Memories From the Yellow Brick Road
In his 2011 memoir, "My Lucky Life In and Out of Show Business," Van Dyke explains how Moore very quickly won him over after she was cast opposite him on "The Dick Van Dyke Show." "I was concerned that Mary wasn't much of a comedienne," he wrote. "But as rehearsals progressed, her timing became perfect. The first time I stood across from her in rehearsal and heard her say, 'Oh, Rob!,' I thought, That's it, we're home." The book also includes Van Dyke's confession of his "crush" on Moore. He asks, "Who wouldn't adore Mary?"
Van Dyke's sentiments are shared by many. Moore's peers and associates consider her a beacon of professionalism, talent, warmth, and class. Several of her most distinguished collaborators graciously agreed to provide Back Stage with their recollections of working with her.
Ed Asner (the crusty but lovable Lou Grant on "The Mary Tyler Moore Show") says, "I spent seven long years in the trenches with Mary Tyler Moore, and I cannot think of a finer trenchmate. She's a consummate artist, the most generous, giving star of a show I have been around. She allowed us to screw up or sparkle, left it to others to either lift us up or take us down. And all that time, she was doing her part to make the scene work, to make the moment work. Nothing was ever too hard for her to attempt. Granted, of course, we worshipped her on bended knee and cuddled her terribly. She was our star. She truly was, and in the finest sense of the word. She never made things difficult; in fact, she always made things easier. She always filled in her slot to the fullest and never stole from you. She never directed you, never put you down. She respected the talent around her. I describe the seven years of 'The Mary Tyler Moore Show' as seven years on the Yellow Brick Road."
Carol Channing (wacky millionaire Muzzy Van Hossmere in "Thoroughly Modern Millie") remarks, "What a joy it was to work with Bea [Lillie], Julie [Andrews], and Mary on 'Thoroughly Modern Millie.' Bea was a mentor, while Julie was the rock from whom both Mary and I eagerly took our cues. Mary was a good student. She was very professional and prepared. She possessed a desire and dedication to reach beyond the expectations of others and give the director, the cast, and the audience even more than they had hoped for. I still love that tap-dancing scene in the elevator."
Valerie Harper (witty and sharp-tongued Rhoda Morgenstern on "The Mary Tyler Moore Show") speaks about Moore's supportive friendship: "When it was decided that 'Rhoda' would spin off from 'The Mary Tyler Moore Show,' I expressed my trepidation to Mary. I was afraid to leave the rapturously happy, loving environment of her show for the scary unknown. She—generous, supportive darling that she is—said, 'C'mon, Val, do it. You don't want to be my sidekick all your life, do you?' 'Yes!' I declared. 'Yes, I do!' And so do millions of others the world over. Lucky, lucky me!"
Gavin MacLeod (kind but slyly sardonic Murray Slaughter on "The Mary Tyler Moore Show") offers the following: "In my 60 years of working in show business, Mary Tyler Moore is, without question, the most talented and beautiful boss I have ever had."
Rose Marie (drolly funny Sally Rogers on "The Dick Van Dyke Show") shares this: "I was very proud to have the chance to work with Mary and to have her become a part of my life. I know how hard she worked to get into the position she is in today in our business and to be honored by the Screen Actors Guild with their Life Achievement Award. She very much deserves to be so recognized for this award."
Actor-writer Carl Reiner, who created the Van Dyke series (which was inspired by Reiner's own life) and who was a semiregular on the show as egomaniacal TV star Alan Brady, shares observations about Moore landing her role: " 'I don't know what I'm looking for,' I told [producer] Sheldon Leonard after reading 25 different girls for the part of Laura for 'The Dick Van Dyke Show.' Sheldon said, 'You'll know when you see her.' And then I saw her—Mary Tyler Moore—and I knew I had my Laura."
In a 2006 Back Stage interview, we asked Moore if there are any missed career opportunities or lost roles along the way that she regrets. She replied that she couldn't think of any. Then she added, "After all, in 'Change of Habit,' I got to be Elvis Presley's last leading lady." Indeed.