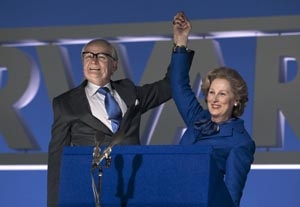 Film critics have a good batting average in predicting who will be tapped for the
SAG Awards
, which are often a guidepost to the Oscars. According to the critics we spoke to, the contenders for best leading actor include Leonardo DiCaprio (for "J. Edgar"), Jean Dujardin ("The Artist"), Michael Fassbender ("Shame"), Brad Pitt ("Moneyball"), Gary Oldman ("Tinker Tailor Soldier Spy"), and Ryan Gosling ("The Ides of March").
The unequivocal front-runner, however, is George Clooney for "The Descendants," a family drama about a self-absorbed man who morphs into a loving, civic-minded father while his wife lies in a coma. Clooney's sensitive portrayal was repeatedly praised for showing a side he had not revealed before. "It's the strongest performance he's ever given," says Kevin Lally, executive editor of
Film Journal International
. "It's a tragic story with comic moments, and Clooney gets a chance to show his range."
The other reviewers who weighed in on this year's SAG Award contenders are Pete Hammond, film critic for Back Stage and awards columnist for
DeadlineHollywood.com
;
Leonard Maltin
, film critic and author of "Leonard Maltin's Movie Guide"
Dave Karger
, senior writer at Entertainment Weekly; and
Anne Thompson
of Thompson on Hollywood at Indiewire.com.
Among the Actors
Dujardin was commended for his portrayal of a silent-film star whose professional days are numbered as talkies become the rage. What makes his performance more striking is that "The Artist" is itself a silent film and Dujardin had to adapt to its conventions while creating someone plausible to a contemporary audience. Even without the advantage of spoken dialogue, he was able to be funny, touching, and musical. "It is a charming performance of a character we don't see in any other movie," says Maltin. "He has to embody the persona of a popular actor with a healthy ego and make him a real person." Dujardin's charisma impressed Karger. "You can't take your eyes off him," he says.
Not all the critics were great fans of "J. Edgar," but quite a few were impressed with DiCaprio's ability to age 40 years onscreen and, despite the heavy makeup, give a truthful performance. "It's a showy biopic, but he pulls it off," says Hammond. Thompson admired DiCaprio's ability to make Hoover human. "You do care about him, even as he turns into a monster," she says. "DiCaprio shows how that happens, and it's a remarkable achievement. It's the best work he's done."
Pitt's work in "Moneyball," in a role that Paul Newman or Robert Redford might have tackled, generated lots of kudos. It's a nuanced performance that anchors the movie, says Karger. In playing the edgy and coolly predatory general manager of the Oakland A's, Pitt is "no longer just a pretty boy," adds Lally.
Fassbender, who depicts a sleazy sex addict in "Shame," was noteworthy in a gritty film that might not be to all tastes, but he earns points for many great recent performances—in "Jane Eyre," "A Dangerous Method," and "X-Men: First Class," among other films. "In 'Shame,' he has made himself so vulnerable and exposed—literally," says Thompson. "It's a tour de force performance." Lally believes it's a provocative performance, but as you watch it, he says, "you think this is a legendary actor in the making."
As novelist John le Carré's legendary spy George Smiley in "Tinker Tailor Soldier Spy," Gary Oldman "gives a low-keyed, understated, solid, dependable performance," says Hammond. "And he's living in the shadow of Alec Guinness," who played the role in the 1979 TV miniseries. Karger insists that awards recognition for Oldman is long overdue, as it is for Gosling. "His performances are all so dead-on," he says of Gosling. "He gives an intriguing performance in 'The Ides of March.' " Adds Thompson, "He almost makes it look too easy."
Other actors admired by the critics this year but who are longer shots include Demián Bichir, as a Mexican gardener in "A Better Life" Woody Harrelson, who played a corrupt cop in "Rampart" and Joseph Gordon-Levitt, for his portrayal of a cancer patient in "50/50."
Leading Ladies
At the time of our interviews, none of the critics had seen "The Iron Lady," starring Meryl Streep as Margaret Thatcher. Yet the consensus was that Streep is the front-runner, given her track record and her dead-on impersonation. And stars of biopics are often heavy favorites.
Consider the praise that Michelle Williams is garnering for her portrayal of Marilyn Monroe in "My Week With Marilyn," a look at the legend while she was shooting "The Prince and the Showgirl," directed by and starring Laurence Olivier (played by Kenneth Branagh). It's a three-tiered interpretation, the critics agree: Marilyn in her public persona, Marilyn playing Elsie in "The Prince and the Showgirl," and, most central, Marilyn as the private and vulnerable Norma Jean. "This film is about the woman behind the icon," says Lally. "You get the sense she's really struggling to be an artist and that her neuroses come out of real pain and a hunger to change and evolve. She's not just the cliché image of a totally irresponsible booze and pill addict."
Viola Davis was tapped by the reviewers for her powerhouse performance in "The Help" as the heart and soul of the film. "She carries the movie," says Thompson. "It's her story, her narration, and she's magnificent and moving and real." "From the moment you see her, you recognize this woman," adds Maltin. "You empathize with her. She conveys a range of feelings without ever resorting to theatrics."
Glenn Close, who in "Albert Nobbs" plays a woman who disguises herself as a man to find work as a servant in 19th-century Ireland, is another strong contender. For starters, the role is especially challenging, not just for its gender-bending but because the character is "isolated, lonely, and closed down," says Thompson. "That's hard to do." "There are not a lot of big emotions," says Hammond. "Repression is very difficult to play." Adds Maltin, "It's a performance of great control and subtlety." The film has been a passion project for Close, who played the character Off-Broadway 30 years ago in a play based on the short story "The Singular Life of Albert Nobbs." She is also publicizing the film heavily, and awards voters are drawn to that, say the critics.
Tilda Swinton was also acknowledged for her stellar turn as an anguished mother who realizes that her child is evil in "We Need to Talk About Kevin," though the darkness of the film may work against her, the reviewers suggest. The critics had not yet seen "Extremely Loud and Incredibly Close," "The Girl With the Dragon Tattoo," and "Young Adult," but they refused to count out Sandra Bullock as a woman who lost her husband on 9/11 in "Extremely Loud," Rooney Mara as the brilliant and perhaps sociopathic Lisbeth in "Dragon Tattoo," or Charlize Theron as a delusional child-woman in "Young Adult."
Support Staff
Among actors in supporting roles, Christopher Plummer is the hands-down favorite for his depiction of a husband and father who comes out of the closet when he is 75 and dying of cancer in "Beginners." Hammond describes the performance as "touching but not maudlin," while Maltin talks about the nuance required to play an older man who reinvents himself by coming out. The widely respected Plummer is 82 and has only one Oscar nomination to date, for his striking performance as Tolstoy in "The Last Station," which adds to his appeal.
Kenneth Branagh is also high on the list for channeling Laurence Olivier in "My Week With Marilyn." "He doesn't look like Olivier, but he catches his ego and impatience with Marilyn," says Lally. "It's a real comic performance, and you know early on how he feels: 'What have I done? Why did I get involved in this project with this woman?' " The phrase "delicious fun" was repeated by the critics.
As the whiz-kid statistician in "Moneyball," Jonah Hill is a possible contender, in part because "he's usually seen in crass, R-rated comedies," says Thompson. "In this film, he does some really good dramatic acting." In the same vein, Albert Brooks' name came up for his unexpected turn in "Drive," playing a heavy with conviction in a violent action film starring Gosling.
Though it may raise eyebrows, the critics suggest that Andy Serkis is an awards candidate for his performance as the lead ape in "Rise of the Planet of the Apes." He does top-notch work in the role, but it's questionable whether actors will vote for a motion capture performance, say the critics. Maltin thinks the industry must eventually grapple with the use of digital technology in acting. "Serkis gives a powerful performance even though it's been interpreted and enhanced," he says.
Jim Broadbent, who plays Denis Thatcher in "The Iron Lady," and Max Von Sydow, as an emotionally thwarted man in "Extremely Loud and Incredibly Close," were also cited, though the critics had not yet seen the two films. Among the longer shots: Nick Nolte as a recovering alcoholic ex-boxer in "Warrior," Pitt as the rugged father in "The Tree of Life," Patton Oswalt as a middle-aged man stuck in the past in "Young Adult," and Clooney and Philip Seymour Hoffman in "The Ides of March."
On the distaff side, 13 actors were cited as awardworthy, but Janet McTeer was the front-runner for her portrayal of another woman disguised as a man in "Albert Nobbs." Unlike Close's character, hers is a freewheeling, larger-than-life figure. It's a showy role, and the reviewers agree that McTeer dominates when she's onscreen. Indeed, Hammond suggests that "she almost upstages Glenn Close." "There are so many levels for her to play," adds Maltin. "She makes the character open and empathetic." "She's a ball of personality," says Karger. "It's a fun performance, a confident performance."
Shailene Woodley's work in "The Descendants," as a teenager who is forced to grow up as her mother is dying, was also admired. "It's a pretty demanding role, and she's excellent," says Lally. "This is a girl who has conflicted feelings about her mother, and she has some really emotional scenes." Hammond agrees that it's a three-dimensional performance: "As she deals with her mother's terminal condition, she moves from being an irresponsible and immature child to playing a mature role in her father's life." She does not play a "typical angry teenager," says Karger. "She brings so much shading and emotion to it. She more than holds her own with George Clooney."
Octavia Spencer, who plays the broadly comic housekeeper in "The Help," is another favorite. "It's a star-making performance," says Karger. "It's so funny and sassy. It was written with her in mind." Adds Lally, "She's the comic relief of the film. She steals every scene, and she's a newcomer."
Carey Mulligan is no newcomer, but her performance as an emotionally troubled young woman in "Shame" reveals yet another facet of her acting ability. She plays an aspiring cabaret singer and the sister of a sex addict with whom she shares a mutually dependent relationship. "It's a brave, uncompromising performance," says Hammond. Still, the grittiness of the material may work against her.
Tackling the role of Volumnia, the powerful mother of the title character in "Coriolanus," Vanessa Redgrave "gives one of the greatest performances of her career," says Hammond. Karger agrees but wonders if enough people will have seen the movie. "But if they do, they will be slain by her performance," he says, "especially that final scene."
Lally very much admires Melissa McCarthy for her comic tour de force performance in "Bridesmaids," but he views her as a dark horse: "She's a scene stealer, she has hosted 'SNL,' won an Emmy as best comedy actress for the series 'Mike & Molly,' and now people are writing movies for her. She is a rising comedy star." Nonetheless, comic performers don't usually get recognized, notes Karger, though he too thinks she's wonderfully "outrageous and funny."
Playing the love interest in the silent film "The Artist," French star Bérénice Bejo is a possible contender, despite being virtually unknown in the U.S. "But she is charming and lovely as the up-and-coming movie star who is bewildered by her success," says Karger. "She's not speaking but brings such life to the role. She also has a real knack for physical comedy." Adds Hammond, it is wonderful silent-film acting, which no one is allowed to do anymore.
Among the second-tier contenders for supporting actress: Jodie Foster and Kate Winslet as the demented, battling moms in "Carnage" Judy Greer as a betrayed wife in "The Descendants" and Judi Dench as Hoover's controlling mother in "J. Edgar."
Stay tuned.