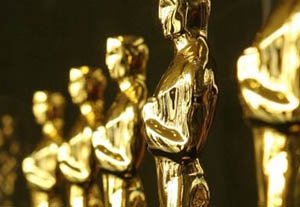 In recent years, the Screen Actors Guild Awards, in which union actors vote for the best acting performances in film and television, have become more and more regarded as a precursor for the Academy Awards. Take last year, in which all four SAG Award winners—Jeff Bridges, Sandra Bullock, Christoph Waltz, and Mo'Nique—went on to Oscar gold. And this year's four winners—Colin Firth, Natalie Portman, Christian Bale, and Melissa Leo—are also regarded as the current front-runners in the Oscar race.
But not so fast. In the last five years, the actor winners have lined up perfectly only that one time. In 2006, Paul Giamatti took home the SAG Award for his supporting role in "Cinderella Man" but was bested by George Clooney for "Syriana" when it came to the Oscars. The following year, Alan Arkin won the Academy Award for his turn in "Little Miss Sunshine," over frontrunner and SAG Award winner Eddie Murphy in "Dreamgirls." The year 2008 was particularly strange, as Amy Ryan had won most critics awards for her supporting role in "Gone Baby Gone," yet Cate Blanchett took the Golden Globe for "I'm Not There" and Ruby Dee walked off with the SAG Award for "American Gangster." But when Oscar night arrived, "Michael Clayton" player Tilda Swinton emerged victorious. That same year, "Away From Her" star Julie Christie won the SAG Award but was bested by "La Vie en Rose" actor Marion Cotillard for the Oscar. So any of this year's winners could be due an upset; Leo might want to keep an eye on "True Grit" scene-stealer Hailee Steinfeld.
In addition, SAG voters might place actors in different categories than Oscar does. For example, Kate Winslet won a SAG Award in 2009 in the supporting category for "The Reader," leaving room for Meryl Streep to take the award in the leading category for "Doubt." But when the Oscars came, Winslet was moved up to the lead category, edging out Streep for the win. This was good news for "Vicky Cristina Barcelona" actor Penélope Cruz, who then won the Oscar in the supporting slot.
So how reliable an indictor are the SAG Awards? Generally, three out of four isn't a bad average. And what happens between SAG and Oscar voting that can change things? Simply put, there are a few extra weeks before Oscar ballots are due for voters to see any films they may have missed and change their minds. Or there's time for an actor to fall from grace; many people wondered whether Murphy's loss to Arkin could be attributed in part to billboards for the film "Norbit," which featured Murphy in drag as an obese woman.
There's also the question of the ensemble category; the SAG Awards are one of the few ceremonies that honors the cast of a motion picture. Ever since "Crash" took the award in 2006 and then upset "Brokeback Mountain" for best picture at the Oscars, pundits have tried to draw a direct correlation between the two. The theory works fine for 2008 and 2009, when the "No Country for Old Men" and "Slumdog Millionaire" casts took the prizes. But, generally, a beloved cast doesn't equal an Oscar winner. Take last year's winning ensemble, "Inglourious Basterds": Though the film was nominated for an Oscar, it wasn't considered a front-runner, losing to "The Hurt Locker." Likewise, in 2007 the "Little Miss Sunshine" ensemble took the SAG prize but lost the Oscar to "The Departed." In short, things look good for this year's ensemble winner, "The King's Speech," but the filmmakers shouldn't rest too easy just yet.    
2010 SAG Winners
Jeff Bridges, Crazy Heart
Sandra Bullock, The Blind Side
Christoph Waltz, Inglorious Basterds
Mo'Nique, Precious
Ensemble:
Inglorious Basterds
2010 Oscar Winners
Jeff Bridges, Crazy Heart
Sandra Bullock, The Blind Side
Christoph Waltz, Inglorious Basterds
Monique, Precious
Best Picture:
The Hurt Locker
2009 SAG Winners
Sean Penn, Milk
Meryl Streep, Doubt
Heath Ledger, The Dark Knight
Kate Winslet, The Reader
Ensemble:
Slumdog Millionaire
2009 Oscar Winners
Sean Penn, Milk
Kate Winslet, The Reader
Heath Ledger, The Dark Knight
Penelope Cruz, Vicky Cristina Barcelona
Best Picture:
Slumdog Millionaire
2008 SAG Winners
Daniel Day-Lewis, There Will Be Blood
Julie Christie, Away from Her
Javier Bardem, No Country for Old Men
Ruby Dee, American Gangster
Ensemble:
No Country for Old Men
2008 Oscar Winners
Daniel Day-Lewis, There Will Be Blood
Marion Cotillard, La Vie en Rose
Javier Bardem, No Country for Old Men
Tilda Swinton, Michael Clayton
Best Picture
: No Country for Old Men
2007 SAG Winners
Forest Whitaker, The Last King of Scotland
Helen Mirren, The Queen
Eddie Murphy, Dreamgirls
Jennifer Hudson, Dreamgirls
Ensemble:
Little Miss Sunshine
2007 Oscar Winners
Forest Whitaker, The Last King of Scotland
Helen Mirren, The Queen
Alan Arkin, Little Miss Sunshine
Jennifer Hudson, Dreamgirls
Best Picture:
The Departed
2006 SAG Winners
Philip Seymour Hoffman, Capote
Reese Witherspoon, Walk the Line
Paul Giamatti, Cinderella Man
Rachel Weisz, The Constant Gardener
Ensemble
: Crash
2006 Oscar Winners
Philip Seymour Hoffman, Capote
Reese Witherspoon, Walk the Line
George Clooney, Syriana
Rachel Weisz, The Constant Gardener
Best Picture:
Crash