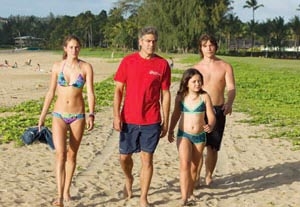 Films in contention for this year's
SAG Award
nominations in the best ensemble category offer a mixed bag of subjects, themes, and styles. Cast size and name recognition may vary, but most of the front-running movies feature large ensembles with at least a few stars. Hot topics and family drama don't hurt, and if the movie is based on a mega-bestseller, better yet. Consider "The Help" and "The Descendants," both likely contenders, according to the five film critics we spoke with.
Those critics are Kevin Lally, executive editor, Film Journal International; Pete Hammond, film critic for Back Stage and awards columnist for DeadlineHollywood.com; Leonard Maltin, film critic and author of "Leonard Maltin's Movie Guide," published annually by Penguin; Dave Karger, senior writer at Entertainment Weekly; and Anne Thompson of Thompson on Hollywood at Indiewire.com. It should be noted that at the time of the interviews, the critics had not yet seen all the films generating buzz.
Based on the bestselling novel by Kathryn Stockett, "The Help" has box office success and a stellar cast in its corner—particularly Viola Davis and Octavia Spencer, who play domestics in an emotionally charged story set in Jackson, Miss., on the cusp of the civil rights movement. But even the smaller roles are vividly brought to life by such talents as Sissy Spacek, Allison Janney, and Jessica Chastain, says Lally: "The movie received mixed reviews, but you certainly can't fault the cast." For Hammond, the unexpected appeal of "The Help" further boosts its already high chances for a nomination: Nobody thought a movie featuring a cast of women would be a summer blockbuster. Even more striking and rare, he continues, is the number of terrific roles for women in one film. According to Maltin, there are no weak links in the cast.
But for him, the hands-down ensemble winner is "The Descendants," an Alexander Payne ("Sideways") film starring George Clooney as a complex man who finds himself responsible for two young daughters after his wife has a terrible accident and is placed on life support. All the actors are given opportunities to shine, even in the smallest roles, Maltin says, citing Robert Forster, Judy Greer, Beau Bridges, Matthew Lillard, and Shailene Woodley as standouts. Some may have limited screen time—sometimes only one or two scenes—but the acting is so good, the scenes have impact. "Alexander Payne understands the importance of every part, no matter how small," Maltin says. Lally adds that Woodley, playing one of the daughters, gives a breakthrough film performance, made more impressive because until recently she was identified with a family TV series, "The Secret Life of the American Teenager." The actors' ability to play comedy and drama in the same picture is also a plus, says Hammond. The film is a shoo-in for Thompson as well, who says the acting across the board is authentic, led by Clooney, "who gives his best performance. It's sophisticated, mature, subtle, and moving."
"The Artist," a valentine to silent movies and American filmmaking, is another heavy favorite for Thompson. It's helmed by French director Michel Hazanavicius, and it stars French actors Jean Dujardin and Bérénice Bejo. "The acting is superb," Thompson says. "It's poignant, comedic, romantic, and funny, in a 'Star Is Born'/'Sunset Boulevard'/'Singin' in the Rain' milieu, and it works beautifully. It's so original, actors will really dig it." She also likes the mix of French stars and veteran English-speaking actors such as John Goodman, Ed Lauter, Malcolm McDowell, Penelope Ann Miller, and James Cromwell, "all functioning in English in a silent film," Thompson says. Lally and Karger also love "The Artist," especially its originality and seamless blend of unlikely actors, including the two leads, who are stars in France but virtually unknown in the U.S.
Karger admires Woody Allen's "Midnight in Paris" for ensemble acting that harks back to the director's earlier films, with a cast of actors who understand the Allen aesthetic. The film is a light and imaginative look at the magic of Paris through the ages. The hapless hero (Owen Wilson) is able to return to the Paris of the '20s, meet his icons (Ernest Hemingway, Gertrude Stein, and F. Scott Fitzgerald, among others), and become transformed. "It has established performers such as Owen Wilson, Kathy Bates, Rachel McAdams, and actors nobody has ever heard of, such as Corey Stoll as Ernest Hemingway," Karger says. "And everyone is having so much fun, it's irresistible." Hammond echoes that viewpoint.
Both critics cite the political drama "The Ides of March"—starring Clooney, Ryan Gosling, Paul Giamatti, Philip Seymour Hoffman, and Marisa Tomei—as a possible contender for its juicy roles and great cast. "The film has so many Oscar nominees and past winners," Karger says. "Every scene felt so real." Lally is not a fan of the film, finding it "talky and trite," but acknowledges the caliber of its talent and its cachet among many critics, thus making it a possible contender.
None of the critics had yet seen "Extremely Loud and Incredibly Close," but Karger and Lally thought it might be tapped for a best ensemble nom. A Stephen Daldry film, based on the novel by Jonathan Safran Foer, it features a stellar cast, including Sandra Bullock, Tom Hanks, Viola Davis, James Gandolfini, Jeffrey Wright, and John Goodman. The off-the-beaten-track story of a 9-year-old prodigy unlocking a mystery in the wake of his father's death on Sept. 11 has added appeal.
Other films Lally cites as possible best-ensemble nominees are "My Week With Marilyn," "Carnage," and "Bridesmaids," calling the latter his "populist" choice. "It was very funny, and Kristen Wiig was very generous in giving other actors the chance to be funny, especially Melissa McCarthy, who is now comedy's golden girl," he says. "It's a popular film, and that doesn't hurt, but I think it would be hard for 'Bridesmaids' to sneak in, because it's raucous and slightly vulgar."
Hammond cites "Moneyball," starring Brad Pitt, and perhaps "Tinker Tailor Soldier Spy" as potential nominees. He calls the latter, inspired by the John le Carré novel, a complex and not readily accessible movie that nonetheless boasts a great group of British actors, such as Colin Firth, John Hurt, and Tom Hardy. Hammond adds that Gary Oldman's subtle and nuanced lead performance is all the more impressive because he's performing in the shadow of Alec Guinness, who played the same character, George Smiley, in the 1979 BBC miniseries.
Maltin cites three films he had not seen as possible frontrunners, thanks largely to the pedigree of the artists involved: Steven Spielberg's "The Adventures of Tintin" "War Horse," also helmed by Spielberg; and "The Iron Lady," starring Meryl Streep as Margaret Thatcher. Maltin has, however, seen and greatly admires Martin Scorsese's 3-D family film "Hugo." Based on Brian Selznick's children's book "The Invention of Hugo Cabret," about an orphan who lives inside the walls of a Parisian train station, the movie boasts a top-notch ensemble.
"Though some barely have any dialogue—such as Richard Griffiths, Emily Mortimer, and another five actors—they're all part of the fabric of the film and the atmosphere Scorsese created," Maltin says. "Though the lead performances are very strong, the film would not work as well without the ensemble."