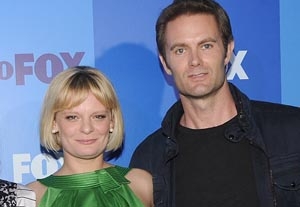 Nick Offerman, "Parks and Recreation"
While it's virtually impossible to pick a favorite among the outstanding ensemble of "Parks and Recreation," Offerman stands out as steak-loving, sleep-fighting boss Ron Swanson. An Emmy would look right at home on his Pyramid of Greatness.
Jason Segel, "How I Met Your Mother"
Everyone knows the actor is skilled at comedy, but last season found him tackling a tough storyline when Marshall's beloved father died. Segel rose to the material beautifully with pathos and humor.

KaDee Strickland, "Private Practice"
Her character, Dr. Charlotte King, endured a brutal rape early in the season, and Strickland was amazing in scenes dealing with the aftermath.
Garret Dillahunt and Martha Plimpton, "Raising Hope"
Dillahunt and Plimpton (she has been nominated for an Emmy but as a guest star) play something rarely seen on TV: a happily married couple who are still crazy about each other. While they might use a few questionable parenting skills, their comic chops are flawless.
Alison Brie, "Community"
As with "Parks and Recreation," it's virtually impossible to choose one person from the ensemble. But Brie earns bonus points for veering from wide-eyed innocent for most of the year to sultry, ass-kicking heroine in the paintball season finale.