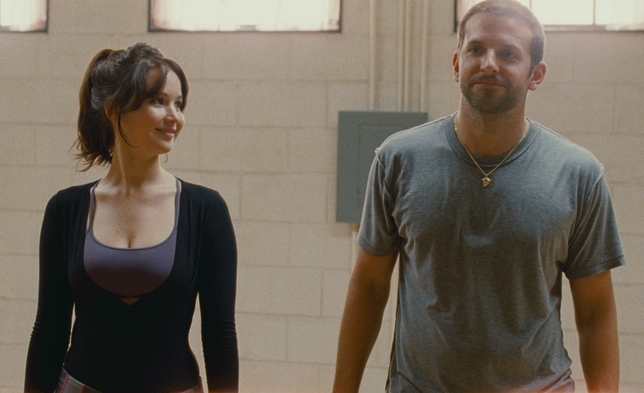 Though Bradley Cooper is a big name in Hollywood nowadays, most recently starring in "Silver Linings Playbook," the winner of the People's Choice Award at the Toronto International Film Festival, you wouldn't know it by the way he talks about booking his roles.
In the critically acclaimed "Silver Linings Playbook," Cooper plays Pat Solitano, a former teacher who moves home after being released from a mental institution. As he tries to mend things with his ex-wife, he meets the mysterious Tiffany, played by A-list star Jennifer Lawrence.
When asked how Cooper managed the quick transition to such a challenging role, the actor remained humble. "You know, I've never had the luxury of being able to be like, 'Well, let me take six months and get ready for something,' " Cooper says with a chuckle. "I've always just sort of been lucky to get hired."
Cooper may downplay his stardom, but there is no debating the skill required to play such a darkly humorous and edgy part in his breakout perfomance.
Cooper could argue that he was complemented by a talented ensemble cast that he was forced to gel with quickly. He ended up meeting Jennifer Lawrence on set in a somewhat non-traditional setting for their first encounter.
"The first time I met Jen, it was in the dance studio," remembers Cooper. "We had never met each other and the next thing you know, we're, like, sweating, trying to learn these dance moves. It took a lot of time to get those down—as badly as we did them. But the cool thing is you're also doing them as these characters, which is really fun."
Putting together an all-star cast is never easy, and director-writer David O. Russell found himself casting stars like Lawrence from his computer screen rather than the traditional space for "Playbook."
"She Skyped from her parents' house in Louisville," Russell told The Hollywood Reporter of casting Lawrence. "We went, 'Oh, my God, who's this person?' "
Russell had a previous working relationship with Cooper, having teamed up on the now defunct "Pride and Prejudice and Zombies." They found their synergies aligned in the aspet of storytelling, and Cooper grabbed an executive producer credit for "Playbook."
"What turns me on is the storytelling process as a whole, not just my character," says Cooper. "When the director allows you to be a part of that collaborative process, it means you're probably going to be a part of the movie after you wrap."