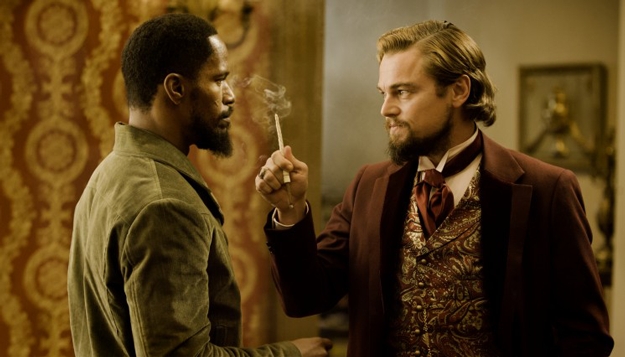 Quentin Tarantino's "Django Unchained," a Western-style film set in the south two years before the civil war, features a star-studded ensemble.
"Django Unchained" opens in theaters on Christmas Day.
One of the heaviest ensembles in a film this year, DJANGO UNCHAINED is Quentin Tarantino's latest work. Quentin has always utilized a substantial number of actors in his films, and this film does the same.
Jamie Foxx, Kerry Washington, Christoph Waltz, Samuel L Jackson, Leonardo DiCaprio headline this tale of Southern revenge. Franco Neri, the original Django, makes an appearance. James Russo and James Remar had a brief reunion during frigid filming in Lone Pine, California. Dennis Christopher, Don Johnson, Walton Goggins, Dana Gourrier, Nichole Galicia, Laura Cayouette, David Steen, Ato Essandoh, Sammi Rotibi, Clay Donahue Fontenot, Escalante Lundy and Miriam F. Glover, all joined DJANGO UNCHAINED when the production made its way to a warmer location: New Orleans, Louisiana.
Tom Wopat and Don Stroud play townfolk, and Russ Tamblyn and his daughter Amber Tamblyn play a father/daughter in the film. Bruce Dern, M.C. Gainey, Cooper Huckabee, Doc Duhame, Jonah Hill and Lee Horsley are also a part of this enormous ensemble.
Zoe Bell, Michael Bowen, Robert Carradine, Jake Garber, Ted Neeley, James Parks, Tom Savini, Michael Parks and John Jarratt round out this impressive cast.
"I've always wanted to do a Western," Tarantino said. "I like all kinds of Westerns, but since Spaghetti Westerns have always been my favorite, I thought that the day I do one, it would be in that Sergio Corbucci universe."
Waltz, who plays Dr. King Schultz in the film, was present through much of the creative process.
"I read the script as it was in the making," he said. "It unfolded in front of me, more or less. I went up to Quentin's house and he sat me at his table and put the pages in front of me and then watched me read it. It was a wonderful ritual. I was very touched taht he would actually let me participate not in the genesis of the script, but in his train of thought."
If the name "Django," sounds familiar to you, it's no coincidence. Franco Nero first portrayed the character in 1966 in "DJANGO," and he also makes a cameo appearance in the film.
Foxx, who plays the title character in the film, loved the script's honesty.
"It was the most incredible script I've read in all of my life," Foxx said. "I thought, 'Who has the guts, and the knowledge to tell ti like it really is?' I thought that the way he's telling the story -- as true and as honest -- if it rips your flesh off, so be it. That's what was exciting about the process."
Kerry Washington plays Django's wife, Broomhilda, and said that the bond between Broomhilda and Django drew her to the project.
"They were property," she said. "These two people find a way because of the power of their love to be together, and to honor their commitmetn of marriage to each other in this historical context. It's just so powerful."