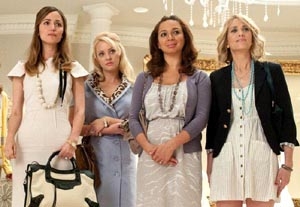 Some big surprises in the SAG Award film nominations today--mostly of the not good variety. Latecomers to the race like "The Girl With the Dragon Tattoo" and "Extremely Loud and Incredibly Close" were overlooked--from talking to Nom Comm members, I learned virtually nobody had seen either. Even with screeners and special screenings, the movies just have to get out there earlier, probably by Thanksgiving at least. The one exception is Meryl Streep for "The Iron Lady" but let's be honest; she's Meryl Streep.
To recap by category:
Male Actor in a Leading Role:
DEMIÁN BICHIR / Carlos Galindo - "A BETTER LIFE"
GEORGE CLOONEY / Matt King - "THE DESCENDANTS"
LEONARDO DiCAPRIO / J. Edgar Hoover - "J. EDGAR"
JEAN DUJARDIN / George - "THE ARTIST"
BRAD PITT / Billy Beane - "MONEYBALL"
Happy to see Bichir slip in for his great work in "A Better Life." Not so happy to see the omissions of Michael Shannon for "Take Shelter" and Michael Fassbender for "Shame."  Also, while Gary Oldman didn't get a nod for "Tinker Tailor Soldier Spy," I do believe he will ultimately get an Oscar nomination. The film is just now being seen by people, and buzz should build for the long-respected actor in the coming weeks.
Female Actor in a Leading Role:
GLENN CLOSE  / Albert Nobbs - "ALBERT NOBBS"
VIOLA DAVIS / Aibileen Clark - "THE HELP"
MERYL STREEP / Margaret Thatcher - "THE IRON LADY"
TILDA SWINTON / Eva - "WE NEED TO TALK ABOUT KEVIN"
MICHELLE WILLIAMS / Marilyn Monroe - "MY WEEK WITH MARILYN"
Can't argue with any of these nominees. Was starting to get worried for Close, whose been left off some recent lists, like the Critics' Choice Movie Awards, but actors came through for her. I wouldn't say this list is foolproof when it comes to the Oscar nominations, however, as Charlize Theron could still slip in for "Young Adult. " Not surprised that SAG didn't select her, as many Nom Comm voters I talked to found the movie unsatisfying. But she's not out of the race by a long shot.
Male Actor in a Supporting Role:
KENNETH BRANAGH / Sir Laurence Olivier - "MY WEEK WITH MARILYN"
ARMIE HAMMER / Clyde Tolson - "J. EDGAR"
JONAH HILL / Peter Brand - "MONEYBALL"
NICK NOLTE / Paddy Conlon - "WARRIOR"
CHRISTOPHER PLUMMER / Hal - "BEGINNERS"
So relieved Nick Nolte made the cut. But shocked that Albert Brooks, who has been racking up critics awards for "Drive," was snubbed. Also disappointed Patton Oswalt wasn't recognized for "Young Adult," as I think he steals the film. But as I said earlier, the Nom Comm was lukewarm on the movie. I still think Brooks and Oswalt can sneak into the Oscar race, and would say Hammer and Hill are the most vulnerable. As usual, this is the most competitive field--all these actors are great.
Female Actor in a Supporting Role:
BÉRÉNICE BEJO / Peppy - "THE ARTIST"
JESSICA CHASTAIN / Celia Foote - "THE HELP"
MELISSA McCARTHY / Megan - "BRIDESMAIDS"
JANET McTEER / Hubert Page - "ALBERT NOBBS"
OCTAVIA SPENCER / Minny Jackson - "THE HELP"
Happy that McCarthy made the cut, excited Chastain ws recognized, and the other three are no-brainers. I am surprised, however, that Shailene Woodley wasn't recognized for "The Descendants." Also would have loved a nod for her co-star Judy Greer, but knew it was a longshot. And Vanessa Redgrave, once the frontrunner for "Coriolanus," has been all but forgotten.
Cast of a Motion Picture:
"THE ARTIST"
"BRIDESMAIDS"
"THE DESCENDANTS"
"THE HELP"
"MIDNIGHT IN PARIS" 
No arguments here. Would be happy with any of these fine ensembles winning.
Read Back Stage's nominations announcement here.

READ MORE ON BEHIND THE SCENES