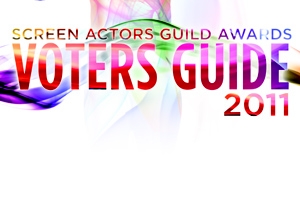 Welcome to Back Stage's exclusive guide to this year's Screen Actors Guild Award nominees in film and television. Here, you will find a write-up of every nominee for SAG Awards in 2011. Be sure to look for continued coverage of the awards race at our awards blog, "Behind the Scenes," at BackStage.com/bts.The 17th annual SAG Awards will be broadcast live Sunday, January 30, on TNT and TBS.


OUTSTANDING PERFORMANCE BY A
CAST IN A MOTION PICTURE

"Black Swan"
A horror film set in the world of ballet? That's what Darren Aronofsky has accomplished with "Black Swan," his follow-up to 2008's "The Wrestler." For this film that has been in the works for 10 years, the director was inspired to collaborate with Natalie Portman after seeing her in 1994's "The Professional." But the ballet world wasn't exactly forthcoming for Aronofsky, who did his legwork in researching the demands that professional ballet dancers encounter—from severe dieting to sacrificing their personal lives.
Exploring the psychological impact that Portman's Nina undergoes when this devoted dancer finally lands the lead role in "Swan Lake," every member of the ensemble cast delivers with an impact that accentuates Portman's twisted performance. Winona Ryder's aged and insecure dancer lays the perfect groundwork for what happens to a star once her time in the spotlight has expired; she's unstable, and her unpredictability is beautifully alarming. Barbara Hershey emotionally smothers daughter Nina, and Hershey makes the most of her screen time with a performance bolstered by the homework Aronofsky insisted she do: pen letters, in character, to Nina to capture the unhealthy nature of their relationship. Vincent Cassel is creepy as the company's artistic director, pushing Nina to embrace the Black Swan that is so wonderfully embodied by Nina's alternate, Lily (Mila Kunis).
Scenes between Kunis and Portman, however, are what make this film what it is: chilling and twisty, dark and unpredictable. Much of the credit goes to Kunis, who delivers the performance of her career as the cunning and flippant new kid who instantly makes waves.
Natalie Portman and Mila Kunis are also individually nominated.

"The Fighter"
In this fact-based drama, director David O. Russell and actor-producer Mark Wahlberg collaborate to capture a gritty and marvelously credible portrait of a working-class community in Lowell, Mass. A sublime cast illuminates the slice-of-life fable of an underdog's triumph.
With the help of finely calibrated efforts of a committed ensemble, Wahlberg's long-germinating dream to bring this remarkable story to the screen rewards him with an artistic coup on multiple levels. Working tirelessly over the past several years to prepare himself for the role of champion boxer Mickey Ward, Wahlberg had intense physical training, bringing his personal trainer, Bo Cleary, along during the shooting of his other films to guide him in his daily practice bouts. Wahlberg also spent much time meeting and hanging out with the real Mickey and the Lowell citizens portrayed in the story. The result is a portrayal brimming with warmth, dimension, and vigor.
The casting of Christian Bale as Mickey's well-meaning but troubled half-brother, Dicky, a crack fiend, is among the film's most inspired choices. Bale's versatile facial expressions and body language provide an amazingly convincing portrayal of drug addiction, while the actor simultaneously conveys a wide range of emotions. Amy Adams is likewise superb in her finely nuanced portrayal of Mickey's feisty and independent girlfriend, Charlene, who faces a battle of wills against Mickey's controlling mother, Alice—a tough cookie with a suppressed tender heart—beautifully played by Melissa Leo. As Mickey's supportive father, Bronx-bred Jack McGee expertly tunes in to the gritty urban setting. Mickey O'Keefe also excels, playing himself: the Lowell policeman who helped to train Ward.
Christian Bale, Amy Adams, and Melissa Leo are also individually nominated.

"The Kids Are All Right"
The dynamics of the modern family are quirky and mercurial, sometimes tragic, and sometimes hilarious. The multidimensionality of this social institution is captured by the cast of Lisa Cholodenko's "The Kids Are All Right." The ensemble comprises well-known names and up-and-comers, and every member is a vital and energizing component of this effervescent and authentic dramedy.
The cleverly written story revolves around Jules and Nic, a couple whose incorporation of their children's biological father into their family's life leads to unexpected consequences. Julianne Moore and Annette Bening are convincingly cohesive and charming at the core of the film, as Jules and Nic, respectively. Their relationship is genuine and compelling in times good and bad, and serves as an excellent platform from which both actors shine.
As the children, Mia Wasikowska and Josh Hutcherson hold their own against Moore and Bening. The younger actors display keen intelligence and likability, as their characters juggle their moms, their dad, and the trials of youth. Mark Ruffalo brings to life Paul, the man whose presence throws an unexpected wrench into the family's smooth workings. He artfully combines a rakish rogueness with sentimental compassion.
Every actor in the cast contributes to the quirkiness and compassion of "Kids." Joaquin Garrido, despite little screen time, turns in an especially charming performance as landscaper Luis. There is not a weak link to be found in this film. This cast is more than all right.
Annette Bening and Mark Ruffalo are also individually nominated.

"The King's Speech"
"The King's Speech" is this season's most charming crowd pleaser, featuring a wonderful ensemble. Set in England, starting in the Great Depression and culminating in 1939 when Britain declared war on Germany, it's the true story of King George VI—known as "Bertie" to his family and wonderfully portrayed by Colin Firth—who suffers from a serious case of stuttering, and his evolving relationship with his tough-love speech tutor, Lionel Logue (Geoffrey Rush).
In many ways it is an old-fashioned buddy movie between polar opposites. Firth's King George is a repressed, conservative, protocol-observing man of his class, while Rush's Logue is every bit the commoner who is more than a tad irreverent in his attitudes toward royalty. Indeed, Logue is often provocative in his behavior with the king, urging him to utter expletives and prying into his painful memories in an effort to ferret out the root of his problem. Rush's Logue is very much the modern therapist, up against a man whose whole world is defined by a stiff-upper-lip sensibility.
The supporting cast is equally top-notch. Helena Bonham Carter, best known for her kooky roles, is a study in understated elegance as Queen Elizabeth, the supportive and loyal wife. She depicts a woman who is at once an Edwardian lady and a pillar of inner strength. Michael Gambon does a fine job as the cool and emotionally detached King George V. Guy Pearce is terrific as the anguished, yet ultimately slick, elder brother: heir to the throne who abdicated in 1936 for divorcée Wallis Simpson, the woman he loved. Eve Best brings a touch of arrogance to Simpson, Derek Jacobi is splendid as the disdainful and slightly condescending Archbishop Cosmo Lang, and Timothy Spall is wholly convincing as Winston Churchill.
Colin Firth, Geoffrey Rush, and Helena Bonham Carter are also individually nominated.
"The Social Network"
The recounting of the founding of Facebook by Mark Zuckerberg, at least in the hands of screenwriter Aaron Sorkin and director David Fincher, strongly resembles classical literature. The tale of a man who took crushing rejection and turned it into riches beyond imagining, yet who never seems happy about it, is told in this fast-paced, very modern recounting of a very old story. Indeed, some have compared this tale to "Othello."
Thanks to casting by Laray Mayfield, a superb set of actors populates "The Social Network" and gives it its intriguing mix of realism and legend. At the story's core is Jesse Eisenberg as Zuckerberg, the arrogant yet mysterious figure surrounded by people who want to like him, even a few who want to help him. Eisenberg finds the conflict within his character—the rejected kid who couldn't care more and couldn't care less whether people know how clever he is.
As Zuckerberg's friend and financier, Andrew Garfield makes an adorably geeky Eduardo Saverin—a Cassio to Zuckerberg's Othello, if you will—and he ages, and angers, wonderfully over the film. Justin Timberlake convinces us he is the brilliant, manipulative, yet genial Napster founder Sean Parker, perhaps the Iago of this story. Pulling double duty with attention to charming details, Armie Hammer plays both Winklevoss twins, Cameron and Tyler—handsome and socially graceful and everything Zuckerberg is not—who claim Zuckerberg stole their idea for Facebook.
Brenda Song leaves a solid impression as the smart, seductive, ultimately predatory Christy Lee, who takes a shine to Saverin and to Zuckerberg's power. And with crisp self-confidence that belies the wretched bitterness their relationship has become, Rooney Mara plays Zuckerberg's college girlfriend Erica, whose haunting presence bookends the film.
Jesse Eisenberg is also individually nominated.