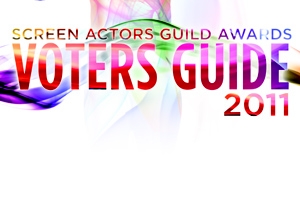 Welcome to Back Stage's exclusive guide to this year's Screen Actors Guild Award nominees in film and television. Here, you will find a write-up of every nominee for SAG Awards in 2011. Be sure to look for continued coverage of the awards race at our awards blog, "Behind the Scenes," at BackStage.com/bts.The 17th annual SAG Awards will be broadcast live Sunday, January 30, on TNT and TBS.

OUTSTANDING PERFORMANCE BY A FEMALE ACTOR IN A LEADING ROLE

ANNETTE BENING
"The Kids Are All Right"
From the British stage star in "Being Julia" to the brassy con artist in "The Grifters" to the high-powered suburban wife in "American Beauty," Annette Bening has been principally known for playing glamorous, seductive women. She takes a slight departure as the lesbian physician Nic in Lisa Cholodenko's dramedy "The Kids Are All Right." While Nic is certainly attractive—love that spiky short haircut—she's much more down-to-earth than the usual Bening lady. Nic is the breadwinner in her family, which consists of her lover Jules (Julianne Moore) and their two children (Mia Wasikowska and Josh Hutcherson). In the early scenes of the film, Bening carefully details Nic's delicate balance between her love for Jules and the kids and her need to remain in control at all times. Watch as she sneaks that extra sip of red wine just to take the edge off. This lady is wound tighter than a watch, and she needs some relief. Bening conveys that, as well as the desperation beneath the calm surface, with dry humor.
When Nic and Jules' previously anonymous sperm donor, Paul (SAG nominee Mark Ruffalo), comes into their lives, Nic gradually loses her cool, and Bening gives a finely calibrated accounting of the unraveling. The sequence in which Nic discovers that Jules and Paul are having an affair is like an acting lesson for its myriad details and subtle, complex reactions. Bening nails Nic's relaxed acceptance of Paul when they discover a common love for Joni Mitchell. Her off-key crooning of a favorite tune is priceless. Then her expression of slowly dawning comprehension when she finds a brush containing Jules' hair in Paul's bathroom reveals shock, anger, betrayal, and sorrow all at once. 
For this performance, Annette Bening won the New York Film Critics Circle Award and is also nominated for a Golden Globe and a Spirit Award. She won SAG Awards in 2000 for "American Beauty" and as a member of the film's ensemble. She was previously nominated in 2005 for "Being Julia" and in 2007 for "Mrs. Harris."

NICOLE KIDMAN
"Rabbit Hole"
Few subjects are as touchy as the death of a child. Yet in director John Cameron Mitchell's adaptation of David Lindsay-Abaire's play "Rabbit Hole," Nicole Kidman takes on the role of Becca, a woman whose child has been killed in an accident just a few months earlier. Alongside Aaron Eckhart as her grief-stricken husband, Kidman explores the depths of sorrow and the steadfast drive to carry on. She embodies the conflicted emotions of loss, where apathy, rage, and grief merge into one singular emotion.
Kidman told Back Stage that the "realness" of her performance was dredged up from her own encounters with difficult times. "As an actor, when you hit a certain age, there's a well of experience and a well of emotion that exists," she said. "For me, having just given birth a year prior, having three children, having been through many things in my life over the last 43 years, I just think, if I stay open enough, then there's all of that to mine."
Kidman admits she was uncertain about taking on this role, due to its difficult subject matter, which seemed a little too close to home. But she dove headfirst into the role, despite the strain it would put on her own emotional state. "I wanted to do it because that's part of being an actor, it's part of being an artist, I suppose," she said. "I know that I want to tell stories that somehow connect us, and I feel like this is one of those stories."
For this performance, Nicole Kidman has also been nominated for a Golden Globe and a Spirit Award. She was previously nominated in 2002 as a member of the "Moulin Rouge!" ensemble, in 2003 individually and as a member of the ensemble of "The Hours," and in 2010 as a member of the "Nine" ensemble.
JENNIFER LAWRENCE
"Winter's Bone"
Jennifer Lawrence may be getting stuck with the breakout label this awards season, but she didn't come out of nowhere. Prior to playing Ree Dolly in "Winter's Bone," Lawrence earned kudos for her turn alongside Charlize Theron and Kim Basinger in 2008's "The Burning Plain" and logged three seasons of work as a TV sitcom daughter on TBS's "The Bill Engvall Show." Like most young actors who find themselves suddenly famous, Lawrence had years of work under her belt before she "broke out."
But break out she did in "Winter's Bone." As Ree, Lawrence wanders an impoverished corner of the Missouri Ozarks in search of her missing father—a journey that, as it progresses, grows to feel more and more like Odysseus island-hopping his way back to Troy. Everywhere she sets foot, monsters and murderers lurk.
Director Debra Granik's movie explores a part of this country as exotic to most Americans as Mumbai or Berlin—and if it only worked on that level, that would be enough to merit watching. But Lawrence elevates "Bone" to something more than a study in place. Female leads are irritatingly hard to find in American movies these days, and Lawrence takes full advantage of the rare opportunity to play one. Ree is resilient beyond her years but played with a vulnerability that makes the danger she puts herself in seem real without undermining her strength. It's a wonderful, meaty performance. Here's hoping Lawrence cranks out several more just as good in the years to come.
For this performance, Jennifer Lawrence has also been nominated for a Golden Globe and a Spirit Award.

NATALIE PORTMAN
"Black Swan"
As ballerina Nina, Natalie Portman so perfectly embodies the White Swan role in "Black Swan" that to see the actor portray Nina's psychological breakdown and transformation into the Black Swan is truly remarkable, in director Darren Aronofsky's drama about the world of ballet. The role is something of a dream come true for Portman, who grew up dancing, but it didn't come without sacrifice. Months of rigorous strength training and conditioning helped Portman prepare for the long days of dancing that the role required. Add an intense diet to the mix, and Portman experienced the life of discipline and deprivation of a ballet dancer until production on the film concluded.
About her complicated role, Portman told Back Stage, "The physical discipline of it really helped for the emotional side of the character because you get the sense of the dancer's lifestyle of only working out. You know it's a ballet dancer's life when you don't drink, you don't go out with your friends, you don't have much food. You are constantly putting your body through extreme pain." Part of that pain, she adds, included months of wearing pointe shoes, which she notes felt "very medieval."
For this performance, Natalie Portman has also been nominated for a Golden Globe and a Spirit Award. She is also nominated for a SAG Award as a member of the "Black Swan" ensemble.
HILARY SWANK
"Conviction"
It is a rare individual who dedicates her life to the selfless pursuit of justice for the sake of another. It is a rare actor who can portray such a woman with enough raw authenticity and stirring compassion to make the near-miraculous seem fully plausible and compelling. Hilary Swank is just such an actor, and her portrayal of Betty Anne Waters in Tony Goldwyn's true-life drama "Conviction" turns its incredible storyline into an inspiring story with heartfelt veracity.
Swank's embodiment of Waters, a woman without a high school diploma who puts herself through law school to fight her brother's murder conviction, is forceful and stirring. Swank conveys a woman whose sisterly love and loyalty trump the logistical and bureaucratic obstacles in her way.
Waters' strength and tenacity are wholly credible, thanks to Swank's skill in capturing the rough-around-the-edges yet big-hearted nature that propels Waters to achieve the near-impossible task of getting her brother acquitted. Swank's sisterly chemistry with Sam Rockwell, who plays Waters' brother Kenny, comprises the heart and soul of the film. Waters' devotion to Kenny is the most vital element in making "Conviction" compelling and authentic—and Swank pulls it off with riveting ease. Her performance is rank with biting realism and wholehearted, well, conviction.
Hilary Swank previously won a SAG Award in 2005 for "Million Dollar Baby." She was nominated in 2000 for "Boys Don't Cry," in 2004 for "Iron Jawed Angels," and in 2005 as a member of the "Million Dollar Baby" ensemble.