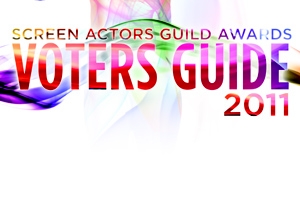 Welcome to Back Stage's exclusive guide to this year's Screen Actors Guild Award nominees in film and television. Here, you will find a write-up of every nominee for SAG Awards in 2011. Be sure to look for continued coverage of the awards race at our awards blog, "Behind the Scenes," at BackStage.com/bts.The 17th annual SAG Awards will be broadcast live Sunday, January 30, on TNT and TBS.

OUTSTANDING PERFORMANCE BY A FEMALE IN A SUPPORTING ROLE

AMY ADAMS
"The Fighter"
During the past few years, Amy Adams has established herself as a formidable thespian whose varied roles have been suffused with romantic-comedy effervescence ("Enchanted"), quirky briskness ("Sunshine Cleaning"), and pious virtue ("Doubt"). Playing thick-skinned and street-smart barmaid Charlene in "The Fighter," Adams shines in an image-shattering role that establishes her versatility beyond any doubt. Combining the tough exterior of a woman fully capable of standing up for herself in a challenging urban ghetto with the subtle tenderness of someone capable of love and devotion, Adams parlays her pivotal role into a tour de force.
As the real-life girlfriend—now wife—of champion boxer Mickey Ward (Mark Wahlberg) in this fact-based story, Adams plays a woman whose full-blown self-assurance is surprising, considering the limitations of her modest lot in life. Yet as Charlene rises to the occasion of helping Mickey face his daunting career challenges as he wards off the bad advice and controlling nature of his mother (Melissa Leo) and the dysfunction of his well-meaning, dope-addicted half-brother (Christian Bale), Adams infuses the role with wry humor and passion. It's clearly a career milestone for the actor.
For this performance, Amy Adams has also been nominated for a Golden Globe. She was previously nominated for SAG Awards in 2008 for "Junebug" and in 2009 for "Doubt." She is
also nominated as a member of the ensemble of "The Fighter."
HELENABONHAM CARTER
"The King's Speech"
In "The King's Speech," Helena Bonham Carter has the thankless role of morale booster. She plays Queen Elizabeth, wife of stuttering King George VI (Colin Firth), extolling and encouraging him to conquer his lifelong struggle with stuttering. Contrasted with the quirky, slightly demented, over-the-top parts she has tackled in the past—in such Tim Burton films as "Sweeney Todd" and "Corpse Bride," for example—Bonham Carter gives a remarkably subtle and understated performance as a loyal and supportive wife. She approaches the role with dignity and grace, never attempting to upstage anyone. In lesser hands, the performance could easily have disappeared or, worse, become whiny and jarring.
In an especially nuanced scene, she visits the king's soon-to-be tutor (Geoffrey Rush) in the hope he can help her unhappy husband. She is unescorted and interacting with a commoner in his home, an action that would have been viewed as socially shocking. But her love for her husband takes precedence over royal protocol. Her posture, the tilt of her head, and the tone of her voice evoke her social status and steely willfulness. She is undoubtedly the stronger figure in that marriage, very much the power behind the throne. She is an intelligent presence, keenly aware of the stakes, and a woman who understands the difference between public and private personas. In the public arena she knows how to take a backseat role. Like the queen, Bonham Carter can also play the soft, demure, Edwardian woman who is in fact nothing of the sort. It's a layered piece of acting.
For this performance, Helena Bonham Carter has also been nominated for a Golden Globe. She was previously nominated for a SAG Award in 1998 for her performance in "The Wings of the Dove." She is also nominated as a member of the ensemble of "The King's Speech."
MILA KUNIS
"Black Swan"
While critics continue to rave about Natalie Portman's chilling lead performance in "Black Swan," Mila Kunis is silently collecting awards nominations for her supporting turn as Lily, the sexy and cunning understudy to Portman's Nina. When Kunis' West Coast–based dancer first joins the company, preparations are under way for "Swan Lake," and Nina is instantly threatened by the ease with which Lily carries herself. As the ballet's artistic director notes, Lily embodies many of the characteristics Nina's perfect White Swan is lacking before she can step into the pointe shoes of the dark Black Swan.
Kunis, who shed 20 pounds over five months for the role, is captivating as the easygoing dancer who, on the surface at least, takes Nina under her wing as she attempts to break the rigid dancer of everything she has learned: discipline, responsibility, and dedication. But, for Kunis, playing a character who turns her nose up at the quest for perfection also required a certain amount of perfection. "This role is probably the hardest of everything I've done when it comes to characters, whether it's comedy, drama, or romance: You want to make sure it's believable. This was the closest I've ever come to being perfect," she told AfterEllen.com. With credits that include "That '70s Show" and "Forgetting Sarah Marshall," Kunis finally breaks out explores her dramatic side—a black swan personified.
For this role, Mila Kunis has also been nominated for a Golden Globe. She is also nominated for a SAG Award as a member of the "Black Swan" ensemble.

MELISSA LEO
"The Fighter"
Melissa Leo's career is on a fast track, and ball-busting matriarch Alice Ward is another splendid portrayal along this actor's creative journey. Playing the relentlessly committed yet sometimes misguided manager for her son Mickey Ward (Mark Walberg), a boxer aiming for brass-ring championship, Leo is a revelation. She carries the real-life role past its initial moments of near-contemptibility to a full-bodied portrait of a deeply caring parent.
Leo undergoes a considerable physical and temperamental transformation in her simultaneously amusing and touching take on this brassy mommie dearest. Leo dons a bleach-blond wig, high heels, and slinky leopard dresses, as Alice sets about taking charge of everyone and everything around her, including Mickey's assertive girlfriend, Charlene (Amy Adams), leading to a delicious woman-to-woman confrontation rivaling the best moments of "Desperate Housewives."
Recently, Leo was quoted as saying, "In meeting Alice, I felt a great responsibility. She's so different from me. She's a different age than I am, comes from a different class than I do, and has a very different moral foundation." There are no false notes in Leo's performance, which becomes enriched as the story unfolds. It's a seamlessly effective contribution to a splendidly cohesive group effort.
For this performance, Melissa Leo has also been nominated for a Golden Globe. She was previously nominated for a SAG Award in 2009 for "Frozen River." She is also nominated for a SAG Award as a member of the ensemble of "The Fighter."
HAILEE STEINFELD
"True Grit"
When Mattie Ross—the stoic frontier teenager in "True Grit"—hires drunken U.S. Marshal Rooster Cogburn (Jeff Bridges) to help her avenge her father's murder, she lays out a clear line of reasoning. Rooster, she notes, has "true grit." But as we learn over the course of the film, it is Mattie—steely-gazed, determined, unwavering in her quest for vengeance—who possesses the true grit of the title. The beauty of Hailee Steinfeld's shockingly assured performance is the way she convinces us of this without resorting to a clichéd sort of over-the-top anger: She makes Mattie the most matter-of-fact of revenge seekers. There's a tranquility to her performance that's oddly calming: We know that no matter what happens, Mattie will never give up.
Steinfeld notes that she worked a lot with her acting coach, Michael Woolson, to perfect this essential core of stillness. "My coach would stop me in the middle of a scene and say, 'You've got to stand still,' " she recalls. "I realized that Mattie is not the type of person to ever step back or to the side—she only moves forward. She doesn't retreat. And that was a real 'Aha!' moment for me."
And though Steinfeld imbues Mattie with wisdom beyond her years, she also ensures that we completely believe the character as an authentic teenager, a girl who's still in the process of growing up. When the character's trapped in a snake-ridden pit, Steinfeld conveys terror without losing any of the iron-willed persistence that won us over in the first place. It's one of the only scenes in the movie where Mattie needs saving—and yet, Steinfeld has made her so adept at saving herself, we never doubt she'll make it out alive.