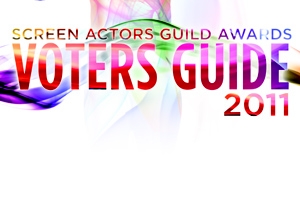 Welcome to Back Stage's exclusive guide to this year's Screen Actors Guild Award nominees in film and television. Here, you will find a write-up of every nominee for SAG Awards in 2011. Be sure to look for continued coverage of the awards race at our awards blog, "Behind the Scenes," at BackStage.com/bts.The 17th annual SAG Awards will be broadcast live Sunday, January 30, on TNT and TBS.

OUTSTANDING PERFORMANCE BY A MALE IN A LEADING ROLEJEFF BRIDGES
"True Grit"
As Rooster Cogburn, the barely coherent, consistently drunk U.S. marshal at the center of the Coen brothers' "True Grit," Jeff Bridges cuts an impressive figure: shambling, bearded, and crazy-haired, with that strangely menacing eye patch thrown in for good measure. Lesser actors might have relied solely on this collection of quirks to craft a character, but Bridges goes deeper. He gives Rooster a truly lived-in quality, a sense that this man haunts and is haunted by the vast plains of the Wild West.
Bridges avoids making the character a growly one-note sketch: He allows little bits of humor to shine through, particularly when Rooster is squabbling with mildly pompous Texas Ranger LaBoeuf (Matt Damon). In an extended scene, Rooster, trying to prove his marksmanship to LaBoeuf (and, one senses, to himself), stumbles around, shooting at errant pieces of corn bread. Bridges gives the moment an appropriate sheen of delicious ridiculousness, but he also handily conveys that single-minded Rooster takes this as seriously as he takes anything: He's probably going to keep shooting at corn bread until he proves something, even if it's just that he's the most stubborn man alive.
Bridges also connects beautifully with young Hailee Steinfeld, who plays Rooster's determined "employer," Mattie Ross. In the beginning, Mattie seems to be the only one who believes in Rooster. And as the story unfolds, Bridges gives us the sense that maybe this ultimately helps Rooster believe in himself.
Jeff Bridges previously won a SAG Award in 2010 for "Crazy Heart" and was nominated in 2001 for "The Contender" and in 2004 as a member of the "Seabiscuit" ensemble.
ROBERT DUVALL
"Get Low"
Robert Duvall has been very busy over the last 40 years, hopping from one acclaimed film to the next and racking up six Oscar nominations and a win in the process. However, for being such a well-known man, Duvall is being honored this year for playing a character who is anything but.
In "Get Low," Duvall plays Felix Bush, a hermit who has spent the last 40 years alone in a tiny cabin in the woods. While the neighboring townspeople mythologize him, we get a more informed perspective on Bush when he comes to town with a very interesting mission: to throw himself a funeral party, while still alive. The film unwinds around the preparations for his funeral, through which, it becomes clear, Bush hopes to atone for a secret past sin.
When Bush finally reveals his secret at the funeral, we see Duvall at his best. Duvall's halting delivery captures perfectly the challenge of a man who has spoken to almost no one for decades and is now forcing himself to put his life into words. Duvall's acting style and his character converge perfectly; just as Bush has over-thought his words only to find that nothing could have prepared him for their delivery, similarly does Duvall seemingly allow his preconceptions about Bush to fall away, delivering each line as if he's discovering them for the very first time. 
While the funeral is Bush's atonement, Duvall's performance in "Get Low" is in no need of such redemption. Duvall is excellent throughout and makes his audience grateful that he has not similarly chosen the hermetic life.
Robert Duvall previously won a SAG Award in 1998 for "A Civil Action" and was nominated in 1997 for "The Apostle."

JESSE EISENBERG
"The Social Network"
In "The Social Network," Facebook founder Mark Zuckerberg conquers the world. At least he nearly does so. Even the man of stone cannot win the hardest and perhaps most universal battle—against rejection by someone who matters. Portraying Zuckerberg's complexities, strengths, and quirks is the stupendous Jesse Eisenberg.
While a 19-year-old sophomore at Harvard University, Zuckerberg created Facebook in his dorm room. Early in the film, he expresses his longing to join Harvard's exclusive clubs. And because the clubs reject him, as does his girlfriend Erica (Rooney Mara), he doesn't get angry, he doesn't even get even. He gets smart. And then he gets to be a billionaire.
Yes, Eisenberg had Aaron Sorkin's script and David Fincher's direction in his corner. But the actor is on his own in subtly creating the full, complex paradoxes of his character. Eisenberg, painfully self-effacing in his public persona, here fleshes a man who willingly announces his brilliance and intolerance. Snide, abrasive, but always quietly spurred by the rejection, his character is at once terrifying and pitiable.
Eisenberg also builds a fascinating and apparently accurate physical portrait of his character—not, of course, by way of mimicry. He discovered that Zuckerberg had studied fencing, so the actor did likewise, finding Zuckerberg's posture and walk. He adopts Zuckerberg's flat voice that comes from the top of his throat.
Yet, even knowing he is portraying a real-life character, we fall under the actor's spell as he makes us feel respect, disquiet, solicitousness, and a shared sense of humanity on this unique journey.
For this performance, Jesse Eisenberg won best actor from the National Board of Review and has also been nominated for a Golden Globe. He is also nominated for a SAG Award as a member of the ensemble of "The Social Network."
COLIN FIRTH
"The King's Speech"
The story of King George VI, father of England's current monarch, Elizabeth II, seems to have taken a back seat to that of his brother Edward VIII, who renounced the throne in order to marry an American divorcée. George, known as "Bertie" to his family, had to undertake the hard work of serving as sovereign when his country was about to go to war with Germany. In addition, the shy Bertie was plagued with an oppressive stammer. He could barely complete a sentence in an era when the relatively new invention of radio made public speaking by the monarch essential for morale. Convincingly re-creating that speech defect, giving flesh to a stiff royal figure, and avoiding the trap of self-pity were just a few of the challenges facing Colin Firth as he embarked on portraying George in Tom Hooper's highly lauded historical feature "The King's Speech." 
"I was afraid self-pity might be an issue," Firth told Back Stage. "We do hear something about the history of this man's life and why he's damaged. To hear that from the character himself can sometimes smack of 'poor me.' It had to be judged in a way that there was a certain amount of humor or irony or steel." Firth successfully brought all three qualities to bear in his multifaceted performance, as well as a host of others. We see the lonely little boy shunned by his distant parents, the reluctant younger brother continually in the shadow of his flashier elder sibling, and the ordinary man called upon to perform an extraordinary duty. Firth takes us on George's painful journey from terrified silence to finding his voice. After his equally deep portrait of the grieving gay professor in last year's "A Single Man," Firth continues to show that there is much more to him than the dreamy Mr. Darcy.
For this performance, Colin Firth won the New York Film Critics Circle and the Los Angeles Film Critics Association awards and has been nominated for a Golden Globe. He won a SAG Award in 1999 as part of the ensemble of "Shakespeare in Love" and was nominated in 2010 for "A Single Man" and in 1997 as a member of the ensemble of "The English Patient."

JAMES FRANCO
"127 Hours"
As Aron Ralston, the real-life hiker forced to amputate his arm after being pinned by a boulder, James Franco takes us through an entire life story in the span of 94 minutes. It's no mean feat, especially considering that Franco is often the only actor onscreen—and for the most part, he has limited mobility. What is perhaps most wonderful and surprising about Franco's performance is the humor he finds within the pure terror of Ralston's ordeal.
Thinking he'll never escape, Ralston records videos for his loved ones. Some of these videos take the format of a mock talk show, and Franco uses the opportunity to show us the charm and unlikely levity that make Ralston such a compelling figure; even in this moment of extreme danger, the actor makes us smile. He's also absolutely unflinching during the movie's most talked-about scene, when Ralston finally decided to perform the amputation. Franco takes us through it in a no-holds-barred sort of way. The graphic nature of the scene makes us want to look away, but in the end, we really can't: Franco has made sure we've invested so much in the performance, we want to be there with Aron until the bitter end. When he finally breaks free, Franco conveys every single bit of Ralston's exhilaration—and we can't help but stand up and cheer.
For this performance, James Franco has been nominated for a Golden Globe and a Spirit Award. He was previously nominated for SAG Awards in 2002 for "James Dean" and in 2009 as a member of the "Milk" ensemble.