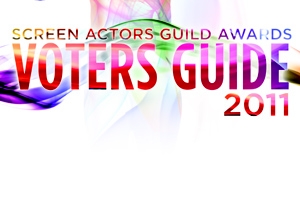 Welcome to Back Stage's exclusive guide to this year's Screen Actors Guild Award nominees in film and television. Here, you will find a write-up of every nominee for SAG Awards in 2011. Be sure to look for continued coverage of the awards race at our awards blog, "Behind the Scenes," at BackStage.com/bts.The 17th annual SAG Awards will be broadcast live Sunday, January 30, on TNT and TBS.

OUTSTANDING PERFORMANCE BY A MALE IN A SUPPORTING ROLE



CHRISTIAN BALE
"The Fighter"
From his promising early career work in such films as Steven Spielberg's "Empire of the Sun" and Disney's "Newsies," Christian Bale has steadily advanced his craft. Yet none of the actor's prior efforts compare to the electrifying portrayal he gives in his multifaceted characterization of sweet-spirited but emotionally adrift Dicky Eklund, whose promising career in boxing was sidelined by the ravages of crack addiction.
Charismatic to the hilt yet astonishingly lifelike in its delineation of human foibles, Bale's characterization offers a haunting portrait of this real-life character. Bale's attention to harrowing details of physicality to express Dicky's bodily disintegration is a wonder to behold, and his performance comes full circle in its life-affirming view of the resilience of a caring individual.
Enriched by extensive research, Bale's characterization feels resonant at every turn. Along with actor-producer Mark Wahlberg, who plays Dicky's half-brother Mickey Ward—being trained by Dicky as a boxer—Bale spent a lot of time in the story's real-life locale, Lowell, Mass. The actors conferred and hung out with the real Mickey and Dicky and their family, getting a feel for the rich ambiance of this distinctive American burg and its colorful inhabitants.
In this role, Bale is called upon to project jealousy and insecurity alongside unwavering love for his brother and other family members. There's a touch of tragedy mixed in with ribald humor in this contradictory character, and Bale doesn't miss a beat in conveying the innate sense of decency and worth in a man struggling with inner demons.
For this performance, Christian Bale won best supporting actor from the National Board of Review and has also been nominated for a Golden Globe. He was previously nominated for a SAG Award in 2008 as a member of the "3:10 to Yuma" ensemble. He is also nominated as a member of the ensemble of "The Fighter."
JOHN HAWKES
"Winter's Bone"
Nice as it is when a newcomer bursts onto the scene with an award-nominated performance, it's often more gratifying to see a talented veteran receive overdue recognition. This year that veteran is John Hawkes. For those who best recall Hawkes as ever-practical sidekick Sol Starr on HBO's "Deadwood" or delicate-natured shoe salesman Richard in "Me and You and Everyone We Know," his turn as the fearsome Teardrop in "Winter's Bone" was no doubt an eye opener.
The journey of Ree Dolly—the determined young protagonist played by Jennifer Lawrence—drives director Debra Granik's grim tale of ancient blood feuds and torched meth labs in the Ozarks; but Hawkes' journey as Teardrop is critical to the film's greatness. In his first scene, Hawkes enters "Bone" like a wolf stepping into a roomful of bunnies, terrorizing Ree first with his presence, then with violence. But by the film's end, Teardrop has transformed. Hawkes has built him up as someone formidable and dangerous—and when the character decides to embrace his responsibilities, to turn his powers against the forces that oppose his family, "Winter's Bone" reaches into Shakespearean-tragedy territory. The story becomes richer, more primal. That feat couldn't be achieved if Hawkes didn't do such a wonderful job of skulking around, menacing everyone in sight while quietly allowing his heart to open to his troubled kin.
For this performance, John Hawkes has also been nominated for an Independent Spirit Award. He was previously nominated for SAG Awards in 2007 as part of the "Deadwood" ensemble and in 2008 as part of the "American Gangster" ensemble.

JEREMY RENNER
"The Town"
From the opening scene of "The Town," in which a crew discusses its initial robbery of a bank in Cambridge, Mass., the nature of the relationship between Ben Affleck's reluctant career criminal Doug MacRay and Jeremy Renner's violent, unpredictable right-hand man James "Jem" Coughlin becomes clear. Doug views his chosen vocation with distaste, as a means to an end, and harbors what turns out to be a naive belief that an inherently violent profession can be carried out with a minimum of bloodshed. Renner's Jem, however, seems to consider the money almost secondary to a heist's ample opportunity to inflict pain on others. Renner imbues his character with an ever-present menace, the type of guy no one would sit next to on a bus, no matter how crowded it was. Renner goes nearly the entire movie without smiling, and even when he's not firing a machine gun or beating someone with an ASP baton, he creates the impression that there's nothing he'd rather be doing.
Still, Renner makes the audience sympathize with a character who behaves so callously toward victims and friends alike. "It was important to me that Jem be a fully realized human being and not just some gun-toting thug," says Renner. "I understood that he could be a scary guy, but I also wanted to bring a sense of humor and heart to him." Despite the actor's initial reluctance to play a bad guy, it's clear that once Renner committed to it, the entire bus would be empty.
For this performance, Jeremy Renner has also been nominated for a Golden Globe. He was previously nominated for SAG Awards in 2010 individually and as a member of the ensemble of "The Hurt Locker."
MARK RUFFALO
"The Kids Are All Right"
We all know someone like Paul, the sperm-donor dad in "The Kids Are All Right." He's the guy who never quite grew up, refuses to settle down, and still drives a motorcycle and parties down into his 40s. But because he is played by Mark Ruffalo, Paul is anything but a stereotype. Just as he found the core of compassion in the screw-ups in "You Can Count on Me" and the Off-Broadway play "This Is Our Youth," Ruffalo invests Paul with the desire for fatherhood and responsibility yet maintains his narcissistic side. It's the conflict between these two urges that gives Ruffalo's performance a special depth.
You can see the changes in Paul's attitude toward his instant family by the subtle gestures and expressions Ruffalo uses. When he first meets his biological children, his eyes dart over their features to check for resemblances. When he parts with the children, he doesn't quite know what to do with his hands. Should he hug, shake hands, or just wave? All of Paul's ambiguous emotions are conveyed in the actor's physical choices.
In an interview with Back Stage, Ruffalo revealed his shooting schedule was only six days, but he managed to create a credible, flawed character in that short span. "[Director] Lisa [Cholodenko] creates a space for actors, I think, to be free and to feel embraced," he said, "so you feel like you can fly without a net, so to speak." 
For this performance, Mark Ruffalo has won the New York Film Critics Circle Award. He is also nominated as a member of the ensemble of "The Kids Are All Right."
GEOFFREY RUSH
"The King's Speech"
In "The King's Speech," Geoffrey Rush is nothing short of endearing as the real-life Lionel Logue, speech tutor to King George VI (Colin Firth), hired to help the monarch overcome his terrible stammer. Set in the years just before World War II, the film recounts the evolving relationship between the king and tutor as the former desperately prepares his first major public address to the British public, announcing a declaration of war against the advancing Germans.
Effortlessly evoking the tough-love teacher-therapist, Rush is sometimes fierce, other times cajoling, and, at moments, even affectionate. There's also much comedy in his seamless performance—whether he's demonstrating ways to relax by shimmying, shaking, and gyrating; or attempting to enunciate with a mouthful of marbles.
One element that makes Rush's portrayal so utterly engaging is his character's iconoclastic views and dismissive attitude toward rigid royal proprieties. In one amusing but pointed scene, Logue is perched on the king's throne. Asked by an appalled king how dare he sit on it, Logue quips, "It's a chair, isn't it?"
The movie is, after all, a buddy story of sorts between anointed royalty and an ordinary citizen; teacher and student; therapist and patient. Indeed, despite their uneasy first meetings, the two men ultimately had a lifelong friendship. It's a credit to both actors—but perhaps especially Rush—that the seeds of that profound bond are evident almost from outset.
For this performance, Geoffrey Rush has also been nominated for a Golden Globe. He won SAG Awards in 2005 for the television movie "The Life and Death of Peter Sellers," in 1997 for his performance in the film "Shine," and in 1999 as a member of the ensemble of "Shakespeare in Love." He previously received nominations in 1997 as a member of the "Shine" ensemble, in 1999 for "Shakespeare in Love," and in 2001 for "Quills." He is also nominated as a member of the ensemble of "The King's Speech."