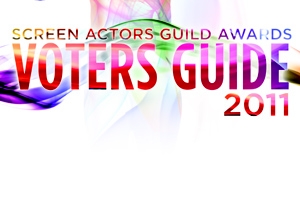 Welcome to Back Stage's exclusive guide to this year's Screen Actors Guild Award nominees in film and television. Here, you will find a write-up of every nominee for SAG Awards in 2011. Be sure to look for continued coverage of the awards race at our awards blog, "Behind the Scenes."

The 17th annual SAG Awards will be broadcast live Sunday, January 30, on TNT and TBS.


OUTSTANDING PERFORMANCE BY A FEMALE ACTOR IN A TELEVISION MOVIE OR MINISERIESCLAIRE DANES
"Temple Grandin"
Claire Danes so convincingly becomes Temple Grandin that it's almost inconceivable that the actor was the face of 1990s teen angst as Angela Chase in the short-lived but beloved "My So-Called Life." Danes is so brave and daring in her performance as the woman who changed the face of autism—singing "You'll Never Walk Alone" at her college graduation—it's no wonder the real-life Grandin felt proud to be affiliated with the HBO project, appearing on stage when the telefilm picked up the Emmy this year.
Most impressive about Danes' performance, however, is her facial expressions as every emotion—confusion, determination, excitement, and, eventually, confidence and pride in her success—brilliantly counterbalances the picture's interpretation of what Temple sees in graphs and sketches.
From creating the hug machine as a form of stress relief and enduring ridicule from her peers to making headway in the male-dominated livestock industry, Temple gets full commitment from Danes; speech patterns and tone provide viewers with an instant picture into Temple's method of visually thinking.
Danes, in an interview with the Los Angeles Times, noted that she spent weeks listening to recordings of Temple on her iPod, practicing her gruff abruptness. "I didn't want to do an impression," Danes told the Times, noting that she worked extensively with a dialect coach and choreographer to shape her performance. "She's wired in such a fundamentally different way than I'm wired that I couldn't just slip casually into her."
For this role, Claire Danes won an Emmy Award and has been nominated for a Golden Globe. She was previously nominated for a SAG Award in 2003 as a member of the ensemble of "The Hours."
CATHERINE O'HARA

"Temple Grandin"
It's hard to believe Christopher Guest favorite Catherine O'Hara picked up her first SAG Award nomination for her dedicated performance as Temple Grandin's maternal Aunt Ann. The funny lady—with five Emmy writing noms and one win for penning the 1980s cult hit "SCTV Network"—has the patience of a saint in HBO's "Temple Grandin." When Temple first escapes the East Coast and arrives on her aunt's Arizona ranch, Ann's immediate acceptance and understanding of Temple's coping mechanisms provide the early support that helps to create an environment conducive to the teen's later success. First exposing—and explaining—animal behavior and the world of cattle ranching to Temple doesn't hurt, either.
In such films as "Waiting for Guffman" and "Best in Show," O'Hara has proved her comedy chops. But here, O'Hara is wonderfully understated in her acceptance of her niece's autism and insistence that Temple keep busy with chores around the ranch as a means to control her emotional breakdowns. The understanding and support Temple receives from her aunt at home creates a foundation of trust that later serves her well at a progressive boarding school with David's Strathairn's Professor Carlock, who recognizes the brilliance in Temple's visual thinking. O'Hara is a welcome presence in any project, but her work in "Temple Grandin" is particularly warm and wonderful.
For this role, Catherine O'Hara was also nominated for an Emmy Award.
JULIA ORMOND
"Temple Grandin"
As Temple Grandin's protective mother who refuses to institutionalize her autistic daughter in a boarding school, Julia Ormond fully displays her range in this HBO telefilm. Emoting anger (Ormond's Eustacia insisting her daughter get the "different, not less" treatment when it comes to education) and heartfelt anxiety (accepting Temple's autism diagnosis and letting her go when there is little more she can do on her own) provide the emotional heart of this telepic.
To say Ormond perfectly captured the tireless dedication of a mother of a special-needs child in the 1950s is an understatement. Eustacia spent years trying to figure out a way into Temple's mind, and Ormond worked just as tirelessly in personifying a woman who gave everything and asked for nothing other than that her daughter be treated equally.
Ormond was left with such a fondness for her onscreen alter ego that she reportedly gifted her Emmy to Temple's mother, whose dream was to be an actor. "She put aside her own dream and sacrificed everything for her children," Ormond said at a Los Angeles autism conference this year. "Knowing Eustacia as I do, I believe she would have been an incredible actress. Instead, she played the most important role a woman can play in life... that of a loving and caring mother. And, for that, I want her to have my Emmy."
For this role, Julia Ormond won an Emmy Award. She was previously nominated for a SAG Award in 2009 as a member of the ensemble of "The Curious Case of Benjamin Button."

WINONA RYDER
"When Love Is Not Enough: The Lois Wilson Story"
The old saying tells us that behind every great man is a woman. In "When Love Is Not Enough: The Lois Wilson Story," Winona Ryder portrays one such remarkable woman. Lois was the loving and generous wife of Bill Wilson, the man known as Bill W., who co-founded Alcoholics Anonymous after battling a severe addiction. Eventually, Lois would found Al-Anon, which offers support to support to friends and family of alcoholics.
The film begins in happier times, when the well-to-do Lois marries Bill (Barry Pepper), a man of more-meager means, and lovingly supports him until he eventually finds success on Wall Street. After the stock market crashes, they lose everything, and Bill begins drinking heavily, repeatedly making empty promises to Lois to stop. Ryder is captivating as Lois runs the emotional gamut from patient understanding to furious exasperation. At one point, Lois is forced to sell her wedding ring to pay for his hospital treatment, and Ryder manages to convey so much fear, disappointment, and love in a few wordless moments.
Ultimately, Bill starts AA with Dr. Bob Smith (Frank Moore), and though Lois is thrilled her husband becomes sober, she begins to feel neglected and isolated. She starts hosting small gatherings with fellow wives of alcoholics, and from these gatherings, Al-Anon is born. It's an inspiring story born out of her unwavering love, beautifully captured by Ryder.
Winona Ryder was previously nominated for a SAG Award in 1996 as a member of the "How to Make an American Quilt" ensemble. She is also nominated this year as a member of the "Black Swan" ensemble.
SUSAN SARANDON
"You Don'tKnow Jack"
No stranger to playing strong, no-nonsense women, Susan Sarandon now adds Janet Good, a Michigan wife and mother advocating legal euthanasia and active in the Hemlock Society, to her collection. In "You Don't Know Jack," a biographical film about Dr. Jack Kevorkian, Good becomes involved with aiding the doctor in his crusade to allow people to end their lives painlessly and with dignity, only to discover that she has incurable pancreatic cancer and thus will need his services herself.
So how does Sarandon distinguish Good from similar characters she has played? She emphasizes the woman's laconic wit while allowing herself to look suburban-housewife dowdy. In addition, she zeroes in on her character's relentlessness. After getting off on the wrong foot with Kevorkian, Good seeks him out and refuses to take no for an answer, calmly insisting to the prickly physician that they must put their differences behind them. Sarandon makes it a character-defining moment.
When the worst happens, the actor smartly avoids any traces of self-pity and refuses to play noble or saintly. Her Good faces death with the same low-key implacability with which she negotiates life. Sarandon thus vividly demonstrates one of the cardinal rules of acting: Let the audience do the crying.
For this role, Susan Sarandon was also nominated for an Emmy Award. She won a SAG Award in 1996 for "Dead Man Walking" and was nominated in 2009 for "Bernard and Doris" and in 1995 for "The Client."
OUTSTANDING PERFORMANCE BY A FEMALE ACTOR IN A DRAMA SERIES GLENN CLOSE
"Damages"
Watching Glenn Close bring iron-willed attorney Patty Hewes to vibrant life over the course of two seasons, one couldn't help but wonder: How could she possibly maintain such a jaw-dropping level of intensity going into the series' third year? And yet, she managed to do just that, drawing us deeper and deeper into the show as it flashes backward and forward through time, leading up to revelations about Patty that intertwine her professional and personal lives.
Close, of course, has a trick up her sleeve: Whenever we find ourselves shocked by Patty's backstabbing antics, she reels us back in by exposing the very human, very vulnerable woman underneath. Horrified as we may be when, say, Patty offers her son's pregnant girlfriend a bribe to disappear, we also know exactly why she does it—and we can't help but feel for her when the scheme blows up in her face.
As much as we love seeing Patty in complete, icy control of her domain, we love it more when Close allows her to unravel just a bit, enabling us to see sides of the character we never imagined existed.
For this role, Glenn Close won Emmy Awards in 2008 and 2009 and was nominated in 2010. She won a Golden Globe in 2008; she has also been nominated again this year. She won a SAG Award in 2005 for "The Lion in Winter" and was nominated in 2008 and 2009 for "Damages," in 1996 for "Serving in Silence: The Margarethe Cammermeyer Story," and in 1998 for "In the Gloaming."
MARISKA HARGITAY
"Law & Order: Special Victims Unit"
In nearly every episode of "Law & Order: Special Victims Unit," Mariska Hargitay has at least one big moment that reinforces Detective Olivia Benson's place as one of the most memorable, likable, iconic characters in the long-running "Law & Order" franchise's history. In this season's "Trophy," for instance, she has
several of these moments, all conveyed with grace and strength.
The episode has Benson entangled with a rape victim's troubled daughter (Maria Bello), trying to make a connection with a woman she sees as something of a kindred spirit. As the story unfolds, Hargitay skillfully takes us through each level of Benson's emotional investment, as well as the character's deep inner conflict. And when Benson starts to believe that she and this woman might be related, the actor makes
every single revelation wrenching, but in the subtlest of ways: She doesn't resort to histrionics or scenery-chewing; she just allows the
emotions to unfold on the character's face, as they would in real life.
The final moments of the episode give
Benson one of her biggest shocks of all time, and Hargitay handles it deftly, keeping her voice steady and modulated as her eyes convey her character's inner breakdown. It's one of those special moments we've come to know so well—a true Olivia Benson moment, courtesy of Hargitay's perfectly nuanced performance.
For this role, Mariska Hargitay won an Emmy Award in 2006 and was nominated in 2004, 2005, and 2007–2010. She won a Golden Globe in 2005 and was nominated in 2009. She was previously nominated for SAG Awards in 2004 and 2006–2010.
JULIANNA MARGULIES
"The Good Wife"
It isn't easy being Alicia Florrick. Whether it's celebrating a victory over a young do-gooder, finding herself in a predicament with her boss at the law firm, or navigating a post-merger world, that wife in "The Good Wife" isn't afraid to play her cards close to the vest. What we know about Julianna Margulies' Alicia is what she shows, and often, it isn't much—at least on the surface. But that's the beauty: She's a woman we think we know, but don't really at all.
When Alicia stumbles in a courtroom war against a manipulative Parkinson's sufferer (venerable guest star Michael J. Fox) or feels frustration with her children's unrelenting plunge into cyberspace, Margulies puts new meaning to the phrase "grace under pressure." It is far more powerful to witness Alicia's hopeful reluctance when her old friend Will (Josh Charles) stops in to check on a case days after he left a voice mail she never listened to. There is a palpable tension between the two colleagues, and the restraint on both ends is understandably frustrating. But then again, that's life.
Margulies' Alicia seems trained to be headstrong when it makes sense not to be, and nothing is excessive about her performance. Instead, as the wife of a Chicago politician (Chris Noth) returning to the campaign trail, Margulies depicts an ambivalent wife caught in an ever-changing landscape at home and at work who unapologetically asks for nothing and is expected to give everything.
For this role, Julianna Margulies won a Golden Globe in 2010; she has been nominated again this year. She was nominated for an Emmy Award in 2010. She won SAG Awards in 2010 for "The Good Wife" and in 1998 and 1999 individually for "ER" and in 1996–1999 as a member of the "ER" ensemble. She was also nominated individually in 1996 for "ER" and in 1995, 2000, and 2001 as a member of the "ER" ensemble and in 2010 as a member of the ensemble of "The Good Wife." She is also nominated this year as a member of the show's ensemble.

ELISABETH MOSS
"Mad Men"
Peggy Olson has come a long way since Season 1 of AMC's "Mad Men." No longer Don Draper's nervous secretary who hides her pregnancy, she's now a full-fledged copywriter at the newly formed Sterling Cooper Draper Pryce agency. After contributing to several successful ad campaigns, Peggy believes in her talents and demands respect from her male peers, who often refuse to give it to her. Her attempts to receive equality get mixed results from men and women, but she continues to try. She has smoked marijuana, had multiple romantic partners, been pursued by a lesbian, and saved her company from peril. In four seasons, Peggy has grown from a fragile, mousy girl to a woman ahead of her time.
In this male-dominated world of sex, ad execs, and cigarettes, Elisabeth Moss makes Peggy relatable—an underdog, someone to root for. Moss frequently adds comic relief to this often-sobering drama. At her most humorous, Moss quips Peggy's snappy lines like, "You need three ingredients for a cocktail. Vodka and Mountain Dew is an emergency," in a way that makes her utterly likable.
Moss shines in her scenes with Jon Hamm, who plays Don Draper. Their onscreen chemistry is unique and palpable. But this season, you couldn't quite tell if Peggy wanted Don romantically or if she wanted to tell him off. Moss always holds Peggy's emotions in just enough so that when a little bit of feeling does get out, it's purposeful and dynamic. Her passion and ambition are always just below the surface. Another great Peggy moment this season: Joan tells her she learned a long time ago to find something outside of work that fulfills her. Peggy replies, "That's bullshit!" and the two of them laugh knowingly. Moss always gets Peggy's conflict and timing just right.
For this role, Elisabeth Moss was nominated for Emmy Awards in 2009 and 2010 and has been nominated for a Golden Globe this year. She won SAG Awards in 2009 and 2010 as a member of the "Mad Men" ensemble and was nominated individually in 2009 and in 2008 as a member of the ensemble.
KYRA SEDGWICK
"The Closer"
Kyra Sedgwick's Deputy Police Chief Brenda Leigh Johnson is one sharp Atlanta-bred lady, tracking down and eliciting confessions from the most unlikely suspects at her high-powered L.A. gig. Indeed, she is dubbed "The Closer" precisely because of her expertise in closing complex cases no one else has a shot at. Not unlike Helen Mirren in "Prime Suspect," Sedgwick conveys a contradictory character, an amalgam of Southern gentility and street-smart edge. She often seduces her suspects into truth-telling with her dulcet tones belying an uncanny intuitive nature. She is often a woman at war with herself. While foremost a career woman, she has grappled with such thorny issues as childbearing, painfully concluding it's not what she wants. Nonetheless, her feelings are ambivalent. So too are her feelings for Assistant Police Chief Will Pope, with whom she once had an affair. But professionalism always comes first.
In contrast to her formidable, in-control, on-the-job persona, when she leaves the station house Sedgwick's Johnson becomes almost childlike, finding it difficult to make a decision, not to mention a romantic commitment. She is now married, but earlier her on-again, off-again relationship with FBI Agent Fritz (Jon Tenney) was Johnson at her purest. More striking is her infantile relationship with her parents (Frances Sternhagen and Barry Corbin). Terrified of their reaction when she's living with, but not yet married to, Fritz, she sets up an elaborate ruse to prevent them from knowing the truth. Similarly, in a recent episode when they arrive from Georgia to celebrate Christmas and unceremoniously announce they're going to be relocating to L.A., she is appalled, yet paralyzed, and unable to tell them it's a bad idea. In almost every episode Sedgwick adds another layer to an already multileveled interpretation.
For this role, Kyra Sedgwick won an Emmy Award in 2010 and was nominated in 2006–2009. She won a Golden Globe in 2007 and was nominated in 2006 and 2008–2010; she is also nominated again this year. She was nominated for a SAG Award individually and as a member of the ensemble of "The Closer" in 2006 and 2008–2010. She is nominated again this year as a member of the show's ensemble.
OUTSTANDING PERFORMANCE BY A FEMALE ACTOR IN A COMEDY SERIESEDIE FALCO
"Nurse Jackie"
Edie Falco reinvents the line between comedy and drama with every episode of Showtime's "Nurse Jackie." As Jackie Peyton, devoted mother and wife, her saintlike husband Kevin (Dominic Fumusa) consistently overshadows her. But at All Saints Hospital, this nurse with an addiction to prescription drugs is in constant control, even when she's hiding her affair with pharmacist Eddie (Paul Schulze) and her pill problem from friend Dr. O'Hara (Eve Best).
In Season 2, Jackie's marriage feels the strain of her daughter's struggle with anxiety, testing her relationship with Kevin—who turns to new friend Eddie for comfort. Jackie does the same when the couple starts bickering about money: A loan from O'Hara winds up secretly funding Jackie's pill-popping ways.
Falco fits right in with Showtime's overall unique brand of dark comedy—think "United States of Tara" and "The Big C"—playing it dark and snappy while maintaining an air of comedy underneath it all. Jackie's final line in the Season 2 finale, when locked in the bathroom in an attempt to dodge Kevin and O'Hara's intervention, perfectly exemplifies that fine line: "My name is Jackie and I'm a drug addict. [Beat] Blow me!" And Falco, in her Emmy acceptance speech, tipped her hat to that fine line: "When I'd found out I was nominated for a comedy series, I laughed my head off. The women I was up against are hysterically funny, talented comediennes.… I'm not playing coy here, I'm just really dumbfounded by the events of this evening. Tina Fey? I mean, for heaven's sake, it's ridiculous."
For this role, Edie Falco won an Emmy Award in 2010 and was nominated for a Golden Globe in 2010; she is nominated again this year. She won SAG Awards in 2000, 2003, and 2008 for "The Sopranos" and in 2000 and 2008 as a member of the ensemble of "The Sopranos"; she was also nominated individually for "The Sopranos" in 2001, 2002, 2005, and 2007 and as a member of the show's ensemble in 2001–2003, 2005, and 2007.
TINA FEY
"30 Rock"
After five seasons on NBC's critically adored "30 Rock," Tina Fey's Liz Lemon remains the perfect comedy cocktail of sharp wit and low self-esteem. Fey brings such a game, up-for-anything goofiness to the part, we can't help but love Liz, even when she's making misguided romantic decisions or preparing to impress her colleagues by inhaling an entire pizza in one bite.
In one of this season's most sharply realized episodes, Liz becomes a hero to her "Girlie Show" staff after winning the crew lottery and treating everyone to drinks. Fey makes Liz's increasingly desperate attempts to extend her fleeting moment of popularity hilarious and true; her assured performance ensures that the character's actions are cringe-inducing and completely understandable. But perhaps the best moment of all is when Liz finally gives in and embraces that she'll never be a cool kid: Fey gives viewers a classic drunk-with-power speech that once again has us shaking our heads at Liz even as we sympathize with her. Liz Lemon may never fully win over her crew, but Fey's performance ensures that she'll always be beloved by the audience at home.
For this role, Tina Fey won an Emmy in 2008 and was nominated in 2007, 2009, and 2010. She won Golden Globes in 2008 and 2009 and was nominated in 2010. She is nominated again this year. She won SAG Awards individually in 2008–2010 and in 2009 as a member of the "30 Rock" ensemble and was nominated as a member of the "30 Rock" ensemble in 2008 and 2010. She is nominated again this year as a member of the show's ensemble.

JANE LYNCH
"Glee"
One word can best describe why Jane Lynch picked up this nomination: Madonna. When Fox's "Glee" returned after a long winter hiatus during its first season, many wondered if the then-freshman hit could continue to create water-cooler moments. And that it did in its second episode back with April's "The Power of Madonna," in which Lynch's snarky cheerleading coach Sue Sylvester decided to inject McKinley High School with a heavy dose of the Material Girl. But it was Lynch's scene-by-scene re-creation of Madge's "Vogue" that became one of the year's best small-screen moments. From sporting the cone bra to learning the intricate dance moves, Lynch proved that belting out hit covers of pop songs wasn't just for the show's kids.
With the musical dramedy's creative inconsistencies making headlines in its sophomore season, one thing remains true: Lynch steals every scene she's in. From her famed one-liners ("You may be two of the stupidest teens I've ever encountered—and that's saying something. I once taught a cheerleading seminar to Sarah Palin," from "Hell-O") to getting "Physical" in a duet with longtime idol Olivia Newton-John, the track suit–clad Lynch provides ample reason to tune in every week.
Scenes with Sue and her older sister Jean (Robin Trocki), who has Down syndrome, provide an excellent response to critics who may be quick to label the role as one-dimensional. Incorporating Becky (Lauren Potter), a sophomore student with Down syndrome, as a member of the Cheerios—and as Sue's Grinch assistant in December's "A Very Glee Christmas"—does the same.
For this role, Jane Lynch won an Emmy Award in 2010 and was nominated for a Golden Globe in 2010; she is nominated again this year. She won a SAG Award in 2010 as a member of the "Glee" ensemble and is nominated again this year.
SOFIA VERGARA
"Modern Family"
Gloria, the headstrong Latin spitfire and second wife of Ed O'Neill's character on "Modern Family," could have been a cliché trophy wife, but thanks to the talented actor who plays her on TV, and stellar writing, she is one of the most fun and funny characters to strut her stuff in sitcom history. Sofia Vergara told Back Stage that the show's creators, Steven Levitan and Christopher Lloyd, created the role of Gloria for her while she had a holding deal at ABC, during which time she did two sitcoms that were canceled after their first seasons. Steve McPherson, then-president of ABC, told her, "Wait, because we are going to get you a perfect role," and, indeed, the role of Gloria fits Vergara like a glove—or like one of the form-fitting dresses she wears on "Modern Family."
Vergara, who, like Gloria, is an immigrant from Colombia and raising a son, tells Back Stage that she draws not only from her own life but also from her aunt and her mother. "Sometimes when I'm reading the script, I think about how they would react, and that's how I've created the character," she says.
Vergara is at her best when Gloria is manipulating a situation to her advantage. Whether it's getting rid of the neighbor's noisy dog, disapproving of her son's bossy new girlfriend, or convincing her husband, Jay, that he needs to "slap the chicken" to scare evil spirits away, Vergara shines, especially when directly addressing the camera in the documentary-style, cut-away moments the show employs. On the subject of the chicken-slapping incident, Gloria reveals, "I made all that up. That's not a real custom in Colombia. We're not lunatics. But you mess with us and we'll mess with you. That is the custom."
For this role, Sofia Vergara was nominated for an Emmy Award in 2010 and has been nominated for a Golden Globe. She was nominated for a SAG Award in 2010 as a member of the "Modern Family" ensemble and is nominated again this year.
BETTY WHITE
"Hot in Cleveland"
At age 88, Betty White is enjoying the kind of career highs set aside for actors a fraction of her age. After appearing in the 2009 hit "The Proposal" and receiving a Life Achievement Award from SAG last year, White has become a presence on TV once again, whether appearing in a Super Bowl commercial or hosting "Saturday Night Live." And now
audiences can enjoy her on a regular basis on her TV Land sitcom, "Hot in Cleveland."
As Elka Ostrovsky, the Polish caretaker leasing her home to three L.A. transplants, the veteran sitcom queen gets most of the great one-liners. Snarky and judgmental, Elka is no lovable old granny; at one point she admits, "The truth is, I'm a great driver, but sometimes I like to drive real slow, just to mess with people." Other times, she makes casual references to her crazy life before settling down, referencing escaping Nazis and smoking marijuana.
Though Elka is unpredictable, White's flawless timing is not, having been developed over years on such classics as "The Mary Tyler Moore Show" and "The Golden Girls." At one point, when one of the women asks how she looks, White bites off with perfect delivery, "Like you stepped out of a painting… of hookers."
Betty White received a SAG Life Achievement Award in 2010. She is also nominated
for a SAG Award this year as a member of the "Hot in Cleveland" ensemble.