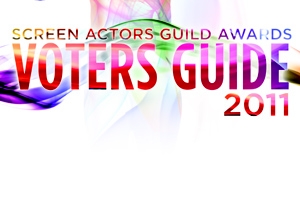 Welcome to Back Stage's exclusive guide to this year's Screen Actors Guild Award nominees in film and television. Here, you will find a write-up of every nominee for SAG Awards in 2011. Be sure to look for continued coverage of the awards race at our awards blog, "Behind the Scenes," at BackStage.com/bts.The 17th annual SAG Awards will be broadcast live Sunday, January 30, on TNT and TBS.

OUTSTANDING PERFORMANCE BY AN ENSEMBLE IN A DRAMA SERIES"Boardwalk Empire"
Before it premiered in September, "Boardwalk Empire" seemed like about as much of a sure thing as a TV show can be. Terrence Winter, a writer and executive producer on "The Sopranos," created the series. Steve Buscemi would star. Martin Scorsese would direct the pilot. How could "Boardwalk" be anything other than the new best television show ever?
Nearly one month after the season finale aired, "Boardwalk" is neither a masterpiece nor a failure. Winter and company have succeeded at building a vibrant landscape based on Atlantic City, N.J., at the dawn of the Roaring '20s, and populating it with captivating characters. They've found less success in making those characters behave consistently and moving their story forward in a way that feels natural.
But flawed though "Boardwalk" may be, its cast deserves high praise. As antihero Enoch "Nucky" Thompson, Buscemi is a powerhouse who drives the show and makes the actors around him better—and those actors were already damn good to begin with. Kelly Macdonald and Michael Pitt do the most heavy lifting as Nucky's widowed lover and criminal apprentice, respectively, and deserve the most praise. But the "Boardwalk" bench runs deep, boasting wonderful performances from actors such as Michael Stuhlbarg, Michael K. Williams, and Jack Huston in smaller roles. Few television shows have ever enjoyed having as many talented cast members as "Boardwalk" does. No matter how the series progresses, it will at least continue to be worth watching for the
performances.
Steve Buscemi is also individually nominated this year.
"The Closer"
"The Closer" is a winning dramatic series not simply because of its star's stellar performance but in large part thanks to its cast of characters given depth and texture by a fine ensemble of actors. Each actor offers a multidimensional portrayal, topped only by the characters' subtle interactions that ultimately define the police drama. At its core, of course, Kyra Sedgwick plays the superficially genteel but fundamentally steely Deputy Police Chief Brenda Johnson, who—through intelligence, legwork, and plain old intuition—can close the toughest cases.
Her colleagues at work—including the chauvinistic and loud Detective Julio Sanchez (Raymond Cruz), the old-school and much-married Detective Lt. Provenza (G.W. Bailey), and the steadfast but often put-upon Assistant Police Chief Will Pope (J.K. Simmons)—create a fascinating workplace dynamic that is not unlike a family. Notable is how their attitudes toward Johnson have evolved, initially resenting her as an aggressive outsider—a woman, to boot, with unorthodox methods—to appreciating her talents and in the end standing behind her despite momentary quibbles and falling-outs.
The most intriguing office relationship is between Pope and Johnson, one-time lovers who for the most part can now work as colleagues. Still, it's an uneasy alliance.
Jon Tenney as Johnson's partner in life, Fritz, is a rational presence, especially set against Brenda's frenetic pace and style. But his calm demeanor does not camouflage his sensitivity and intelligence when locking horns with Brenda over a case or a painful personal matter. Frances Sternhagen is splendid as Brenda's loving but also smothering mom, while Barry Corbin does a fine job conveying a slightly henpecked husband who is also overly concerned about his daughter's welfare. It makes for one of the most tight-knit ensembles on the air.
The ensemble of "The Closer" was nominated for SAG Awards in 2006 and 2008–2010. Kyra Sedgwick is also individually nominated this year.
"Dexter"
In Season 4, Showtime's serial killer drama delivered its best season finale yet with the bloody conclusion to John Lithgow's Emmy-winning Trinity Killer storyline. But how would the Michael C. Hall starrer top that in Season 5? Easy. Add a heavy dose of strong women, starting with guest star Julia Stiles as a Barrel Girl victim who sees Michael C. Hall's Dexter Morgan for what he is. Factor Dexter's sister—and Miami Metro Police colleague—Deb Morgan (Jennifer Carpenter) nearly doing the same, and Season 5 came oh so close to the moment "Dexter" fans have been waiting for.
As Deb embarked on a relationship with Quinn (Desmond Harrington), hired PI Stan Liddy (guest star Peter Weller) had everything he needed to topple Dexter's house of cards; ultimately Quinn's love for her saved Dexter. Motivational speaker Jordan Chase (guest star Jonny Lee Miller) taught Dexter—and Deb—about the importance of letting go.
Producer Sara Colleton told The Hollywood Reporter that Season 5 was about Dexter atoning for Rita's death, via Stiles' Lumen. "He's taking care of this woman and he is sort of putting everything he's been taught by his father, Harry, on hold to help this woman out. And he's the real reason he's doing it: He couldn't save Rita [so] he saves Lumen. By doing so, he's oddly enough found someone who really is a mate in a way that he never ever thought he could have." Seeing the real Dexter find his soul mate certainly was one way to top Trinity.
The ensemble of "Dexter" was nominated for a SAG Award in 2010. Michael C. Hall is also individually nominated this year.
"The Good Wife"
CBS's "The Good Wife" continues to provide a refreshing take on the procedural format, but it's not the weekly courtroom cases that make the show more interesting than others. Its cast, led by Julianna Margulies as the strong-willed lawyer Alicia, provides the interest—and the show's substance.
Veteran actors Christine Baranski and Josh Charles provide a foundation for the newly merged law firm where Alicia is employed. Baranski makes top gun Diane Lockhart stoic and motherly, even while secretly plotting to defect from the company she created. Charles plays Alicia's old Georgetown schoolmate and romantic possibility Will Gardner with a sense of spontaneity—sometimes dangerous—and a rich intensity, most notably in a scene in which Will valiantly professes his love to Alicia via a voice mail that goes unheard. Michael Ealy is welcomed new blood as the firm's latest attorney, Derrick Bond, playing the high-powered litigator with an unsettling calmness.
Archie Panjabi infuses coolness as Alicia's right-hand woman, the enigmatic in-house investigator Kalinda, and Matt Czuchry adds youthful ambition to Cary, who is now slumming it as a lawyer in the state attorney's office after losing out to Alicia for a spot in the firm. Watching Czuchry and Panjabi change their onscreen dynamic, which started out as an informal competition and has developed into an unspoken friendship, is magical to witness.
As for Alicia's home life, mothering two children has gotten much more complicated as they grow older. Graham Phillips and Mackenzie Vega play the pair, who are caught in a political world they don't quite understand, with a sense of unrelenting curiosity—innocent or not.
The ensemble of "The Good Wife" was nominated for a SAG Award in 2010. Julianna Margulies is also individually nominated this year.
"Mad Men"
In Season 4 of AMC's "Mad Men," every character hits rock bottom. Don Draper (Jon Hamm) continues his downward spiral with alcohol, philandering, abusive hookers, a drunken-driving arrest, and loss of respect from co-workers. Roger Sterling (John Slattery), ashamed to admit the agency lost its biggest account, lies to everyone to cover it up. Joan (Christina Hendricks) tries to deal with her husband going to war, but when she and Roger get mugged, they fall into each other's arms once again. Joan gets pregnant from the incident and has an abortion. Betty (January Jones) starts to fall apart when she realizes her new marriage isn't perfect and takes it out on her daughter.
The characters hit all-time lows, but thankfully for fans of the show, that fuels great performances from the actors. The "Mad Men" actors got a chance to stretch their emotional range in memorable episodes like "The Beautiful Girls," in which Don's crabby secretary Miss Blankenship dies at her desk. The actors deal with it in their own imperfect, poignant, and often amusing ways, which is the reason why the show thrives and the actors are praised for their work.
Randee Heller's outstanding and hilarious performance as Blankenship once again proves there are no small roles. Not since Mrs. Landingham's death on "The West Wing" have fans responded so much to a character's early departure. Her characterization of the crabby yet somehow lovable Blankenship was spot-on. She will be missed.
An actor who notably got more screen time this season, and rightfully so, is Kiernan Shipka, who plays the endearing and unique Sally Draper. This season, Sally deals with her first love, cuts off her hair in protest of her parents' divorce, runs away, gets caught "exploring her body" by a friend's mother, and meets with a child psychologist. Shipka tackles these very adult acting challenges with the skill of a seasoned professional. She plays Sally as vulnerable, with a hint of maturity beyond her years. This young actor is becoming a standout member of this ensemble, strengthening an already powerful team.
The ensemble of "Mad Men" won SAG Awards in 2009 and 2010 and was nominated in 2008. Jon Hamm and Elisabeth Moss are also individually nominated this year.

OUTSTANDING PERFORMANCE BY AN ENSEMBLE IN A COMEDY SERIES "30 Rock"

Now in its fifth season, "30 Rock" still boasts one of the most perfect—and perfectly weird—ensembles on television. Just for example, can you think of another onscreen connection as wonderfully weird as the friendship between professional narcissists Tracy Jordan (Tracy Morgan) and Jenna Maroney (Jane Krakowski)? Morgan and Krakowski do such a hilarious job of conveying that the characters exist in their own little bubbles that we totally buy—and crack up at—weird throwaway moments, such as a scene in which Liz Lemon (Tina Fey) walks in on the duo holding hand mirrors for each other.
And what about Tracy as he shows warped affection for Jack McBrayer's hopelessly naive Kenneth? Their interplay is always pitch perfect, Morgan's outlandish antics contrasting nicely with McBrayer's wide-eyed innocence. Behind the scenes of NBC and "The Girlie Show," John Lutz, Keith Powell, and Judah Friedlander form a merry trio of funny, while Maulik Pancholy does a terrific job of inhabiting Jonathan, the stoogiest of stooges, and Katrina Bowden, playing Cherie, delivers bubble-headed quips like no other. Meanwhile, Grizz Chapman and Kevin Brown have made Tracy's sidekicks, Grizz and Dotcom, so popular that they sometimes get their own storylines. And of course, special mention must be made of Scott Adsit, whose Pete Hornberger is occasionally the only sane one in the room. But when he gets to cut loose—as Adsit did after a prank has Pete buddying up with gruff Jack Donaghy (Alec Baldwin)—the results are nothing short of sublime.
The ensemble of "30 Rock" won a SAG Award in 2009 and was nominated in 2008 and 2010.
Tina Fey and Alec Baldwin are also individually nominated this year.
"Glee"
The sophomore dramedy has certainly taken its lumps for its wildly uneven second season, but there is no denying Fox's musical juggernaut has one of the most talented ensemble casts on prime time. While Matthew Morrison's Will Schuster serves as the focal point as he provides the high school glee club with its weekly lessons, Chris Colfer's out gay teen Kurt Hummel is most definitely "Glee's" backbone.
Season 2 thus far has explored various themes, and in doing so put the spotlight on several of the lesser-known players, some of whom saw their roles increased to series regulars. "The Power of Madonna" not only proved that scene stealer Jane Lynch could sing, but it was hard to find a water-cooler discussion that didn't include buzz about her remarkable "Vogue" scene-by-scene re-creation. Similarly, the world discovered Heather Morris' Brittany was good for more than nonsensical one-liners ("Dolphins are just gay sharks" became a catch phrase so popular it has landed on T-shirts) when "Glee" dedicated an episode to Britney Spears. Morris' star continued to shine in 2010's midseason finale when she melted hearts with her character's belief that Santa Claus was indeed real.
However, the timely multiepisode gay bullying storyline revolving around Colfer's Kurt has made for some of his best moments: Standing up to the bully, his first same-sex kiss, and a subsequent school transfer where he meets mentor and possible love interest Darren Criss not only invigorate the story but also have made for some of "Glee's" bestselling—and most memorable—songs.
But the top highlights are when the entire glee club shares the same stage. When Kurt questions the existence of God after his father (the beloved Mike O'Malley) suffers a heart attack in the "Grilled Cheesus" episode, and the entire glee club rallies around him in song with Joan Osborne's "One of Us," it represents all that works with the series when players big (Lea Michele, Cory Monteith) and small (Kevin McHale, Diana Agron) unite for a friend in need.
The ensemble of "Glee" won a SAG Award in 2010. Chris Colfer and Jane Lynch are also individually nominated this year.
"Hot In Cleveland"
When putting together its first original sitcom, TV Land was wise to employ a quartet of female actors who know their way around comedy—and ensembles. The show focuses on three women considered past their prime who decide to forsake Los Angeles for Cleveland after their Paris-bound plane is forced to stop in Ohio and they take in the small-town charm.
As Melanie, Valerie Bertinelli, so charming on "One Day at a Time," is warm and appealing playing a writer and mother who still believes in love despite a recent divorce. Wendie Malick, who made self-absorption hilarious on "Just Shoot Me," here gets the chance to play a has-been soap star who can only land roles as Megan Fox's grandmother. Jane Leeves, often reduced to playing the straight woman on "Frasier," gets to cut loose as Joy Scroggs, a goofy beautician known as the Eyebrow Queen of Hollywood. And as Elka Ostrovsky, the wisecracking landlady who takes in the trio, you can't do better than comedy legend Betty White.
The actors play off one another beautifully, exhibiting in the freshman season the expert timing and easy chemistry of a show that has been around for years. And the women know their way around a punch line. Case in point: When Joy realizes her star client Oprah Winfrey is utilizing another beautician, she sighs and notes with the perfect amount of honesty and snark, "Oh well. At least I don't have to pretend to like Maya Angelou anymore."
Betty White is also individually nominated this year.
"Modern Family"
It's difficult to single out any one cast member of "Modern Family," now in its second season, as all the actors—even the kids—are perfect for their parts and play so well off of one another. Combine that with the amazingly clever writing and the relatable nature of the show's scenarios, and this ensemble has a strong chance of walking away with the SAG Award this year.
As Jay Pritchett, the head of the family, Ed O'Neill sets the tone for this deadpan comedy. Sofia Vergara, as his sexy, stubborn wife, Gloria, has been a revelation over the past year, proving that she's far more than Colombian eye candy. Rick Rodriguez as Gloria's 11-year-old son, Manny, innately knows how to play suave and debonair. Jesse Tyler Ferguson as Jay's uptight gay son, Mitchell, is consistently funny, especially when playing off of his frequent scene partner and recent Emmy winner Eric Stonestreet, who portrays with gusto Cameron, a stay-at-home fab dad to their adopted baby, Lily. Julie Bowen as Claire, Jay's equally uptight daughter, finds herself married, to her frequent astonishment, to Ty Burrell's oblivious character, Phil Dunphy, and raising three kids (Sarah Hyland, Ariel Winter, and Nolan Gould)—only one of whom shows potential.
Highlights of this past year saw Mitchell and Cam trying to get Lily into the best preschool and attempting to build a princess playhouse, the Dunphys trying to bond by turning off their electronic devices and jumping into the old family wagon, Jay trying to bond more with Mitchell and Manny, Gloria re-creating her abuela's food and proving that she's a sharp shooter, and Phil proving that he can be funny, in spite of Claire's belief to the contrary. While these storylines might not sound that interesting or funny on paper, the impeccable writing and great delivery and timing by this talented cast elevate "Modern Family" to a modern classic.
The ensemble of "Modern Family" was nominated for a SAG Award in 2010. Ty Burrell, Ed O'Neill, and Sofia Vergara are also individually nominated this year.
"The Office"
The key to "The Office's" considerable appeal lies in the way the various cast members bounce off one another with ease. Virtually any pairing of characters results in sublime hilarity, largely because the members of this talented ensemble have made each role so memorable. Take the tricky triangle that has formed between sweet Erin (Ellie Kemper), theatrical Andy (Ed Helms), and goofy Gabe (Zach Woods). Watching Andy and Gabe's wildly different approaches in wooing Erin makes for wonderfully uncomfortable comedy, especially when there's a "Glee" viewing party involved. Or what about Jenna Fischer's put-upon Pam and John Krasinki's prank-happy Jim: Even though these characters are now married with a baby, the actors' earnest performances ensure that we're still invested in every step of their evolving romance. Angela Kinsey and Rainn Wilson keep the show's weirdest coupling, Angela and Dwight, as twisted as ever. Creed Bratton, Brian Baumgartner, Oscar Nuñez, Craig Robinson, and Kate Flannery can always be counted upon to land a punch line, while Paul Lieberstein continues to find new and inventive ways to make us feel bad for sad sack Toby. B.J. Novak has somehow managed to triple the douche factor of fast-talking Ryan while still making him a character we want to see more of. Meanwhile, Phyllis Smith's Phyllis is still reliably adorable, Mindy Kaling's Kelly still has the perfectly uninformed bon mot for every situation, and Lesley David Baker's Stanley often manages to steal the show with a twist of his lips and a skeptical eyebrow raise. And of course, they're all presided over by the masterful Steve Carell, whose Michael Scott remains the glue that holds this eclectic island of misfit toys together.
The ensemble of "The Office" won SAG Awards in 2007 and 2008 and was nominated in 2009 and 2010. Steve Carell is also individually nominated this year.