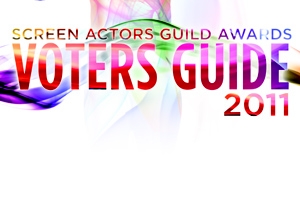 Welcome to Back Stage's exclusive guide to this year's Screen Actors Guild Award nominees in television. Here, you will find a write-up of every nominee for SAG Awards in 2011. Be sure to look for continued coverage of the awards race at our awards blog, "Behind the Scenes."

The 17th annual SAG Awards will be broadcast live Sunday, January 30, on TNT


OUTSTANDING PERFORMANCE BY A MALE ACTOR IN A TELEVISION MOVIE OR MINISERIESJOHN GOODMAN
"You Don't Know Jack"
"You Don't Know Jack" begins with Dr. Jack Kevorkian's fellow physician and longtime friend Neil Nicol moving into Kevorkian's garage after having been thrown out by his wife. In a very short appearance, Mrs. Nicol drives up, throws a garbage bag of forgotten personal effects at her husband, aggressively tells him off about it, and leaves after saying "Hello, Jack." It's all an attempt to make what is basically the leading man's sidekick into something more interesting.
It's a testament to John Goodman's talent that he has taken such a role and made it into something that has garnered award nominations. Goodman locates Nicol's devotion to Kevorkian in their friendship, not in the doctor's cause, yet Nicol is there in the trenches helping out every step of the way. This leads to one of the film's most powerful emotional moments. After an assisted suicide almost goes wrong, due to Kevorkian's overconfidence in his improvisatory abilities, the two men have a conversation while driving home in which Nicol piercingly questions Kevorkian's judgment and, indeed, what they're doing. It's quiet and devastating. It's also absolutely key to keeping Kevorkian, unquestionably a hero in the film's eyes, properly flawed and human.
Goodman uses his imposing physical size as an intriguing counterpoint to Nicol's continual deference to the strong-willed Kevorkian, while his patented average-Joe persona provides a friendliness that softens Kevorkian's edges and lets us come to the film's main character. In so doing, Goodman turns a standard-issue role into something more.
For this role, John Goodman was also nominated for an Emmy Award. He was previously nominated for a SAG Award in 1995 for "Roseanne."
AL PACINO
"You Don't Know Jack"
The first thing you notice about Al Pacino's performance as Dr. Jack Kevorkian is the spot-on regional accent, with its funny-sounding O vowels. The second thing is how thin the actor is, allowing him to endow this feisty and impassioned man with an intriguing air of fragility. Indeed, Pacino is eerily accurate in capturing but never imitating the outward persona of a man most of us are familiar with from TV interviews and news reports, despite the actor's own well-known larger-than-life image. Of course, that's what great actors do.
Kervorkian was portrayed by his opponents and much of the media as a zealot with a penchant for playing God, but Pacino's detailed, nuanced work stresses the man's humanity and explodes that stereotype. Still, the actor doesn't shy from Kevorkian's less-attractive traits. He and the marvelous Brenda Vaccaro, playing Kevorkian's supportive sister, have an important scene in which Kevorkian high-handedly assails his sibling for a careless action her daughter has taken that has led to the authorities finding and impounding his files and medical supplies. Kevorkian goes too far and elicits a sudden meltdown, in which his sister throws out a lifetime of anger about her support always being taken for granted. Pacino's blank, unemotional response—combined with his matter-of-fact acceptance of his sister's awkward apology after months of schism—suggests that this man with boundless compassion for the dying nevertheless lacks another kind of more personal empathy.
Such choices are the foundation of the considerable complexity found in Pacino's portrait. By the time the final credits unspool, the actor has made quite sure that the film's title is no longer a true statement.
For this role, Al Pacino won an Emmy Award and has been nominated for a Golden Globe. He won a SAG Award in 2004 for "Angels in America."
DENNIS QUAID
"The Special
Relationship"
Dennis Quaid has played presidential before: In the comedy "American Dreamz," he was a thinly veiled stand-in for George W. Bush. But to take on Bill Clinton in "The Special Relationship" provided a particular challenge. Even Quaid wasn't sure he was up to the task, admitting in an interview with The Daily Beast, "I don't look anything like him. My mannerisms are completely different than his. I didn't really see myself in him at all." So Quaid put on 35 pounds, shaved his eyebrows, and spent months studying footage of the former president. The result is a surprisingly dead-on portrayal of Clinton.
"The Special Relationship" marks screenwriter Peter Morgan's third script, after "The Deal" and "The Queen," featuring former British Prime Minister Tony Blair, as played by Michael Sheen. This film studies the relationship between Blair and a 1990s Clinton, including the time of the Monica Lewinsky scandal. Throughout the film, Quaid gets to show many facets of the leader. He can be charming and lovable, and it's easy to see why Blair is drawn to him. Quaid's Clinton is also ambitious and manipulative, particularly when lying about the affair with Lewinsky. Even though the audience knows what's coming, we relate to Blair's feelings of betrayal when the truth comes out. Yet Quaid makes us care about this flawed and complicated man, despite his foibles. The film ends with Clinton warning Blair about successor George W. Bush. It's a poignant scene that makes us realize how truly special this relationship was.
For this role, Dennis Quaid was nominated for an Emmy Award and has been nominated for a Golden Globe. He previously won a SAG Award in 2001 as a member of the "Traffic" ensemble and was nominated in 2003 for "Far From Heaven."

ÉDGAR RAMÍREZ
"Carlos"
Most people likely recognize Venezuelan actor Édgar Ramírez for his tough-guy roles: Keira Knightley's bounty hunter love interest in "Domino" or the assassin in "The Bourne Ultimatum." In such performances, he spoke little but made a big impression. The miniseries "Carlos" gives Ramírez an opportunity to still be a man of action but also present a far more complex portrait of a human being than audiences had seen him play before.
Based on the life story of the terrorist Ilich Ramírez Sánchez, known as "Carlos the Jackal," the miniseries covers the years 1973–94 as Sánchez rises from foot soldier in the Popular Front for the Liberation of Palestine (PFLP) to one of the most-wanted terrorists on the planet. From the start, Ramírez nails this man who is already a legend in his own mind. His bravado is impressive; when offered a pistol, he practically sneers and replies, "I'm used to more serious weapons." In another scene, he blithely marches into a conference room and shoots a hostage without batting an eye before announcing, "My name is Carlos. You may have heard of me."
Ramírez pulls off the required vanity—his Carlos is like an arrogant rock star—but also shows the audience that this man is fooling himself into thinking he has some sort of moral code. He is bought off by OPEC, allowing a hostage to live, and kicked out of the PFLP. So he forms his own terrorist network, fancying himself a Che Guevara, but is driven only by money, not revolution. It's a fascinating, riveting portrayal of a terrorist who becomes a media celebrity.
For this role, Édgar Ramírez has also been nominated for a Golden Globe.
PATRICK STEWART
"Macbeth"
The actor for whom Captain Picard was a Shakespearean king here gets to play one. And not just play him but make us rethink our ideas about him. Patrick Stewart gives Macbeth human qualities in mythological quantities. In director Rupert Goold's vision, this Macbeth is unmistakably Stalinesque, but his being is for the ages.
Stewart's facility with the text is to be expected from the actor who was classically trained and well-polished on British stages. But in this televised version, we can see Macbeth's conflicts play out in his face. This Macbeth begins as a youthfully insecure, slightly puzzled soldier, weary and ordinary, being awakened to his "potential" by the witches. This Macbeth almost laughs off the news. But the delusion inevitably begins. Having once tasted the idea of rank and power, he is visibly crushed at the promotion of Malcolm. When Malcolm asks who murdered his father, guilt lurks around Stewart's mouth.
Making a sandwich while chatting with the two murderers, Stewart elongates the "catalogue" of animals to toy with the listeners. Macbeth is stress-eating here and indeed throughout the film. In Dunsinane with his doctor, the wife beater–clad Macbeth swaggers and fist-pumps, popping pills that are the "push" that will cheer him ever. Later, he mocks his inability to articulately finish a sentence in "Cleanse the stuff'd bosom of that perilous stuff," pausing to laugh before the second "stuff." Finally, standing over his Lady M's corpse, he becomes introspective for "Tomorrow and tomorrow," then calmly dismisses the three witches with his last word, "enough."
Stewart recently said he thought he was too old to play Macbeth. This performance resets our expectations for the energy, depth, thoughtfulness, and intelligence any actor of any age should bring to this touchstone role.
Patrick Stewart was previously nominated for SAG Awards in 2000 for "A Christmas Carol" and in 1995 for "Star Trek: The Next Generation."
OUTSTANDING PERFORMANCE BY A MALE ACTOR IN A DRAMA SERIESSTEVE BUSCEMI
"Boardwalk Empire"
"Boardwalk Empire" is a work in progress. From the pilot to the final episode, Season 1 of the much-hyped drama about Prohibition-era Atlantic City, N.J., was a bumpy road, occasional bits of bad writing stealing the series' momentum. But there were still plenty of reasons to watch "Boardwalk" in 2010, none greater than Steve Buscemi.
As Enoch "Nucky" Thompson, Buscemi presented viewers with a TV gangster far different from his forebear Tony Soprano. ("Boardwalk" creator Terrence Winter served as a writer and executive producer on "The Sopranos.") A midlevel politico pulling high-level strings, Nucky straddles the line between shady-but-legitimate party boss and full-fledged crime lord. "You can't be half a gangster anymore," Jimmy Darmody (Michael Pitt) tells Nucky at the end of the Martin Scorsese-directed pilot.
But half a gangster Nucky remains through Season 1, and that half-state provides the tension that drives "Boardwalk." Nucky is a redeemable character who probably won't be redeemed, and Buscemi appears to enjoy playing him as someone torn between living a decent life and amassing power by any means. That performance is consistently the best, most interesting thing about "Boardwalk," and a source of hope that the show will evolve into something greater in its second season.
For this role, Steve Buscemi has also been nominated for a Golden Globe. He was previously nominated for a SAG Award in 2005 as a member of the ensemble of "The Sopranos." He is also nominated this year as a member of the show's ensemble.

BRYAN CRANSTON
"Breaking Bad"
There's a reason Bryan Cranston has won three Emmys for Walter White, by day a chemistry teacher diagnosed with cancer, by night a drug kingpin. There is a fearlessness to Cranston's portrayal in the past three seasons unparalleled on television.
There is also reason and calculated measure to Walter's madness as Cranston plays it. Sure, things got messy in a hurry when Walter's wife, Skyler (Anna Gunn), found out about the crystal meth, or when Jesse (Aaron Paul), who indicated time and time again that he was "the bad guy," was almost left for dead. But even as Walter is caught doing the most unforgivable things, it is difficult not to feel an ounce of compassion for a damaged soul, one who finds himself in situations he can't quite get out of and one that started
out in support of his now diminishing family.
"Breaking Bad" finds much of its strength in Cranston's humanity and understanding of Walter's inability to fathom being the bad guy. Even while Walter's nuclear family is gone, he has found one with Jesse, however imperfect it may be. But Jesse's unlikely friendship with Walter has unearthed a morality Jesse never knew existed—that as his teacher plunges deeper into darkness, he heads closer to the light, even while realizing just how dire his situation has become that he must finally become the bad guy he says he is.
"Breaking Bad" has always been about Walter being on the verge, pushing a man to the brink in order to save himself. Each week it asks us: What would you do if you were pushed to the limit? For Cranston, it's pretty simple, as his small-screen form says at one point in dramatic fashion to his wife: "Why be cautious? We have nowhere to go but up."
For this role, Bryan Cranston won Emmy Awards in 2008–2010. He was nominated for Golden Globes in 2009 and 2010; he has been nominated again this year. He was previously nominated for a SAG Award in 2010.

MICHAEL C. HALL
"Dexter"
This year, Michael C. Hall's Dexter turned from Harry's student to Lumen's teacher, delivering a side of the character viewers hadn't yet seen. And if Hall's serial killer with a code could be considered a guide, helping Julia Stiles' tortured student Lumen move toward avenging her rape and torture, then Episode 10, "In the Beginning," would mark her graduation. When Lumen takes Dexter's teachings and, under his watchful eye, ends her first victim's life, it also serves as the beginning of their romantic relationship, and the start of a relationship "Dexter" hadn't yet delivered.
Dexter questions whether his adoptive father was wrong—if he can be loved for who and what he is. It marks the first glimpse of an emotionally vulnerable Dexter, which Hall played perfectly and cautiously as he navigated the courage and self-confidence of his veteran serial killer with the insecurity and uncharted waters of his Dark Passenger being completely accepted.
This season, Dexter struggled with guilt over the death of his wife, Rita (Julie Benz), and familial obligations. Add that to being a brother to Deb (Jennifer Carpenter), the detective who quickly identified Lumen's assistant, while a colleague hired a PI to investigate him. Now that's a full caseload.
For this role, Michael C. Hall won a Golden Globe in 2010 and was nominated 2007–2009; he has been nominated again this year. He was also nominated for Emmy Awards in 2008–2010. He previously won SAG Awards in 2003 and 2004 as a member of the "Six Feet Under" ensemble and in 2010 for "Dexter" and was nominated in 2002, 2005, and 2006 as a member of the "Six Feet Under" ensemble and individually in 2007–2009 for "Dexter" and in 2009 and 2010 as a member of the "Dexter" ensemble. He is also nominated this year as a member of the "Dexter" ensemble.
JON HAMM
"Mad Men"
In the first half of the fourth season of "Mad Men," we were shown a Don Draper we've never seen before—one whose drinking embarrasses and undermines him instead of powering him to great conquests in the bedroom and the ad game. Freshly divorced from wife and employer, drunken Don stumbles through clumsy sexual encounters at his bachelor pad and awkward client meetings at the new Sterling Cooper Draper Price agency. The excessive boozing comes to a Canadian Club–fueled head in Episode 7, "The Suitcase," in which Don and Peggy (Elisabeth Moss) pull an all-nighter on the Samsonite account. Tension that had been building between the two characters all season is released in an epic argument, and the importance of the Don-Peggy relationship to the series is once again reinforced.
Jon Hamm always does some of his best work when paired with Moss, and a season of enormous change on "Mad Men" hinged on the episode in which the two actors shared the most scenes. Before "The Suitcase," Don was downtrodden and listless. After, he was refreshed, hopeful, even open to others (in a Don sort of way). Hamm managed to portray both states in fashions true to Don's character, even if they were quite different from any previous incarnations of that character. Don was already one of television's most original, most sophisticated denizens. Now he's evolving in a way that few characters in the history of the medium ever have—something that wouldn't be possible without an actor of Hamm's caliber.
For this role, Jon Hamm won a Golden Globe in 2008 and was nominated in 2009 and 2010; he has been nominated again this year. He was nominated for Emmy Awards for the role in 2008–2010. He won SAG Awards in 2009 and 2010 as a member of the "Mad Men" ensemble and was nominated individually in 2008–2010 and as a member of the ensemble in 2008.
HUGH LAURIE
"House"
Going strong in its seventh season, Fox's veteran hit "House" shows no sign of slowing down, and much of that has to do with the guy at the top: Hugh Laurie. The actor plays the antihero of antiheroes with a biting callousness, as if his shoes were meant only for the former pill-popping doctor.
The most pivotal episode of the year—the Season 6 finale, "Help Me"—showcases Laurie's unnerving ability to humanize the flawed medical genius. Caught between a rock and a hard place—literally—House, often victorious in solving the oddest of mysteries, successfully persuades a patient to sacrifice a leg in order to save her life, a symbol of his own personal ordeal. All seems well, until, during the ambulance ride to the hospital, House's initial instinct backfires; the amputation causes an unexpected (and fatal) side effect. It's a brief scene, yet Laurie's gut-wrenching portrayal of a doctor on the mend, realizing that he may be the cause of a patient's death, is heartbreaking, painful, and inspiring.
Laurie has maintained House's sardonic wit and his knack for picking apart other people's problems, often uninvited; but things have drastically changed since the start of the series. The most obvious change is his burgeoning relationship with professional superior Dr. Cuddy (Lisa Edelstein). House was once a man incapable of feeling emotion, but in a journey that began last year, Laurie has been surgically deconstructing the shell of a man who once was and unraveling who we hoped House would become.
For this role, Hugh Laurie won Golden Globes in 2006 and 2007 and was nominated in 2008 and 2009; he has been nominated again this year. He was also nominated for Emmy Awards in 2005 and 2007–2010. He won SAG Awards in 2007 and 2009 and was nominated individually in 2006 and 2008 and as a member of the "House" ensemble in 2009.
OUTSTANDING PERFORMANCE BY A MALE ACTOR IN A COMEDY SERIESALEC BALDWIN

"30 Rock"
Some of Alec Baldwin's best moments as savvy TV exec Jack Donaghy come out of the character being pulled in two very different directions. Take last season's virtuoso arc, in which Jack finds himself juggling a pair of potential true loves: Julianne Moore's earthy Nancy Donovan and Elizabeth Banks' buttoned-up Avery Jessup. The back and forth between relationships goes against everything else in Jack's well-ordered life, but Baldwin makes us believe that he just can't help himself. The actor plays each tiny uncertainty with balls-out hilarity, sending the character into a hopelessly tangled pit of crazy and adding a little more depth to Jack in the process. And of course, his off-the-wall mentor relationship with Liz Lemon (Tina Fey) remains a delight: In spite of Jack's all-business exterior, Baldwin gives us the sense that the character definitely wants to help Liz however he can. Their ever-evolving friendship is one of the most consistently giggle-inducing—yet strangely touching—connections on television.
For this role, Alec Baldwin won Emmys in 2008 and 2009 and was nominated in 2007 and 2010. He won Golden Globes in 2007, 2009, and 2010 and was nominated in 2008; he is nominated again this year. He won individual SAG Awards in 2007–2010 and in 2009 as a member of the "30 Rock" ensemble. He was nominated in 1996 for "A Streetcar Named Desire," in 2001 for "Nuremberg," in 2004 for "The Cooler," in 2005 as a member of the ensemble of "The Aviator," in 2007 as a member of the ensemble of "The Departed," and in 2008 and 2010 as a member of the "30 Rock" ensemble. He is nominated again this year as a member of the show's ensemble.
Ty Burrell
"Modern Family"
To borrow from David St. Hubbins in "This Is Spinal Tap": "It's such a fine line between stupid and clever." Playing man-child Phil Dunphy on "Modern Family," Ty Burrell brilliantly walks that line on this superb sophomore sitcom. He has no qualms about falling flat on his face—or having the contents of a garage shelving unit land on his head—if it means getting the laugh. Burrell plays the hapless Phil as if he were a proud cocker spaniel—one with a limited attention span but sweet, loyal, and neatly coifed. His delivery of the whip-smart dialogue is delightfully deadpan and on the mark.
Burrell is equally astute with physical humor. His desperate stab at saving the ancient family station wagon just before it rolls down a ditch (in Season 2's "The Old Wagon") goes down as a classic sitcom moment. Same with the scene in Season 1's "Starry Night" in which Phil's daughter Alex (Ariel Winter), convinced that her little brother has attention deficit hyperactivity disorder, is describing the signs of ADHD to her mom, while the camera cuts to Phil unwittingly displaying each of the symptoms. Perhaps Burrell's best episode this past year was Season 2's "Strangers on a Treadmill," in which Phil fills in at the last minute as host for SCARB (the Southern California Annual Realtors Banquet), where he proceeds to roast his colleagues despite the fact that his wife, Claire (Julie Bowen), stole his speech for fear that he'd embarrass himself. To everyone's surprise, he brings the house down and his jokes are perfectly received by his fellow Realtors, and the TV audience.
For this role, Ty Burrell was nominated for an Emmy Award in 2010. He was previously nominated for a SAG Award in 2010 as a member of the "Modern Family" ensemble. He is nominated again this year as a member of the show's ensemble.
STEVE CARELL
"The Office"
Steve Carell plans on leaving "The Office" at the end of this season. And though the show will doubtless go on, populated by its rich, ever-growing ensemble, we can't help but feel that it will never be quite the same. In "The Office's" seventh year, Carell's over-exuberant Michael Scott remains the undeniable heart of the series: an irritating, well-meaning goof who just wants everyone to think he's the coolest guy in the room.
Carell's nimble talents were on especially excellent display in this season's Christmas episode, in which Michael goes to great lengths to win back lady love Holly (Amy Ryan). His schemes verge on the horrible, but his heart's always in the right place. And even as the actor reaches comedic highs with every Michael-like misstep, he also takes care to expose the wince-inducing pain beneath the comedy. As the actor's time on the show draws to a close, his very human performance makes us hope that buffoonish Michael will finally get the happy ending he has so doggedly been chasing.
For this role, Steve Carell won a Golden Globe in 2006 and was nominated in 2007–2010; he is nominated again this year. He was nominated for Emmys in 2006–2010. He won SAG Awards in 2007 and 2008 as a member of the ensemble of "The Office" and in 2007 as a member of the "Little Miss Sunshine" ensemble. He was nominated individually for SAG Awards in 2007–2010 and in 2009 and 2010 as a member of the ensemble of "The Office." He is nominated again this year as a member of the show's ensemble.
CHRIS COLFER
"Glee"
Chris Colfer was so instantly likable in his "Glee" audition that the producers created a part specifically for him. As co-star Cory Monteith recalls, "[Co-creator Ryan Murphy] said Chris' performance was so compelling that after he left the room, they all looked at each other and said, 'We have to have this kid on our show. We have to make a part for him. He's that good.' " Over the course of "Glee's" season and a half, Colfer has proved that he is that good: His sweet, stylish Kurt has emerged as the show's heart and soul, the character most often cited as a fan favorite.
This season has given Colfer especially meaty material to work with: a crisis of faith, a bully nemesis, and a possible love interest in charming crooner Blaine (Darren Criss). Colfer handles all of this with aplomb, ricocheting from heart-wrenching grief to palpable anger to the believable angst of a teenager finding first love. He ensures that we're with Kurt every step of the way, that
we root for the character no matter what the situation.
And, boy, can he sing: "Glee's" musical numbers are often razzle-dazzle affairs, but the best of this season was Colfer's spare, stripped-down version of the Beatles' "I Wanna Hold Your Hand," which Kurt dedicates to his comatose father. Colfer packs every bit of emotion into this simple moment, turning it into a plaintive, heartbroken plea—and
reducing those of us in the audience to
unabashed tears.
For this role, Chris Colfer was nominated for an Emmy Award in 2010 and has been nominated for a Golden Globe. He won a SAG Award in 2010 as part of the "Glee" ensemble. He is
nominated again this year as member of the show's ensemble.