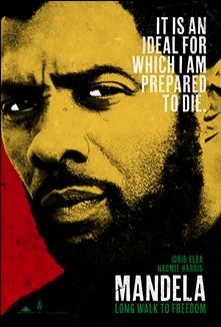 The filmmakers of "Mandela: Long Walk to Freedom" faced the daunting task of doing justice to iconic figures like Nelson and Winnie Mandela.
"Mandela is a once-off in world history, but I didn't want a reverential kind of portrayal," said director Justin Chadwick. "I wanted someone who could scratch underneath the surface of the story; make him human and let us see him as a flawed man, a man who's under pressure, but also who has intelligence and that magnetism. I wasn't looking for an actor who would try to impersonate Mandela."
Chadwick said he paid special attention to the discussions he had with Mandela's comrades and those who knew him as a young man. "They all talk about the electricity around him, about his astuteness and about how striking he was as a man who lit up any room he entered."
Already a fan of Idris Elba from his days on "The Wire," Chadwick says he had an "instinct" about Elba.
"He's very truthful, and a very brave actor," Chadwick said. "I travelled to Toronto to meet him and as soon as I started talking to him I knew he was the one. He understood how I wanted to make the film, and he was respectful of the subject but not daunted. It was more important to me to cast somebody in that role who was true to what the film was about."
The role of Winnie Mandela was landed by British actress Naomie Harris, and she considers the opportunity for an actress to be a rare one.
"Winnie is propelled from life as a young bride and mother to the harsh reality of being married to a political prisoner," Harris says, "abandoned with two young children. In order to survive she has to draw on an incredible strength as she is victimized and harassed by the police.
Harris said he was relieved when she was finally able to meet the 'real' Winnie.
"She was incredibly kind and I said to her: 'what do you want people to take away watching this movie, and how would you want them to perceive you?' She replied that 'the most important thing to me is for people come away with the truth, I trust that you have done your research and you should faithfully create your own interpretation of my life.' This was very generous of her and very liberating for me as an actress."