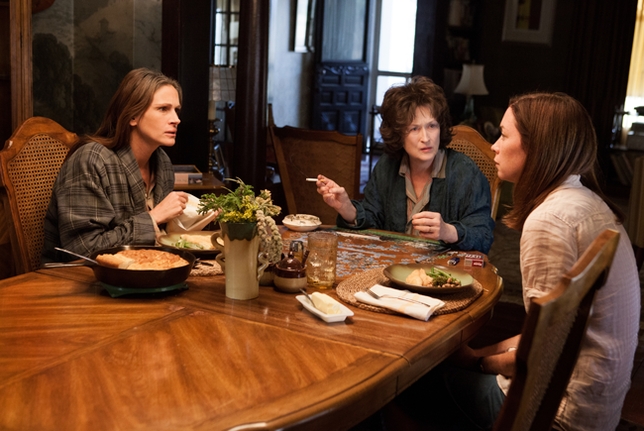 Oklahoma: the land of cattle, oil, ... and feature films?
In Tracy Lett's "August: Osage County," the play and film are set in Oklahoma, and rather than go the normal route of finding some similar looking locale in California or otherwise, Letts and director John Wells decided to shoot on site in the great state. And, as far as the actors were concerned, it made all the difference.
"What was great about it was that, being in Oklahoma, all of us being displaced together, we were all forced into togetherness, and into a family, and into a cooperative to make it all work," Julia Roberts said at a Q&A for the film in L.A. "It really is the divine thing to be on location and being away from your safe harbor, to come to a place and a group of people where you had to find that same familiarity."
For Chris Cooper, who plays Charlie Aiken in the film, it was a return to a intimately familiar setting
"I grew up in Missouri and Kansas, and my father in the 60s and 70s, we raised cattle," he said. "It felt very familiar to me. Dare say I didn't have to work too much on the dialect. So, there's some jobs where you have to do a lot of research, and then there are some where you bring your life experience to, and sometimes it fits like a glove pretty well. So, I felt pretty comfortable in this setting."
Margo Martindale, a Texas native, also felt very at home on set with both the location and her character's husband.
"Chris and I have known each other since 1981, so it was great to get to be married finally" she said. "It was easy for me in that part of the country, and the landscape of Oklahoma played such an incredible character in the movie. In the play, you don't get that. It was a big, huge added bonus in the film.
"The landscape totally inspired us. It's magnificently beautiful in a haunting, claustrophobic kind of way," Martindale said. "We all lived together. Meryl wanted us all to live together, John made it happen, and we all lived in townhouses all connected to each other. And we all became a real family."
Streep plays the pill-addled Violet Weston in the film, and found that some parts of the character were already very familiar.
" It's something that is already in my body," she said, "because I was raised by parents who lived through the depression, and were very poor. You're raised in a certain way. You hear these words like, "You have no idea how lucky you are." I was raised on that menu. And, I'm naturally sort of cautious."
"August: Osage County" tells the dark, hilarious and deeply touching story of the strong-willed women of the Weston family, whose lives have diverged until a family crisis brings them back to the Midwest house they grew up in, and to the dysfunctional woman who raised them. Tracy Letts' Pulitzer Prize-winning play of the same name made its Broadway debut in December 2007 after premiering at Chicago's legendary Steppenwolf Theatre earlier that year.