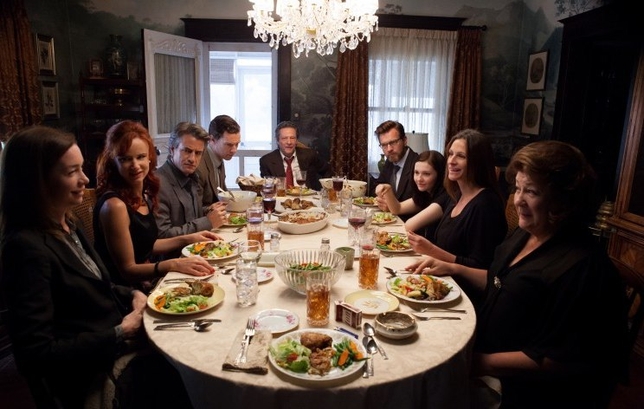 The upcoming film "August: Osage County" may have a star-studded cast of veteran actors, but the film is not just a collection of strong individual performances. What "August: Osage County" delivers is a true ensemble performace, with each actor playing off of each other and immersing the viewer in character and story.
With seasoned performers such as Meryl Streep, Julia Roberts, Dermot Mulrooney, Juliette Lewis, Benedict Cumberbatch, and Sam Shepard on set, the atmosphere could have been intimidating.
"You're sitting at a dining room table with these people," says actor Abigail Breslin, referring to her starry peers, "it was really scary. I loved it, but it was scary."
Fortunately for Breslin, the ensemble only had to look for a little direction from Streep to gel into their roles.
"When she [Meryl Streep] made a change or tonal shift for a take," said Mulroney, "it kind of rippled up the table and back and before I knew it we're all playing a slightly different scene."
The richness of the characters and story also helped the veteran actors lose themselves in their roles.
"It's so rare to get this kind of honesty and complexity in characters," Lewis remarked when discussing Tracy Letts' screenplay and John Wells' direction.
"It was hard but extremely satisfying," Streep said referring to the performances. "You get dragged kicking and screaming into the house of pain but you really love being there, honestly."
Because of the veteran cast and their ability to lose themselves in the story and blend together to embrace their characters, it's not hard for the audience to get dragged, without kicking and screaming, into the rich ensemble performance of "August: Osage County" either.