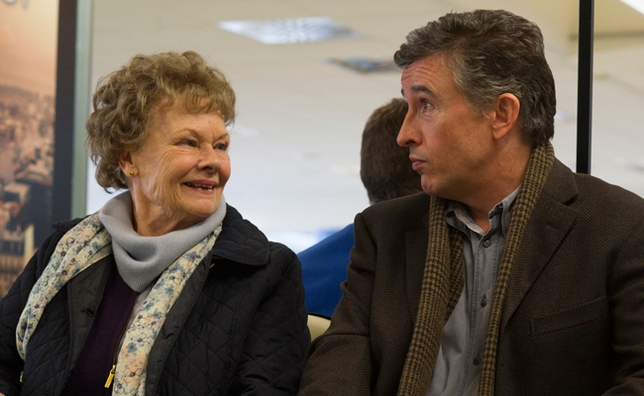 When you think of odd couples, you think of Tony Randall and Jack Klugman, Jack Lemmon and Walter Matthau, but what about Steve Coogan and Judi Dench?
Based on a true story, "Philomena" stars Dench and Coogan and focuses on the efforts of Philomena Lee (Dench), mother to a boy conceived out of wedlock and given away for adoption in the United States.
"I'd worked with Billy Connolly on Mrs. Brown," Judi Dench recalls, "and Steve Coogan and Billy are very alike in a way. They're both real comics, and they apply tremendous dedication to serious acting, something that isn't their form of work naturally. They're both very good at it. And then in between takes, of course, they make you cry with laughter.
"The more tense it is, the better it is. Perhaps if we'd been doing a comedy, we'd have cried between the takes. But Steve's such a brilliant mimic, and he'd be doing impersonations of celebrities in the car on the way to the set."
Coogan confirms as much.
"We'd tease each other, take the mickey out of each other. That makes you comfortable with each other. There was a lot of laughter for a subject matter that's so heavy.
"Once we'd met and got to know each other, I was fine. But you do feel a bit nervous. This was Dame Judi Dench, after all. I'd seen her in Iris, and that role rather stuck in my mind. I hoped she'd like the fact that playing Philomena would be something different. It's a great part for an older actor – there's not that many. This is a fully rounded character."
Still, Coogan admits that while working with Dame Judi he felt star-struck.
"There were one or two times when I took a picture of me and Judi on set," he said, "and instantly e-mailed it to everyone I know. When she put the wig on, I thought: 'I'd better pull my socks up. I'd better bring my 'A' game, be as good as I can possibly be, or I'll be dwarfed by her presence.'
"Yet on set I hardly ever saw her looking like Dame Judi Dench. She looked like Philomena. So, in a sense, you go into a different world with her. And despite the fact we laughed a lot, at the end of the day it was all very workmanlike. Judi's been doing this for 50 years. She asks the right questions and wants to do a good job. We were not doing a chat show and having a party, we were trying to do a scene and get it right."
Based on the 2009 investigative book by BBC correspondent Martin Sixsmith, The Lost Child of Philomena Lee, PHILOMENA focuses on the efforts of Philomena Lee (Dench), mother to a boy conceived out of wedlock — something her Irish-Catholic community didn't have the highest opinion of — and given away for adoption in the United States. In following church doctrine, she was forced to sign a contract that wouldn't allow for any sort of inquiry into the son's whereabouts. After starting a family years later in England and, for the most part, moving on with her life, Lee meets Sixsmith (Coogan), a BBC reporter with whom she decides to discover her long-lost son.