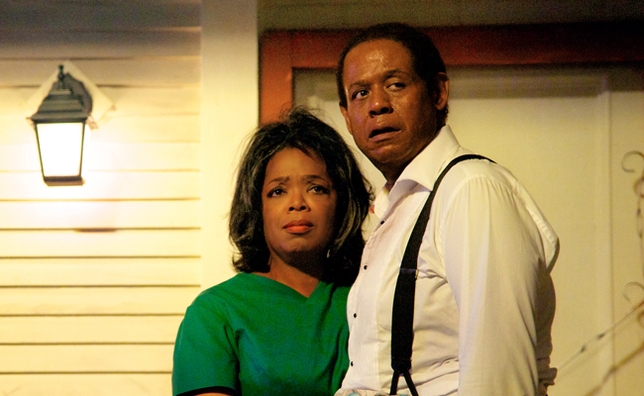 Forest Whitaker, Oprah Winfrey, Cuba Gooding Jr., Terrence Howard, Alan Rickman, Jane Fonda, John Cusack, James Marsden, and Robin Williams. Sounds like a list of VIPs at a chic Hollywood getogether, right? In reality, those are just some of the faces that make appearances in "Lee Daniels The Butler."
"Working on this was hard because normally I make a film that's a moment in time – a summer, or a year, and that's it," Daniels said. "This one, on the other hand, was decades. There was one star after another. We start off with Robin Williams, and we move on to Vanessa Redgrave, and then to Mariah Carey and Lenny Kravitz and Cuba Gooding Jr. and Oprah Winfrey and Forest Whitaker and Terence Howard."
Yet, even with the multitude of stars showing up in the film, Daniels didn't want their familiar faces to be a distraction.
"Casting the presidents was the tricky part," he said, "because I didn't want an audience to be like, "Look at John Cusack playing President Nixon, or look at Robin Williams playing Eisenhower, or James Marsden playing Kennedy." You had to make them disappear, and to do that you had to not make them caricatures but instead just have them be human.
Winfrey, who plays Gloria Gaines in the film, had not graced the silver screen since in several years, but after working with her on "Precious" Daniels knew he wanted to work with her again.
"I told her after that film that I wanted to work with her again, only as an actor because I think she's an incredible talent," Daniels said. "I wanted her do something that would shake it up, so to speak. When I told her about this film, she liked the idea and so I went ahead with developing the character specifically for her, with the voices of the women I grew up with and know so intimately, breathing life into Gloria."
"Lee Daniels' The Butler" is set against the tumultuous political backdrop of 20th century America. Academy Award nominated director Lee Daniels' epic drama tells the story of fictional White House butler Cecil Gaines (Forest Whitaker), who serves during seven presidential administrations between 1957 and 1986.