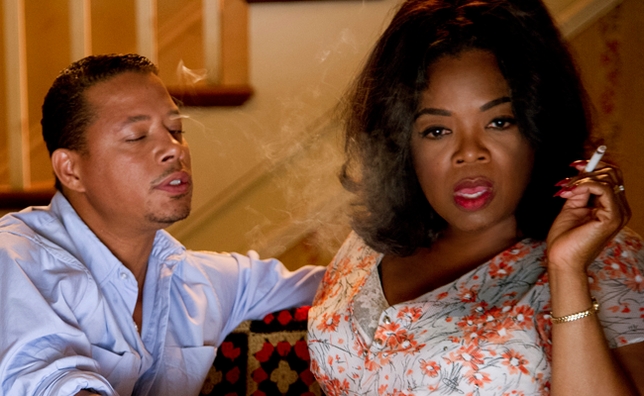 Oprah Winfrey is known for many things: Television shows, books, magazines, philathropic endeavors, and more. But, she also has some decent acting chops, starring in "The Color Purple" and "Beloved." With her latest role in "Lee Daniels' The Butler,' some people may walk away thinking of her as an actor first, media mogul second.
"She hadn't worked as an actor in a long time," Daniels said, "so it was nerve-wracking to carry the burden of making her as good as she was in "The Color Purple." She was genius in that film. But on her first day on set, she came out with guns blazing. It was beautiful. She stands in line like everyone else for catering, she doesn't hold herself any differently than any other actor. She's a billionaire but she didn't act like one on set."
One actor who didn't have any problem adjusting to her reappearance on the set was David Oyelowo, who plays her son, Louis.
"The funny thing about having Oprah as my mother is, she's been in my life for so long," he said in an interview. "It was very, very easy to slip into the idea of Oprah being my mom because there's a level of familiarity. But the great thing about her is that shes not one of those people you then meet and go, "oh gosh you're not as nice as I thought you'd be." She was just another actress trying to get it right."
Forest Whitaker plays the titular role of the butler Cecil Gaines, Winfrey's husband in the film. He and Winfrey have had a "long realtionship."
"I think mainly though, what the story is telling historically and showing America through those eyes was important to her," he said. "I also think she was interested in exploring family and love. One thing that our characters have as husband and wife throughout the film was a deep bond of love through all the strains, through her character's alcoholism, and all else. I think as an artist she must have been intrigued by this character because it's powerful and complex, and she does an amazing job. I'm really happy I got to do the film with her – I can't imagine having done it with anyone else."
Alan Rickman also makes an appearance in the film, playing Ronald Reagan. It was his first time working with Daniels.
"He gives brilliant notes," he said. "He's absolutely right about cutting something, or shifting something, or changing the ground slightly under your feet. But it's definitely like getting on a rollercoaster. And you're not quite sure where a bend is gonna come up. It's a unique experience, and not a bad one, a very good one."
"Lee Daniels' The Butler" is set against the tumultuous political backdrop of 20th century America. Academy Award nominated director Lee Daniels' epic drama tells the story of fictional White House butler Cecil Gaines (Forest Whitaker), who serves during seven presidential administrations between 1957 and 1986.