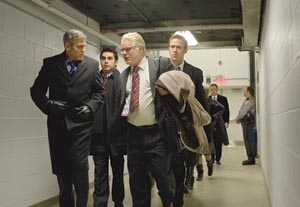 The Golden Globe nominations were announced today, and judging by the love for Ryan Gosling, George Clooney and shows like "Revenge," the HFPA is apparently run by a bunch of 12-year-old girls. No recognition for intelligent, quieter films like "Tinker Tailor Soldier Spy" or "Take Shelter," and a whole lot of head-scratching choices ("My Week With Marilyn" in the Comedy/Musical field?) abound. My personal quibble: how can all the great tunes from "The Muppets" not land a single Best Song nomination?
Also, while I'm happy Kristen Wiig got a Lead Actress in a Comedy nod for "Bridesmaids," I'm disappointed by the lack of a nomination for Melissa McCarthy. This was the one organization I thought she had a real shot in--moreso than with SAG, for which she did get nominated yesterday.
Perhaps the biggest surprise is the strong showing for "The Ides of March," George Clooney's one-time contender that never quite gained the steam it needed to be a real player this season. I'm fine with star Gosling getting a nod, even though it should have been for "Drive" and it comes at the expense of  the likes of Michael Shannon ("Take Shelter"), Woody Harrelson ("Rampart"), Demian Bichir ("A Better Life"), and Gary Oldman ("Tinker Tailor"). But Clooney landing a Best Director nomination over the likes of Steven Speilberg or Nicholas Winding Refn, David Fincher, Roman Polanski, or Jason Reitman? Not to mention a screenplay nom when there are a dozen more deserving scripts? We get it, HFPA, you really want Clooney at your show.
READ MORE ON BEHIND THE SCENES