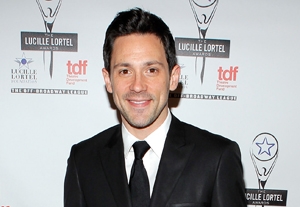 Celia Keenan-Bolger
Featured Actress in a Play, "
Peter and the Starcatcher
"
I'm obsessed with "Once." I saw it Off-Broadway, and in a similar way to ["Peter and the Starcatcher"], it transferred so beautifully. The performances are exquisite. I like it more than the movie, and I really liked the movie. I just think it's so special.
Steve Kazee
Lead Actor in a Musical, "Once"
I just saw "Peter and the Starcatcher," and the whole cast gave the performance of a lifetime. It's one of my favorite shows, and I recommend it to everybody. I kind of feel like we're sister shows. We had the same choreographer; Stephen Hoggett worked on both. It has the same sort of feel as our show. It's very intimate and very ragtaggy, and there's 13 people creating a piece of art. I felt like a family when we were watching the play.
Condola Rashad
Featured Actress in a Play, "Stick Fly"
Audra McDonald in "The Gershwins' Porgy and Bess." It brought me to tears. Everything she does, she's amazing. It's an honor that I even know her, but that performance was just flawless.
Pam MacKinnon
Director of a Play, "
Clybourne Park
"
I saw "Jesus Christ Superstar," and I thought that the pit orchestra was amazing. It was like kick-ass rock 'n' roll coming out of that pit. So that was really exciting. And Josh [Young] who got nominated for Judas, is fantastic. The company is really great.
Freddie Gershon
Tony Honor for Excellence in the Theatre
Christian Borle in "Peter and the Starcatcher." He just has that charismatic quality about him when you least expect it. I also like the fact that he's on "Smash," and he plays a completely different role. It's a wonderful example for young actors to see someone who shows such diversity of what they're capable of doing.
Emanuel Azenberg
Special Tony Award for Lifetime Achievement in the Theatre
"Death of a Salesman." I had never gone back to see that play after I was 15 years old, and this [production] I went to because Mike Nichols did it. You can criticize it, but it may be, and I think it is, the great American play of the 20th century. I thought it was just as pertinent now. God knows I had no idea what it was about when I was 15.
Douglas Carter Beane
Best Book of a Musical, "Lysistrata Jones"
Linda Lavin was especially delightful in "The Lyons." It was an exhilarating performance. I loved Stockard Channing's performance in "Other Desert Cities." And Cynthia Nixon in "Wit" was no chump change. I am glad I am not a Tony voter because the [best actress in a play] category is daunting. I would be overwhelmed. I have not seen the other nominees in that category but I know of them, and they're insanely talented. So I'm glad I don't have to vote.

Suzy Evans is the Senior Web Editor at Back Stage. Follow her on Twitter:
@suzyeevans