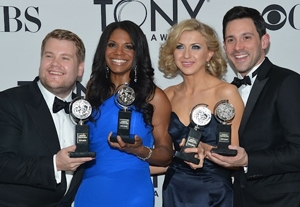 Back Stage asked newly-minted Tony winners to share their advice and experience for newcomers to the acting profession. Here are their thoughts on getting started in the business:
Audra McDonald (Best Actress in a Musical, "The Gershwins' Porgy and Bess")
When I do master classes at high schools or colleges, what I always tell the kids is if there's a role you think you can play, play it. Do it. Don't be the one to say no to yourself, because there's going to be enough people in the business who will say it. I also tell them to get onstage anywhere whether it be the YMCA, your church, anywhere you can get onstage. That community between the audience and the actor is the same anywhere.
Steve Kazee (Best Actor in a Musical, "Once")
I'm always a little cynical on this because I always tell people if there's something else you can do, do that. Because this business is tough, and it beats you down. I got out of school in 2005, by most standards I've had a successful time, but that's not the way it goes for everyone. So if you feel there's something else you can do with your life, then do that. But if you feel like there's nothing else for you and you would be completely lost if you tried anything else, then you're in the right business. That's how I've always felt.
Nina Arianda (Best Actress in a Play, "Venus in Fur")
I feel like a newcomer, so I can offer advice to myself. But I would say, stay curious if you really want it and never, ever stop.
James Corden (Best Actor in a Play, "One Man, Two Guvnors")
There are lots of people who will tell you you're too small or too big or too funny-looking. All of these things. The very fact that I am holding this [a Tony Award] should tell you none of that matters. If you don't give up, you can't fail.
Christian Borle (Best Featured Actor in a Play, "Peter and the Starcatcher")
You will drive yourself less crazy if you adhere to the dictum that other people's success is not your failure...Funny?

Judith Light (Best Featured Actress in a Play, "Other Desert Cities")
Remember that this business is not about you or your ego. Make it about doing what's best for the performance, not what you feel you need. Make it about somebody else.
Michael McGrath (Best Featured Actor in a Musical, "Nice Work If You Can Get It")
Don't be defeated. It's the struggle that defines you and makes you great.