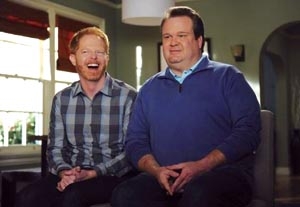 When it comes to the TV categories, familiarity does not breed contempt for the
SAG Awards
. Repeat winners and nominees are the rule of thumb for the prizes recognizing outstanding comedy and drama ensembles. But with past winner "Mad Men" not airing any new episodes during the eligibility period (the SAGs look back at the calendar year rather than the TV season as the Emmys and Golden Globes do) and long-running perennial nominees like "The Closer," "Dexter," "30 Rock," and "The Office" beginning to show their age, newcomers and previously snubbed series may slip onto the shortlist and even make their way to the winners' circle.
Matt Roush of TV Guide sees this as an opportunity for "Breaking Bad," another breakout hit for "Mad Men" network AMC, and Showtime's new series "Homeland." "Given the year that 'Breaking Bad' has had on AMC—a real buzz-magnet kind of a network—you could see them on the list," he says. "You had people like Aaron Paul and Giancarlo Esposito doing really remarkable work on that show, not just Bryan Cranston, who broke through last year and finally got a SAG nomination. That would be a really great ensemble to acknowledge. 'Homeland' has really come on strong recently, with Claire Danes, who won a SAG last year for the TV movie 'Temple Grandin,' Damian Lewis, and Mandy Patinkin and several others really standing out."
Roush is also rooting for FX's "Justified" to grab a nod. He sees the series as having "great bench strength of very eccentric characters," played by Emmy winner Margo Martindale, Timothy Olyphant, Walton Goggins, and the rest of the cast. He also thinks HBO's "Game of Thrones" might have a chance to buck the prejudice against fantasy shows.
Chris Beachum of GoldDerby.com sees last year's winner "Boardwalk Empire" being nominated again, as well as "The Good Wife," with "The Closer" and "Dexter" dropping out. He agrees that "Breaking Bad," "Game of Thrones," and "Justified" should be finalists. Again, it appears that cable may dominate the drama category.
Robert Bianco of USA Today sees "Boardwalk Empire" as a possible no-show this year. "People can be swept up in the prestige of programs without stopping to look at whether the work in them really deserves all the praise upon them," he says, favoring "Homeland" as a possible additional entry.
"With the exception of 'The Good Wife,' most network TV drama tends to be very formula," says Roush. "Even though there is good work being done within that formula, cable tends to take bigger risks. Because there are fewer episodes and they're not looking for the mass audience, particularly on AMC and FX, they do tend to do more distinctive and edgier work, which provides juicier roles for actors. 'Breaking Bad' could never have made it on commercial television, nor could 'Mad Men' for that matter." He notes that unconventional network shows like Fox's "Fringe" deserve more attention from the SAGs but fail to be recognized because they are so under the radar.
"Cable pushes the envelope more than the networks," agrees Beachum. "That changed several years ago when procedurals started encompassing most of the broadcast schedule. When several of your slots are filled by 'Law & Order'– and 'CSI'-type shows, those aren't generally going to get recognized by award groups. Lately, everybody seems to want to work on cable in drama."
While drama may see some new faces, the comedy ensemble category will probably be full of the old guard. Look for previous winners "Modern Family," "Glee," "30 Rock," and "The Office" to return. However, the last two may be on shaky ground—as fewer episodes of "30 Rock" were shot because of Tina Fey's pregnancy and star Steve Carell departed from "The Office" at the end of last season.
Our TV critics would like to see perennial bridesmaids "The Big Bang Theory," "Parks and Recreation," "The Middle," and "Community" finally get some SAG love. The odds of "Community" breaking through are slim, however, since NBC has dropped it from the midseason schedule, but "The Big Bang Theory," which has yet to receive a SAG nomination in five seasons, has a big cheering section among the critics interviewed. They cite Jim Parsons' two Emmys and Golden Globe, plus the beefing up of the roles played by Mayim Bialik and Melissa Rauch.
"It's a great ensemble that has just gotten stronger," says Bianco, who also favors "Cougar Town" but doesn't hold out hope for its making the final SAG list.