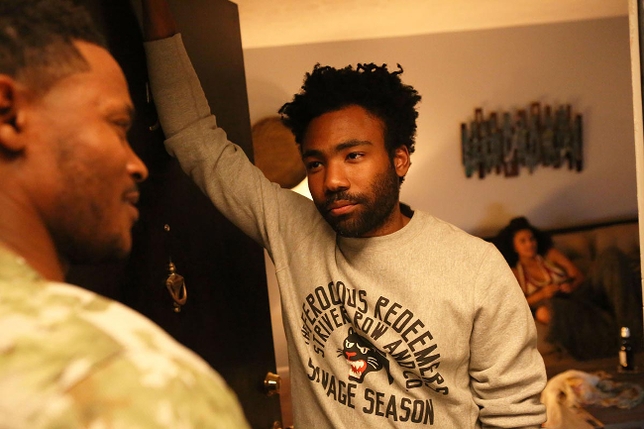 In the drumroll up to the Sept. 17 Emmy Awards, Backstage is breaking down each nominee in major acting categories: why they're great, why they deserve the trophy, why we can't stop thinking about their astonishing performances. Below we present the 24—seriously hilarious!—comedy actor nominees.
OUTSTANDING LEAD ACTOR IN A COMEDY SERIES
Anthony Anderson, "Black-ish"
Juggling a growing family, career, and his kids' sense of blackness in the lily-white surroundings of upper-middle-class suburbia, Dre is equal parts modern philosopher and swaggering goofball. The naturally funny Anderson's ability to pull off both continues to impress, as do those moments where he digs deeper—into Dre's anger at Trump's America, or fear for his family's well-being.
Aziz Ansari, "Master of None"
Ansari's ode to cities, food, and the quirks of modern life became more specific, empathetic, and ambitious in form in its banner second season. Audiences laugh at Dev as he navigates love in the digital age and working as an actor (and cupcake reality show host!), but in him we see ourselves; his exploits feel familiar, true to life, and remarkably relatable.
Zach Galifianakis, "Baskets"
What is it about Galifianakis that makes us want to laugh, even in his most stone-faced moments? In fact, the more serious Chip Baskets (or his twin brother, Dale) becomes, the greater the spontaneity and hilarity. Galifianakis, like the clowns his character so devoutly worships, is a smart enough performer to express this uncanny talent in every episode of FX's bizarro comedy.
Donald Glover, "Atlanta"
Creating an honest yet intimately specific story is not easily done on the small screen, but Glover has managed it and then some. Portraying Earnest "Earn" Marks, the showrunner-actor gives a face to the surreal universe that his "Atlanta" depicts, where characters navigate the ups and downs of life. There is never a dull moment in Earn's life—or in Glover's performance.
William H. Macy, "Shameless"
Macy's Frank—a role for which he's been nominated four years running—was in rare form this past season, showing us new elements of this legendary actor's ability. He's still a bumbling deadbeat of a dad, but Macy is entering more calculated territory, with Frank cutting the booze and attempting to build a community outside of the children who loathe him. Macy finds fresh ways to ground his often high-as-a-kite character.
Jeffrey Tambor, "Transparent"
In creating a well-rounded character based on her own parent, writer-director Jill Soloway has provided Tambor with the role of a lifetime. The two-time Emmy winner's performance as Maura in the terrific third season of "Transparent" continued to be darkly comic, specifically vulnerable, and full of unexpected grace.
OUTSTANDING LEAD ACTRESS IN A COMEDY SERIES
Pamela Adlon, "Better Things"
As writer, director, producer, and star of "Better Things," this industry vet gave us what we never knew we needed: pure and unadulterated Pamela Adlon. Watching her Sam Fox, a delightfully acerbic actor and single mom to three girls, feels like our inner monologues set free. The level of authenticity she brings to her character and her series is peerless.
Jane Fonda, "Grace and Frankie"
A master at everything from acting to exercising, Fonda continues to show off her skills in Season 3 of "Grace and Frankie." Portraying a woman coming to terms with her age, lucidity, and wellness is never easy, but Fonda delivers her dry humor with poise and dignity, proving time and time again why this actor has still got it.
Ellie Kemper, "Unbreakable Kimmy Schmidt"
The task of balancing goofiness with the genuinely dark elements of this Netflix comedy falls largely to its star, who continued that unmissable high-wire act in Season 3. While no one can match Kemper when it comes to sweetness, she also displays the cracks in Kimmy's determinedly sunny veneer, making us root for her, especially when her dreams seem out of reach.
Julia Louis-Dreyfus, "Veep"
The perfect calibration of timing and tone in Louis-Dreyfus' portrayal of the flailing former president Selina Meyer reaches new levels in a sixth season that found her cast into civilian life. The actor also continued to prove there may be no depths to which Selina won't stoop in her bid for political power. Is it any wonder she has five consecutive Emmys for this role?
Tracee Ellis Ross, "Black-ish"
Rainbow is your typical sitcom mother: frazzled but poised, put-upon yet supportive. But Ross and the creators of ABC's most subversive comedy have turned that trope on its head by adding new qualities: goofy, badass, often borderline deranged. This season, particularly in that roller coaster of a finale, the actor demonstrated her dramatic chops, making us love the Johnson family and its matriarch even more than we already did.
Lily Tomlin, "Grace and Frankie"
Tomlin is a straight-up legend, and proved why once again this year. Rarely are older women made visible in media, but in this Netflix favorite, Tomlin continues to delight as a woman with a tenuous grasp on her sanity and social standing. No one can deliver a punch line quite like her.
OUTSTANDING SUPPORTING ACTOR IN A COMEDY SERIES
Louie Anderson, "Baskets"
Anderson's drag act as the mother of Galifianakis' aspiring clown is the kind of stunt casting that could easily skew cartoonish. But the Emmy winner gets it right by leaving showmanship at the door, gingerly imbuing his Mrs. Baskets with maternal subtleties and, ultimately, paying a fitting tribute to his own real-life mom.
Alec Baldwin, "Saturday Night Live"
As his devastatingly daring and spot-on impersonation makes clear, Baldwin is no fan of Donald Trump. But even he must admit the outcome of the 2016 election had one upside: an opportunity to continue to skewer the guy on national TV. Featured in too many episodes of "SNL" Season 42 to be considered a guest actor, Baldwin tore up the screen while mocking the most unpresidential president in American history.
Tituss Burgess, "Unbreakable Kimmy Schmidt"
Is Burgess given all the funniest material on "Kimmy Schmidt," or does he turn every one of Titus Andromedon's antics into comedy gold on his own? Season 3 finds the aspiring star belting songs parodying Beyoncé's "Lemonade," suffering from scurvy, and plastering Jane Krakowski's hair onto her face, mid-make-out, to fashion a mustache. It's a fully realized and still groundbreaking performance we shouldn't take for granted.
Ty Burrell, "Modern Family"
You'd think the "cool dad" trope would be predictable or played out, but Burrell still proves willing and able to mine comedy gold. Over a whopping eight seasons playing Phil Dunphy—the awkward, lovable, ever-so-slightly dumb dad in the ABC mainstay's titular clan—Burrell continues to deliver pristine pratfalls complete with that signature goofy grin.
Tony Hale, "Veep"
Could Gary possibly get any more pitiable? As Hale's ballsy Season 6 performance proves, the answer is always yes. His genius is in the character's tiniest reactions and throwaway lines, especially evident when we meet his exceedingly odd family. His best moment this year: Quietly keeling over upon hearing his beloved boss has suffered a minor heart attack. The moment plays practically off-camera, yet he still makes us howl.
Matt Walsh, "Veep"
Standing out in an ensemble of comedy heavyweights is no easy task, but Walsh upped his game again this season, giving the erstwhile press secretary Mike McLintock new layers—hilariously awkward, squirm-inducing layers. We dare you not to laugh at his delivery of the immortal line "I shouldn't eat when I'm full!"
OUTSTANDING SUPPORTING ACTRESS IN A COMEDY SERIES
Vanessa Bayer, "Saturday Night Live"
Bayer's Emmy recognition for her seventh and final season appearing on "SNL" was a long time coming. From Jacob the Bar Mitzvah Boy to former porn star Brecky, she showcased what might be called her trademark style: ditzy deadpan. Our personal favorite is meteorologist Dawn Lazarus, who spouts perky gibberish to wondrous effect.
Anna Chlumsky, "Veep"
We've seen Amy Brookheimer lose her cool. We've seen her try to pick up the pieces of her dignity after doing so. Is it possible Chlumsky's terrifically harried go-getter is learning to own her flaws and mistakes? Amid the chaos of "Veep," Amy seems to care even less about hurting people's feelings than usual in the pursuit of doing her thankless job, as that hilariously deranged glare of Chlumsky's suggests.
Kathryn Hahn, "Transparent"
All of Hahn's work as Rabbi Raquel on Amazon's critical hit doubles as a master class in onscreen acting—one nuclear-level meltdown in particular is seared into our minds—but it's her wordless scenes that astonish. Reacting to terrible news from Jay Duplass' Josh, her face emanates shock and sorrow. Submerged in a healing pool of water, weariness radiates off her. Hahn is proof that grief can be synonymous with beauty.
Leslie Jones, "Saturday Night Live"
Jones' first Emmy nomination is the culmination of years of hard work in the comedy world and iconic performances on NBC's variety hit—but you also get the sense her career is just warming up. Her take on Trump this season was delightfully weird, while that bit about black history and "Hidden Figures" ranks as one of her best tirades.
Judith Light, "Transparent"
Light can be trusted with scenes involving crushing loss or side-splitting laughs. There are times when Shelly Pfefferman seems insufferable, somehow less mature than her selfish kids. But there are other moments—her bare-it-all performance of the one-woman show "To Shell and Back"—when Light can make Shelly rise above, becoming one of the wisest and most triumphant women on television.
Kate McKinnon, "Saturday Night Live"
The MVP of "SNL" still has that enviable ability to turn mediocre sketches into brilliant ones with a simple head tilt or widening of the eyes. Her co-stars often laugh so hard they can barely keep it together on the air. Hillary Clinton didn't make it to the White House, but McKinnon's performances didn't falter—far from it. Her impersonations of Kellyanne Conway and Jeff Sessions—just two examples—are as blisteringly damning as they are hysterically funny.
Ready to audition for the small screen? Check out Backstage's TV audition listings!