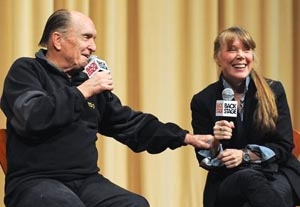 Recently, Back Stage and SAG Foundation co-sponsored a screening of the film "Get Low" followed by a Q&A with actor/legend/tango dancer Robert Duvall, a surefire Oscar nominee for the film. It was a packed house and we had to bring in extra folding chairs, so we started a little late but, as I assured the audience, "It's going to be worth in."
I opened the screening by revealing a special surprise. "What could be better than a Q&A with Robert Duvall? How about a Q&A with Robert Duvall and Sissy Spacek?" There were actual audible gasps in the audience—this woman is beloved, particularly by actors.
In the film, which also stars Bill Murray and Lucas Black, Duvall plays Felix Bush, a hermit in the 1930s who decides to throw his own funeral while he's still alive. Spacek plays an ex-girlfriend from his past, who re-enters his life.
The actors arrived early and greeted each other in the green room warmly. They were like old friends, talking about horses and Virginia, where they both have homes. Following the screening, I introduced Spacek first, who received an enthusiastic standing ovation.
READ THE REST ON 'BEHIND THE SCENES' BLOG