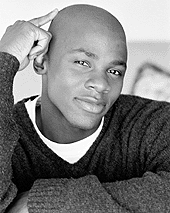 Members of the SAG Nominating Committee, BAFTA-LA and BackStage.com readers:
You are invited to join Back Stage West for a discussion with actor Derek Luke following a special screening of his new film, Antwone Fisher, directed by two-time Academy Award-winning actor DENZEL WASHINGTON.
Mr. Luke?s poignant and provocative performance in the title role has earned him an upcoming role in Biker Boyz starring opposite Laurence Fishburne. In addition, Mr. Luke has been honored with the National Board of Review?s Breakthrough Performance by an Actor and Movieline?s Breakthrough Award.
Mr. Luke?s personal story-- coming to Hollywood to follow his dream to be an actor, being "discovered" while working at the Sony Studio Store, starring opposite and being directed by Denzel Washington--is almost as inspirational as the story of Antwone Fisher himself.
Mr. Luke will discuss his role in Antwone Fisher with Casting Editor Lori Talley.
Screening will take place January 10, 7:30 PM at the DGA Theatre at 7920 Sunset Blvd., Los Angeles, CA 90046.The event is free, but reservations are required; you may RSVP for yourself and one guest to (310) 369-3221.