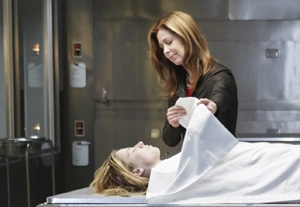 Crime dramas, conspiracy thrillers, and down-home narratives about youthful angst will be among the new shows entering our homes this fall TV season. All will be seeking actors for a range of roles: guest spots, recurring, perhaps even a principal part. We spoke to CDs of several shows to find out what they might need.
"Body of Proof," Drama, ABC
As the title suggests, "Body of Proof" is a crime drama. But it's somewhat different from the usual fare, says casting director Rosalie Joseph. In addition to solving murders, the characters are advocates for the victims, giving peace and closure to their survivors.
Set in Philadelphia (but shot in Providence, R.I.), the story centers on Dr. Megan Hunt (Dana Delaney), a top-notch neurosurgeon who is forced to give up her medical practice in the wake of a devastating car crash and resume her career as a medical examiner. But within short order she is crossing the line into police work, while her own family life unravels.
"This is straightforward drama, and we need actors who are as real as can be," says Joseph, adding the series will feature many quirky characters. "But we're not interested in actors who 'play' characters but those who are characters." All ethnicities, ages, and physical types will be needed—anyone who reflects the fabric of life in Philadelphia, she notes. The key to landing any role is preparation. "Actors need to do their homework," she emphasizes. "They don't have to memorize the lines for the audition, but they need a real knowledge of them. They need to make eye contact with the reader and understand what they're saying. And if they don't understand what they're saying, they need to ask."
Joseph does not look at unsolicited mail from performers. However, she frequently checks out websites that feature actors' pictures and résumés.
Rosalie Joseph, ABC Casting, 157 Columbus Ave., New York, NY 10023.
"The Event," Drama, NBC

A high-octane conspiracy political thriller, "The Event" is awash in suspense and intrigue that reaches the highest levels of government. Even the president (played by Blair Underwood) is kept abreast on a need-to-know basis. The narrative unfolds as an ordinary man (Jason Ritter), trying to understand what led to the disappearance of his wife, uncovers secrets that have global significance.
"I will need smart actors who can handle political dialogue and action," says casting director Jason La Padura. "Ethnically our casting is across the board; it's colorblind. Of course we're going to want young and pretty but also middle-aged and older actors with serious acting experience behind them." Given the high level of acting among the principals—he cites Zeljko Ivanek (Emmy winner for "Damages") as an actor with added gravitas—anyone who comes on board must be up to snuff.
At auditions, La Padura is drawn to the actor who makes unexpected choices no one else has tried. Though Ritter landed the role, La Padura cites another actor who ultimately got tested because he read the line "I love her too" unlike any other actor. The CD says he might very well employ that actor at some point. La Padura is open to receiving post cards from actors and adds, "If I don't know who they are, they can send a résumé too."

Natalie Hart and Jason La Padura, La Padura & Hart Casting, Sunset Gower Studios, 1438 N. Gower St., Box 57, Hollywood, CA 90028.
"Hellcats," Drama, The CW
Shot in Vancouver, British Columbia, " 'Hellcats' has the sensibility of a musical without being a musical," says casting director Bruce H. Newberg. He is seeking actors who can dance, have gymnastic ability, and sing well—though so far no singing has been called for.
Starring Alyson Michalka and Ashley Tisdale (both alums of Disney TV productions), "Hellcats" is a cheerleading drama that explores the emotionally fraught relationships among the cheerleaders, football players, coaches, and others who make up a college community's sports world. Marti (Michalka) is a brainy pre-law student who loses her scholarship thanks to budget cuts and a mom who screws up. In an effort to win a sports scholarship and continue her education, she joins the cheerleading team and locks horns with its intense captain (Tisdale).
Newberg has every expectation that characters will represent an ethnic mix, most probably in their late teens through 30s—not unlike the show's regulars. He says a central consideration for all casting is, Does the actor "belong in this world"? "I need actors who complement Aly and Ashley and have the right comedic tone," he explains. "We need straight-ahead honest acting that is not splashy. Whatever I'm casting, I need actors who grasp the character, understand the tone, and have a feeling for the details and shape of the whole piece."
Newberg does not look at unsolicited submissions from actors he does not know.
Bruce H. Newberg, Bruce H. Newberg Casting, 606 N. Larchmont Blvd., Ste. 311, L.A., CA 90004.
"My Generation," Drama, ABC
Viewed through a documentary filmmaker's lens, "My Generation" tells the story of a group of Austin, Texas, high school seniors in 2000 and then 10 years later when they return to their hometown and consider how their lives have measured up; each episode juxtaposes the eras. "It is a hybrid comedy-drama and very much a slice of life," says casting directing Marci Phillips, noting the acting has to reflect that documentary style. "We have to believe that these are students and not actors at all, and the acting has to be seamless." Casting will be ethnically diverse. Though the series is shot in Texas, casting will occur on both coasts.
Unsolicited self-submissions generally do not lead to getting cast. However, Phillips says, there is always the possibility that an actor may be seen if his headshot is unique and captures some essence of who the actor is. "Résumés are not high on my list," she continues. "They're only interesting if you've done something amazing and I never heard of you. Then I may take a look. But I like notes that reflect the actor's personality. If you're funny, show me that. If you are sincere and generous, I want that reflected in the note. I need a piece of your personality."
Marci Phillips (NYC), ABC Casting, 157 Columbus Ave., New York, NY 10023. David Rapaport (L.A.), My Generation Casting, c/o Raleigh Studios, 5300 Melrose Ave., L.A., CA 90038.
"Outlaw," Drama, NBC
Judge Cyrus Garza (Jimmy Smits) is a man about town with a taste for gambling who leaves the bench to returns to private practice after concluding the system is flawed. Determined to represent the "little guy" he travels around the country, cherry-picking his cases. " 'The Outlaw' has the depth of 'The Practice,' and in the end you may not be always entirely sure what side you're on," says casting director Joseph Middleton.
Casting requirements will vary with the region. "If a show is shot in Detroit, there will be more African-Americans," Middleton says. "If the show is set in Phoenix, we may be looking for actors who are blonder, blue-eyed, suntanned and dry-skinned. We may also be looking for Native Americans in Phoenix. If the story takes place in an auto plant, there will be a different age range, type, and build."
Besides the usual detectives and cops, the show will require actors to play high-level professionals in the legal-political forum, he says. "We will need actors who are articulate, smart, direct, and are able to convey competence. Chunks of legal jargon and dialogue have to flow easily." Most important, "Because of Jimmy Smits, the acting has to be formidable," Middleton says.
The CD is open to receiving via email a 15-second clip of an actor's work that gives him a sense of who the actor is. "It's best if it's a sample of professional work," he says. "But if you don't have it, I will look at a monologue or a scene—with one partner, not five. But please don't email me more than once every three months. There's a difference between being graciously aggressive and a stalker."
Joseph Middleton and Deanna Brigidi-Stewart, Middleton Casting, 4250 Wilshire Blvd., 3rd fl., L.A. CA 90010. Email: middletoncasting@gmail.com.
"The Whole Truth," Drama, ABC
Though "The Whole Truth" is a procedural courtroom drama, it's a departure from most in following a case from the prosecutorial and defense sides, explains casting director Dan Shaner. The viewer will be watching both sides preparing and presenting their cases, and it will often be ambiguous as to who is correct; keeping the audience guessing is part of the fun. There will be narrative twists and turns, but in the end it's a straightforward drama with edgy humor.
The series stars Rob Morrow as a hotshot Manhattan defense attorney and will be featuring an array of, among others, lawyers, criminals, and detectives—all of whom need "a New York edge and flavor," notes Shaner. "We have to believe the characters come from specific New York neighborhoods." Ethnicity and ages will run the gamut, "although we are going to be steering away from bland, pretty people," he points out. Authenticity is key, and he wants actors who have dramatic chops with that aforementioned humor.
Shaner is not averse to receiving snail-mail headshots, "if they are current, professional, and look like the actor. On the résumé, I like to see training and legitimate theater work. The notes should say who you are and that you are ready to work. I don't need personality, kids. If you have the right look, I'll bring you in."
Dan Shaner and Michael Testa, Shaner/Testa Casting, 4000 Warner Blvd., Bldg. 261, Burbank, CA 91522.
"Undercovers," Drama, NBC
"Undercovers" is a spy drama with all the excitement and action that comes with the genre, but at its core it's about a smart, sexy, couple who dig each other. Specifically, it tells the story of two former CIA agents (Boris Kodjoe and Gugu Mbatha-Raw) who are recruited to return to the netherworld of espionage when a fellow spy disappears. In a world of danger and intrigue, the sexual sparks between husband and wife are re-ignited and long-buried secrets surface. This show features actors who are easy to look at and play characters with fast minds.
"We need actors who get the pace and energy, have the physicality and intelligence," says casting director April Webster. "We need plain good actors." She is especially pleased with the casting of Gerald McRaney as the agency liaison. "He has the intensity, and he is a really fine dramatic actor," she says.
The casting is colorblind. The two leads are black, though the characters were not specifically written as African-Americans. Still, Webster points out, if the story is set in, say, Korea or Russia, producers will be seeking, respectively, Korean and Russian actors who can speak the languages. Actors from across the world will be sought.
Webster does not encourage submissions from unrepresented actors she does not know. However, she frequently casts actors who don't have agents if she has seen them in a play and admires their work.
April Webster and Veronica Rooney,  April Webster & Associates, 4000 Warner Blvd., Bldg 228, Burbank, CA 91505 .
And here is a full list of the new fall shows, with casting-office information.
"Better With You," Comedy, ABC
A woman questions her healthy, stable, committed relationship when her impulsive younger sister winds up engaged and pregnant only two months into a new relationship. Starring Jennifer Finnigan and JoAnna Garcia.
Greg Orson and Lesli Gelles, GO Casting, 6464 Sunset Blvd., Ste. 970, L.A., CA 90028.
"Blue Bloods," Drama, CBS
Tom Selleck plays the New York chief of police and Donnie Wahlberg, Will Estes, and Bridget Moynahan are his children, who are also involved in the justice system.
Beth Bowling and Kim Miscia, Bowling/Miscia Casting, 609 Greenwich St., 6th Fl., New York, NY 10014.  
"Chase," Drama, NBC
Show starring Jesse Metcalfe and Cole Hauser follows an elite team of U.S. Marshals responsible for tracking down America's most dangerous fugitives. Produced by Jerry Bruckheimer and Jennifer Johnson.
Elizabeth Barnes and Corbin Bronson, 1438 N. Gower St., Bldg. 5, Rm. 408, Hollywood, CA 90028.
"The Defenders," Drama, CBS
Two Las Vegas defense attorneys juggle life on the strip and their ever-expanding roster of eccentric clients. Starring Jim Belushi and Jerry O'Connell.
Felicia Fasano, 8621 Hayden Pl., Culver City, CA 90232.
"Detroit 1-8-7," Drama, ABC
Shot entirely on location in Detroit, the show follows the homicide unit in one of America's toughest cities. Starring Michael Imperioli.
Sharon Bialy and Sherry Thomas, Bialy/Thomas Casting, 10201 W. Pico Blvd., Bldg. 310, Ste. B, L.A., CA 90035.
"Law & Order: Los Angeles," Drama, NBC
A new version of the classic court procedural, this time based in L.A.

Megan Branman and Dylann Brander, 1201 W. Fifth St., Ste.  F140, L.A., CA 90017.
"Mike & Molly," Comedy, CBS
An overweight couple struggles with life, love, and overeating. Produced by Chuck Lorre ("Two and a Half Men," "The Big Bang Theory").
Nikki Valko and Ken Miller, Valko/Miller Casting, 3500 W. Olive Ave., Ste. 780, Burbank, CA 91505.
"Outsourced," Comedy, NBC
A Midwestern sales manager for a novelty-gag retailer is sent to India to train the company's new call-center team. Diedrich Bader and Ben Rappaport star.
Mary Gail Artz and Shani Ginsberg, Artz & Ginsberg Casting, 100 Universal City Plaza, Trailer 6139, Universal City, CA 91608.
"Raising Hope," Comedy, Fox

A slacker finds himself thrust into wwfatherhood when a one-night stand with a wanted felon results in her giving birth in prison. Starring Martha Plimpton, Garret Dillahunt, and Lucas Neff.
Dava Waite Peaslee, Dava Waite Peaslee Casting, c/o Paramount Studios, 5555 Melrose Ave., Cooper Bldg., Ste. 116, L.A., CA 90038.
"Running Wild," Comedy, Fox
Will Arnett stars as an obnoxious billionaire looking to reconnect with a former girlfriend, played by Keri Russell.
Jennifer Euston, withheld by request.
"S#*! My Dad Says," Comedy, CBS.
William Shatner and Ryan Devlin star as a father and son who reluctantly live together. Inspired by a Twitter feed.
Tracy Lilienfield, c/o Bonanza Productions, 4024 Radford Ave., Bldg. T, Studio City, CA 91604.
Additional reporting by Pete Keeley