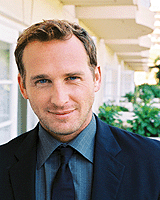 Josh Lucas looks every bit the movie star when he takes the stage at the Toronto International Film Festival for the premiere of Undertow, the Southern gothic drama directed by David Gordon Green (All the Real Girls). Snappily dressed and almost ridiculously handsome, with the most beautiful blue eyes seen onscreen since Paul Newman's, he is casually chewing gum and cracking jokes with Green and his cast mates. Then the movie starts, and a different Lucas appears onscreen: a menacing psychopath who terrorizes his family in one of the most unsettling films of the year. His character, Deel Munn, sports a dangerous swagger, some truly frightening facial hair, and a simmering resentment toward his brother, played by Dermot Mulroney. Those baby blues are still captivating, but now their piercing intensity is unsettling, not enchanting.
Two weeks later, back in Los Angeles, Lucas is relishing the memory of the audience's response to his villain. "I've had people react to me in a way that I never had before, which is, people were scared. Even people I knew," he tells Back Stage West. "I really did not have any concept what the reaction was going to be. I was surprised."
Also likely to be surprised are audiences who best know him from his role as Reese Witherspoon's charming husband in Sweet Home Alabama. The actor professes to love the romantic comedy, but there is a part of him that wishes his other roles had received as much attention. "I only seem to be recognized from Sweet Home Alabama," he admits. "Which is fine, but a lot of the other movies I'm really proud of. You know, the beauty of disappearing into a role is that it doesn't let people have a specific idea of who you are. But at the same time, you want your audience to see the movies." He pauses and allows a broad grin to stretch across his sharp features. "Although, I don't really see the Sweet Home Alabama audience going to see Undertow," he reasons.
Lucas has been steadily building an impressive resume of powerful performances over the last few years. Small but memorable turns in You Can Count on Me and The Deep End proved his skill in character roles. He was spectacular--and virtually unrecognizable--Brad Anderson's underrated thriller Session 9. He made a worthy foe, and later friend, to Russell Crowe in A Beautiful Mind. And he stole virtually every scene from star Val Kilmer in last year's Wonderland. But what's surprising to discover is that this wasn't Lucas' first time around Hollywood. He made his big screen debut more than a decade ago as one of the doomed passengers in the 1993 film Alive. He was getting offers, working steadily, and by all means a success. Then he did the unthinkable: He quit.
Begin Again
Lucas is aware how his decision may strike some people as odd, but he was committed to learning his craft. "I didn't feel I really knew what I was doing yet," he explains carefully after a lengthy pause. "That's what it came down to. I watched people become very successful and famous when I didn't feel they had the tools. They had the talent, but they didn't have the craft. And I felt like I had the same problem." He was also keenly aware of how quickly young, good-looking actors could be chewed up and spit out in the industry, and he was determined to have a lasting career. "I started to have success in a way that I was watching myself and saying, 'I don't feel it's really working yet,' " he continues. "So I had to stop myself, even though I was being paid pretty decently, and say, 'It doesn't matter, because if you're not good enough, you're going to have a very, very short run.' "
He went to New York and began pursuing theatre and studying with teachers such as Suzanne Shepherd and Lloyd Williamson. Because he had forgone college to pursue his career, he specifically targeted instructors who had taught at prestigious schools such as Juilliard. "They have that incredible craft and layered understanding of technique that I didn't have," he says. "I really wanted it, I valued it, and I saw it in film and theatre actors who had it, and I saw the difference. No matter how talented somebody is, they need their craft."
New York was, in his own words, "an ass-kicking." He found himself trying to break into the business all over again. "If you haven't been trained and you don't have a lot of theatre experience under your belt, the people are not terribly interested in seeing you, even if you've done movies," he notes. "So I basically had to fight my way into each door, even with a couple of movies and TV shows under my belt." Through his teachers and friends, he eventually started getting auditions and began building a career in theatre. He also occasionally entertained thoughts of leaving acting altogether. "My mother said to me, 'Why are you still doing this?' and I was so angry at her," he recalls. "But I really, really love it. If you can say that to yourself even through all the failure and frustration, it's worth it. People reading this might say, 'Well, he hasn't experienced tough times.' Bullshit. I had 10 years of not making a dime, 10 years of everything working against me, of struggle and discomfort, and I still really loved it. I remember doing a play with Calista Flockhart and six others, and there were regularly only three or four people in the audience. Every night we'd still walk out there and go, 'This is really cool.' "
His role as Judas in Terrence McNally's play Corpus Christi brought Lucas to the attention of American Psycho director Mary Harron, who cast him in the dark comedy. Upon embarking on his film career the second time, he consciously sought out quality scripts and collaborators. "It's about the material," he says simply. "I'm definitely about to have large, leading-men movies come out, but for the first time, they're also very character-driven performances. Before, I was only being offered leading men; there weren't characters involved."
One assumes that after Sweet Home Alabama, Lucas was probably offered a lot of--how to put this delicately? "Bad, bad, bad romantic comedies," he completes the thought, well aware many people would expect him to go that route. "Just now I was downstairs talking to the Hollywood Foreign Press, and they were saying, 'Well, why didn't you do that?' And I said, 'Because to me, I didn't care about having popular success, I cared about having movies that people could see that I could act in.' " Once again, he says, it came to the material, "It was much more interesting to me that directors wanted to hire me than that Hollywood wanted to hire me. And because of it, now I'm at a point where I'm getting good Hollywood movie offers as opposed to bad [ones]."
He admits the money was frequently tempting. He made SAG Minimum on Alabama and turned down big money offers after the film was a hit, "much to the chagrin of my agents and managers." He adds, "If I could ever give anyone advice, it would be to live within your means. Because if you don't have to pay car payments or house payments, you don't have to do the movies then. When I was offered bad movies, I never even thought about them."
Bends and Undertows
Lucas has always believed that the more interesting roles would come later in his life. "I was always much more interested in being a man than boy-man or young man," he reveals. "To me, the most interesting characters exist in their 30s. They're the fathers, the ones who have careers. It's not just self-centered 20-year-old pain." He cites his roles in Undertow and the family drama Around the Bend, which opens in limited release this week, as the parts he longed for when he was a younger actor. "Deeply conflicted relationship movies like these two films, boys aren't playing these parts," he notes. "It's the rare, rare part that comes along that's complex for a young actor."
In Around the Bend, he gives a restrained performance as Jason Lair, the single father of a young boy. When his grandfather (Michael Caine) passes away, Jason finds himself on a KFC-fueled road trip with his son and the father he never knew (played by Christopher Walken) to disperse the ashes of the patriarch. Lucas jumped at the chance to work with Walken, one of his favorite actors, but found the experience of playing such an internalized character a bit frustrating. "I would have loved to have been able to react to Christopher Walken as an equal," he says. "But the truth of the matter is, Jason Lair is not a spontaneous, playful, vibrant human being. He's so contained and even stuffy. I would sit there and watch Christopher's reactions, and I'd be, like, 'That's so brilliant, I want to play with it. But I can't, I have to be annoyed and angry.' I would love to do a movie where I'm playing with him, not against him."
Around the Bend was an exercise in stillness for Lucas, who says the goal of the day was to look uncomfortable in his own skin. "It's such a weird thing to go through; it's the opposite of what you search for as an actor on almost every other occasion," he observes. He cites William Hurt as an example of a great actor who can make an average, everyday sort of character interesting. "He's so fascinating to watch and it's so hard to do," he says. "One of the reasons I wanted to do this movie was to see if I could be interesting playing someone who's normal, who's not crazy. It's so hard. Not to take away any of the brilliance of a Pacino or a DeNiro, but I've always said it's much easier to be fascinating doing Godfather or Scarface than it is to be an ordinary human being."
Later this year he will star opposite Jennifer Lopez and Robert Redford in An Unfinished Life, playing a sweet small-town sheriff who romances Lopez. Next year he co-stars with Jamie Foxx in the big-budget action film Stealth and headlines the football drama Glory Road. At some point, he is hoping to return to the theatre, likely in New York. Mostly he hopes to continue finding roles that surprise him and working with directors who interest him. "The director is the powerhouse of creative energy on a film set," he says. "Not that a director needs to be proven, but you look at a David Gordon Green, and you see that he's got such an individual kind of film fingerprint. It's unique unto him. That, to me, is what makes a good director." Asked if there's a particular director he's eager to work with, he doesn't even hesitate. "Michael Mann," he says, naming the auteur behind The Insider and Collateral. "I want to work with someone who pushes me really hard. People like him and Oliver Stone are known for being forces of difficult energy that challenge and disrupt your patterns. That's what I want right now." His certainty leaves little doubt that a collaboration between the two is inevitable: Josh Lucas is an actor who does what it takes to get what he wants. BSW