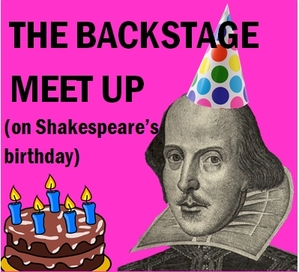 Backstage's popular actor networking event is back, and on Shakespeare's 450th birthday, no less!
Backstage will be hosting 100+ actors, singers, and dancers tonight, Wednesday, April 23, at Van Diemens Bar for the social event that has become a staple for any New York actor. We will also be hosting two industry guests that will be hanging out and mingling with the event attendees.
First will be Michael Rodriguez, agent and owner of The Roster Agency. Rodriguez has taught at multiple Backstage University events, and Backstage is thrilled to have him back for this gathering.
Backstage also has casting director Scott Wojcik, partner at Wojcik-Seay Casting. Wojcik casts everything from New York theater, to national tours and regional theater, to numerous commercials for clients like Verizon, Canon, Capital One, and HBO. He also has taught several musical theater audition classes for Backstage University, and is always an attendee favorite.
With your ticket price, Backstage will again be offering an open beer and wine bar, as well as food for the entire event. It also automatically enters you into a raffle to win one of three different prizes. You can win a $100 credit to Backstage University, an acting or musical theater reel from Tim Grady Films (a $300 value), or a private class with Melissa Robinette—owner of The Biz of Show, and Equity Eastern VP—on tools you need to negotiate your own contracts ($160 value).
So head down to Van Diemens Bar, have a few drinks, meet some industry pros, mingle with your fellow actors, and have the chance to win number of great prizes!