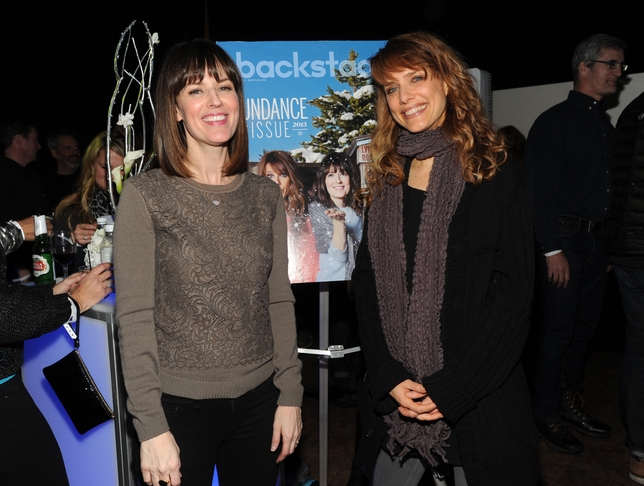 "Pose for photos with me!" Alycia Delmore shouted. The bar was open and the joint was packed during the Jan. 19 Sundance premiere party for director Lynn Shelton's "Touchy Feely," where Delmore, Allison Janney, and Josh Pais joined partygoers (and certain journalists) in a photo booth that proved to be one of the evening's big attractions. Shelton and star Rosemarie DeWitt laughed as they posed for professional pics in front of a poster of their recent Backstage cover. After the initial red-carpet glitz, a fun and festive atmosphere settled in—perfect for a festival that sees women wiping out on icy streets in sky-high heels, one where glamour can sometimes be overrated.
CLICK HERE TO VIEW THE SLIDESHOW
Hosted by Chase Sapphire Preferred at the Shop, the party seemed to exert a magnetic pull; in a week that has almost as many shindigs as films, the venue quickly filled up. While the cast posed for photos and worked the red-carpet line, partygoers hit the bar, dived into shot glasses full of some sort of delicious dessert (spoons were required, which presented some drinking obstacles that everyone bravely overcame), and gathered in the photo booth in increasingly ridiculous poses as the night wore on.
Among those imbibing and networking were actors Delmore and Shannon Kipp, both in "Touchy Feely"; Lauren Bratman, co-producer of the eagerly anticipated first film adaptation of a David Sedaris work, "C.O.G."; and actor Anna Margaret Hollyman of "Gayby" and Sundance short "Social Butterfly."
Shelton introduced Seattle musical fave Tomo, who managed the neat trick of performing an acoustic set that didn't dampen the party. JJamz also took the stage as the crowd thickened, the line at the bar lengthened, and waiters valiantly wove in and out with hors d'oeuvres. In the end, what better way to celebrate a movie called "Touchy Feely" than with an SRO party?