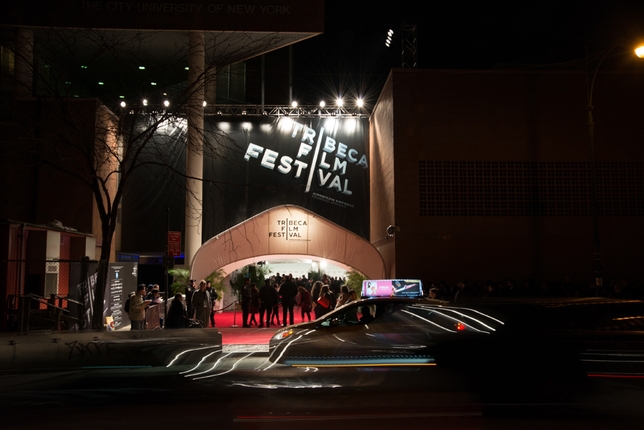 That's a wrap! The 13th annual Tribeca Film Festival had its final screenings April 27. Attendance for the fest topped 400,000, featured nearly 400 screenings and panels, and, for the first time ever, sponsor AT&T offered "Film for All Friday," where screening tickets were free all day.
A staple of New York City film, TFF2014 brought out stars including James Franco, Patrick Stewart, Leighton Meester, Toni Collette, Jon Favreau, Corey Stoll, Chris Messina, Jason Ritter, Max Greenfield, Courteney Cox, Seann William Scott, and more, and we picked up lots of little tidbits in our interviews!
Stewart shared a personal story about his father that surfaced while he was playing Tobi Powell in "Match" (about an aging dance instructor), and gave advice to young actors on how to take all experiences, including painful ones, and incorporate them into their craft.
"Gabriel's" Rory Culkin and director Lou Howe talked to us about the actor-director relationship they built during the making of the film about a mentally disturbed boy fixated on his ex-girlfriend. Themes of past relationships also surfaced in our interviews with Collette, Ryan Eggold, and Thomas Haden Church regarding their film "Lucky Them," about a rock journalist on the hunt for the full story on her ex-boyfriend after he disappeared years prior.
Tribeca newcomers Onur Tukel and Garrett Bradley told us about their narrative films, both of which drew from their settings—Brooklyn and New Orleans, respectively. Tukel's "Summer of Blood" took on the vampire comedy genre, and Bradley tackled serious youth issues in New Orleans with "Below Dreams," a film she successfully cast on Craigslist.
Backstage bowled with Kevin Spacey and some of the "House of Cards" cast after the SAG Indie cast party at Bowlmor Lanes, and grabbed tea with the busy Messina; we spoke about his directorial debut "Alex of Venice," and he confessed how crashing an Equity audition he found via our casting notices was partly responsible for kickstarting his career in his early 20s. "The moral of the story is don't follow the rules," he said.
Cox and Scott told us about their black comedy "Just Before I Go," and we sat in on a new, innovative take on storytelling with "Choose Your Own Documentary," a doc piece inspired by Choose Your Own Adventure Books where the audience makes choices that directly affect how the story unfolds. Later, we briefly examined the effects of social media with the cast of "About Alex," which included Ritter, Greenfield, Maggie Grace, and Nate Parker.
For some of the filmmakers, the highlight of the festival was the recognition and cash prizes at the end. The best actor in a narrative feature film award went to Paul Schneider ("Parks and Recreation") for his role as Otto in "Goodbye to All That." The narrative audience choice award went to "Chef," written and directed by Favreau, winning a cash prize of $25,000, which Favreau plans to donate to charity. Best actress in a narrative feature went to Valeria Bruni Tedeschi for playing Carla Bernaschi in the Italian film "Human Capital." The Israeli film "Zero Motivation" won for best narrative feature, and best new narrative director was named Josef Wladyka, helmer of U.S./Colombian film "Manos Sucias."
Want to break into the Indie film scene like all these actors? Check out this casting notice. Maybe we'll see you at the Tribeca Film Festival next year!