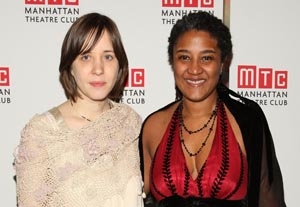 Bartlett Sher, the Tony Award-winning director noted for staging some of the most acclaimed revivals of the past three Broadway seasons, will step down in a year as artistic director of the Intiman Theatre in Seattle. Kate Whoriskey, who established herself in New York this past season with her direction of the Pulitzer Prize-winning play
Ruined
, will take over for the 2010-11 season.
In the interim, the two will co-lead the Intiman. In an interview with Back Stage, Sher indicated his New York success—which includes the revivals of Clifford Odets'
Awake and Sing
(2006-07), Rodgers and Hammerstein's
South Pacific
('07-08), and August Wilson's
Joe Turner's Come and Gone
this past season—prevented him from dedicating himself as fully to the Intiman as he would have liked.
"There's no way I can be on both coasts as much as I am and give Intiman the kind of service it needs to be run effectively," he said. "I will continue working there for Kate."
Sher picked Whoriskey in 2000 to direct
The Chairs
at the Intiman, and she has also helmed productions of Ibsen's
The Lady from the Sea
and Joe Penhall's
Blue/Orange
.
Sher said Whoriskey was the ideal candidate to take over. "I've always thought Intiman is one of those places that should have the best young director in America running it," he said. "I happen to believe that Kate's the best young director working in America…. She brings her relationships with playwrights like Lynn Nottage, Nilo Cruz, and Julia Cho, plus she's a great director of classics. These are all qualities which make her work really well suited. She has ideas about community consistent with what we're doing so it's pretty great."
Whoriskey indicated that she wants to give the Intiman a more international perspective. In working with Nottage on
Ruined
, which is set in the Democratic Republic of Congo, the two traveled to Uganda to do research and conduct interviews. The play is running Off-Broadway at Manhattan Theatre Club and has been extended seven times.
"I look forward to building relationships with different voices to promote diversity and interdisciplinary work," Whoriskey said in the release. She also remarked that the Intiman "has a large, loyal, and intellectually curious audience, and works with a tremendous pool of talented theater artists. There is also an overall environment of innovation in many fields in Seattle, which I think is part of what makes it one of the most exciting cities in America to make theatre."
David Sheward contributed to this report
.