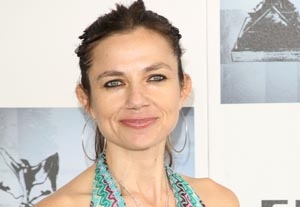 Justine Bateman, the Screen Actors Guild national board member whose potty-mouthed rants against the American Federation of Television and Radio Artists put her on the extreme edge of union politics, resigned from her position July 3, due in part to SAG members' overwhelming approval last month of a new TV-film contract.
"SAG members…have now voted up a contract that will cause 50 percent of the working members to leave the business," she wrote in her resignation letter, first publicized on Nikki Finke's blog, Deadline Hollywood Daily.
In the letter, Bateman not only repeated her assertion that
AFTRA is a "scumbag" union (a term she used last year); she also noted that not enough of SAG's rank and file "expressed the correct anger at AFTRA [for] low-balling contracts over the years that affected their ability to provide for themselves." The allegation of undercutting has been made by others in her party, Membership First, but AFTRA has denied the charge. Self-described moderates in the guild have largely sided with AFTRA in this dispute.
The two unions, which share jurisdiction in television, have battled fiercely over the past several years but patched up their differences to jointly negotiate a new commercials contract with advertisers last spring. As part of mending fences, the unions signed a nondisparagement agreement, something that frustrated Bateman. "If we can't speak up about the injustices in union matters, how are we being effective at all in office?" she wrote. "No, better to not be a part of it and to be able to speak freely against what I see as irresponsibility, fear, greed, and ego-driven decision making."
SAG's Hollywood division will choose a replacement for Bateman at its next meeting, July 13. Anne-Marie Johnson, the guild's 1st vice president and spokeswoman for Membership First, was surprised by the resignation. "I had no idea it was coming," she told Back Stage. "I found out via email she sent to staff and certain board members."
Still, given the intense fighting within Hollywood labor, Johnson said she understood Bateman's decision to leave: "She's just done, which happens to the sane portion of us. It's the insanity that keeps us [who remain] going."