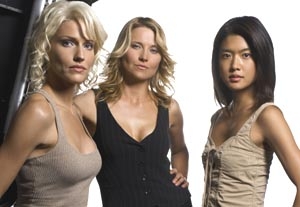 Although long snubbed by the Emmys and Golden Globes, Syfy's "Battlestar Galactica" was named program of the year Saturday by the Television Critics Assn.
The final season of the acclaimed sci-fi drama took the top honor at the ceremony, and HBO won more awards than any other network -- three -- with "True Blood" named outstanding new program, "Grey Gardens" winning for achievement in movies, miniseries and specials and "The Alzheimer's Project" taking the prize for achievement in news and information.
CBS' "The Big Bang Theory," shut out for a comedy series Emmy nomination this year, was given top comedy program honors and its star, Jim Parsons, the nod for individual achievement in comedy.
The critics agreed with TV academy voters in honoring AMC's "Mad Men," with the series winning for top drama, and AMC's "Breaking Bad" star Bryan Cranston, who took the prize for individual achievement in drama.
In addition, Betty White was given a career achievement award.
The TCA marked its 25th anniversary with an awards show at the Langham, Huntington Hotel & Spa in Pasadena that was introduced by Chelsea Handler, host of E!'s "Chelsea Lately."
The nods were handed out during the group's semiannual press tour, which has undergone a difficult transformation as print publications cut staff and travel expenses. Nearly as many reporters are attending this year's tour as attended last summer's, though, with fewer out-of-town publications offset by more local outlets and bloggers.
Here's the full list of 2009 TCA Award recipients:
Program of the Year: "Battlestar Galactica" (Syfy)
Outstanding New Program: "True Blood" (HBO)
Outstanding Achievement In Drama: "Mad Men" (AMC)
Outstanding Achievement In Comedy: "The Big Bang Theory" (CBS)
Outstanding Achievement In News & Information: "The Alzheimer's Project" (HBO)
Outstanding Achievement In Children's Programming: "Yo Gabba Gabba" (Nickelodeon)
Outstanding Achievement In Movies, Mini-Series & Specials: "Grey Gardens" (HBO)
Individual Achievement In Comedy: Jim Parsons, "The Big Bang Theory" (CBS)
Individual Achievement In Drama: Bryan Cranston, "Breaking Bad" (AMC)
Heritage Award: "ER" (NBC)
Career Achievement: Betty White
– Nielsen Business Media