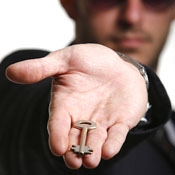 Having a cohesive image is something that is overlooked by many actors in their marketing materials. Note that the communications of the biggest companies in the world have a strong image. You recognize the Pepsi and Coca-Cola logos because these entities have built what is called a strong brand identity. As you are a business commodity, you should strive to do the same thing.
You may send post cards every month or so, but if these mailings look wildly different from one another, it can be easy for them to blend into the piles of mail received daily by industry professionals. However, if your materials have a design through-line, they will begin to make more of an impact as they become familiar to the viewer.
A great way to start building your brand is to choose a couple of complementary colors and fonts. If you have a website, your design should be consistent with this look, and your mailing materials should reflect it as well. Also use these fonts on your headshots and résumés, because using several different typefaces can look sloppy.
As for designing your own post cards: Even with the most rudimentary design skills, you can uniquely present yourself by putting more than one shot on your post card or adding information about your current acting coups. Often, designing and submitting your own post card to a printer will result in a product that's more individualized and less expensive than having someone else design it.
Another aspect of your positioning might be a tag line -- an identifying motto. In an industry where people are looking to cast "types," having a one-sentence way of describing yourself can be invaluable. You may think your vast range precludes any easy description, but this can confuse casting directors and agents. They want to know how to sell you, and knowing how to sell yourself will help your cause. It may feel limiting to call yourself only "the Everyman," "the funny bimbo," or "the geek," but it's better to identify yourself with something you are good at than be lost in the shuffle as a person who can't be categorized.
It is often hammered home that acting isn't about only the art but the business as well. Run your business the same way any Fortune 500 company is run. Creating your own brand will make you look smart and organized, but most important, it can make you stand out in the crowd.
Jaime Andrews can be reached at email@jaimeandrews.com.