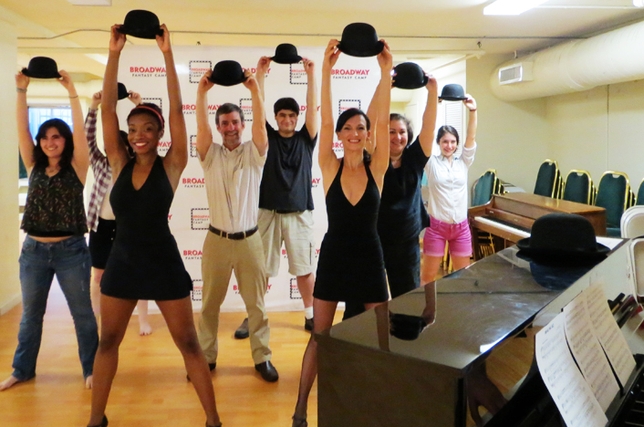 How would you like to perform on Broadway without having to audition? Broadway Fantasy Camp could be your opportunity.
On Saturday, a group of theater lovers will participate in "All Day Broadway: Mamma Mia! Session," a Broadway Fantasy Camp event that will show civilians what it's like to rehearse and perform as a Broadway actor in "Mamma Mia!" They'll sing the show's classic songs, become "Dancing Queens" with fun choreography, and even get to rehearse in a real-life Broadway rehearsal studio. They'll also get to meet with three "Mamma Mia!" cast-members: Judy McLane (Donna Sheridan), Carey Anderson (Sophie Sheridan), and Bryan Scott Johnson (Father Alexandrios), as well as the show's musical director, Martyn Axe.
Broadway Fantasy Camp producer Lauren Class Schneider said that musicals like "Mamma Mia!," that are fun, long-running, and popular among the general public, always make for great Fantasy Camp sessions.
"It becomes extraordinary for a civilian to be able to be immersed at that level," said Schneider, "They're different than the rest of us—they're extraordinary! And anybody who has the kind of talent to be on a Broadway stage is an extraordinary talent for us to be able to share."
Tomorrow's participants will receive most of their coaching from the talented Broadway Fantasy Camp staff, who all have experience working on Broadway.
"They're bringing tools of the trade to the room," said Schneider. "It's everything from warm-ups to ways to phrase a song, and it's the type of experience that you're not going to get outside of the Broadway arena."
When rehearsals are finished, Broadway Fantasy campers will present a customized, "Mamma-Mia!"-inspired performance to an audience of their family members and friends.
Additionally, as with many Broadway Fantasy Camp Sessions, participants in the "Mamma Mia!" session will get to experiment with costumes, and even have professional headshots taken.
"While we know in reality it's a good two and a half or three hour long process when you're an actor and you're going to work with a photographer to have your headshots taken, in this case we accelerate everything – you know, five minutes with the headshot photographer," Schneider said, "But they give you a flavor of it—you know, dropping your chin and moving your shoulder—things that don't happen in snapshots around somebody's birthday party table."
And after the long day of singing and dancing in the key of ABBA, Broadway Fantasy campers will get to sit back and relax in VIP seats for the evening's "Mamma Mia" performance. They'll also get to meet with the cast and have autographs signed at a post-show champagne reception at Sardi's, the famous theatergoers' restaurant nearby.
Overall, Schneider said that Broadway Fantasy Camp sessions are always positive experiences for their participants. Many have always dreamed, deep down, of pursuing theater, but never chose it as a career path.
"It allows a person who might have considered this as a career, but then in college woke up and decided to major in something that might have been more practical, to tap into that ignored actor in them, and really participate in a way that's all about fun, passion, and pure pleasure and joy, without any pressure," Schneider said, "So it's like the pleasure without the pressure. They never have to go through an audition. They sign up and they're already cast."
Spots for tomorrow's "Mamma Mia!" session are already full, but keep an eye out for Broadway Fantasy Camp's next all-day public session in Chicago in March 2013. Want to get involved sooner? Broadway Fantasy Camp also offers private sessions for everything from office teambuilding to bachelorette parties. For more information, visit www.broadwayfancamp.com.