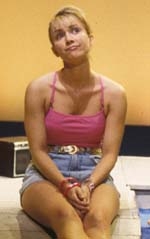 "When I win the frisbee finals, I will be king of the beach!"
The sun-kissed "Beach Radio" supposedly takes place on the Jersey shore in 1989, but in attitude, character and setting, this boucy, silly musical by Drey Sheppard (book, lyrics) and Gerard Kenny (music) seems more aligned with the naive innocence of the early '60s Funicello/Avalon pictures than anything taking place during the first year of Bush the Elder.
Revolving around six high schoolers who struggle with life and love in the summer after graduation, "Beach Radio" focuses primarily on straight-arrow Matt (a terrific Doug Kreeger) and his 'last NJ virgin' girlfriend Angie (Meredith McKasland). Of course, he wants to "do it" and she doesn't, so naturally they break up and fall into the arms of others (Jonathan Todd Ross, Nicole Martone). Meanwhile, best friends Nicole (ebulliently played by Ann Hu) and Culley (Noah Weisberg) are confronted with life changes as Culley is encouraged by new boyfriend Delos (a strong Meyer deLeeuw) to move to NYC, but not before getting his parents to accept his homosexuality. Loosely tying all this together are frequent calls to a local radio sex therapist (Rosemary McNamara).
Predictably it all works out, but not before we're given a few good songs and a number of rough ones. "Beach Radio" is listed as a work in progress, and it certainly is, but it has all the elements for a fine show -- if the creators can pare away a few of the beach-movie cliches and focus on the interesting subplots that, in the end, upstage the main story.
Director/choreographer Larry Fuller keeps things moving at a good pace, and the young cast is uniformly good. The chemistry between Kreeger and McKasland is particularly strong. Highlights include a terrific duet between Hu and Weisberg on "Tell Me You Understand"; deLeeuw's strong rendition of "Back Home"; and the catchy opener for Act II, "At the Beach." Ray Klausen's set, like something out of "Beach Blanket Bingo," looks great, with terrific lighting by Richard Winkler.