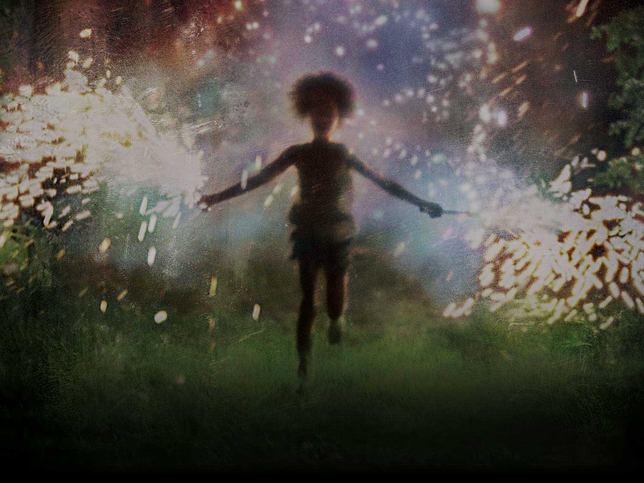 Anyone who has seen the indie hit "Beasts of the Southern Wild" would be hard-pressed to think of anyone other then 9-year-old Quvenzhane Wallis. Wallis plays the lead role of Hushpuppy, the adventurous heroine of Benh Zeitlin's film, who faces down mythical beasts called aurochs and melting ice caps threatening to flood her New Orleans neighborhood. Already on the short list of many critics for an Academy Award nomination, A.O. Scott of the New York Times praised her as "an untrained sprite who holds the camera's attention with a charismatic poise that might make grown-up movie stars weep in envy." Equal praise has been heaped on her co-star Dwight Henry, who plays Hushpuppy's ill father. Yet due to a ruling by SAG-AFTRA, the actors will not be eligible for SAG Awards, often considered a precursor to Oscar gold.
The film did not meet the terms of SAG-AFTRA's low-budget feature agreement, which requires professional actors to be used in a film. Both Wallis and Henry were newcomers, having no professional experience. Zeitlin has no regrets, however, telling The Hollywood Reporter, "Against all logic and planning, two incredible first-time actors won the lead roles in 'Beasts.' I'm positive they both have long and amazing acting careers in front of them."
The ruling is unfortunate on many levels. First, actors, who vote for the SAG Awards, want to believe more than anyone else that when it comes to landing a role, the best person should get the part. And that's what happened here—two newcomers beat out others for roles based on nothing but their talent. Besides, wasn't Hollywood founded on the dream that a complete unknown can land a role in a movie that goes on to become a huge hit and wins them accolades?
And rules are nebulous things. Oscar winner Jon Voight resigned from SAG in 2003, opting to go "financial core" so that he could work on a non-SAG film. And yet, he was nominated for a SAG Award in 2005 for the TV movie "The Five People You Meet in Heaven." He even took out a letter in Variety explaining why he could not attend the awards ceremony that year, accusing SAG of using "scare tactics" to shut down his friend's film. If a non-SAG member who openly disdains the organization can still be granted a nomination, why not two newcomers?
A SAG nomination doesn't always guarantee an Oscar nod—last year, Rooney Mara, Gary Oldman, and Max Von Sydow all earned Academy Award nominations despite being shut out by the SAG Awards. But there is no doubt that every bit of publicity and attention is helpful for a small movie like "Beasts." As it turns out, Hushpuppy's biggest challenges might not be melting ice caps and mystical aurochs, but union bureaucracy.
UPDATE: SAG-AFTRA representatives have reached out to multiple media outlets, including Backstage, to refute what the union characterizes as erroneous information being circulated in regard to SAG Award eligibility for "Beasts of the Southern Wild," which was first reported on by The Hollywood Reporter. The union contends that the film is ineligible not because the child actors in the film were non-union non-professionals, but because the film's producers were not signatories to a SAG-AFTRA contract. The union provided the following written statements to Backstage:
"The idea that the picture is ineligible because the children were not professional performers is bizarre. There is nothing in the contract that prohibits a producer from hiring a non-union member or non-professional performer. In fact, that's the main way in which performers qualify for membership. There's no limitation on who a producer can use. A signatory producer simply fills out a form."
Ray Rodriguez, Assistant National Executive Director for Contracts, SAG-AFTRA

"We're baffled at the fact that the producers of 'Beasts of the Southern Wild' failed to sign a SAG-AFTRA agreement as every other important film released this year did and which they can do as well. We would love for the performers in this film to compete for SAG Awards. Celebrating such performances is what we're all about."
Pamela Greenwalt, SAG-AFTRA spokesperson

"'Beast of the Southern Wild' is currently ineligible for SAG Awards nominations consideration as it does not meet the requirements stated in Section One of our rules and regulations which states: 'Motion pictures and television or cable productions made within SAG-AFTRA's jurisdiction must be signatory to a Screen Actors Guild ("SAG") or American Federation of Television and Radio Artists ("AFTRA"), or a SAG-AFTRA collective bargaining agreement.' The producers have until October 25 to bring the film under compliance to make the actors eligible for consideration. It is their choice whether or not to do so. We hope they do."
Kathy Connell, Executive Producer, SAG Awards