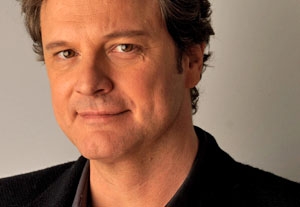 If it seems like Colin Firth was attempting to break away from the romantic image of Mr. Darcy of "Pride and Prejudice"and his modern-day namesake in the two "Bridget Jones" films with his heartbreaking portrayal of the lonely English professor in last year's "A Single Man," he goes even further in "The King's Speech," in which he plays to perfection the future King George VI of England. Firth amazingly re-creates the crippling stutter of the shy prince who assumes the throne after his brother abdicates in order to marry an American divorcee. Industry buzz has it that Firth will reap a bumper crop of award nominations this season. Given the winning track record of actors playing disabled characters, he'll have an excellent shot at collecting some of the major acting prizes as well.
When asked if "The King's Speech" and "A Single Man" were conscious choices to depart from the realm of romantic comedy, the tall, handsome Briton responds, "I've never felt a need to get away from anything. Romantic comedies were a brief phase for me. I remember reaching 35 and wondering why no one had ever cast me in a romantic comedy. That's quite an advanced age to reach and think, 'That is probably never going to come my way.' So I spent a number of years where they suddenly became what kept me going in the business. I love making films and, funnily enough, having thought I'd never get into a comedy, they became the thing I became most associated with. They kept me employed. I liked some of them enormously. I do like people being entertained. They weren't the kind of films I'd necessarily go and see, but I remember thinking, 'If I stay in the game, something that really interests me will eventually come along.' "
His current project definitely falls into that category. "The story seemed to be full of possibilities," he says. "It was a lesser-known aspect of a well-known story, which always has a certain appeal, and the fact that Geoffrey Rush and Tom Hooper were attached certainly had an appeal." Rush, who also serves as executive producer, co-stars as Lionel Logue, the unconventional Australian speech therapist who cures the future king of his stammer. Hooper came on board to direct, after helming similar historical projects including the HBO miniseries "Elizabeth I" and "John Adams." Says Firth of Hooper, "He's as bright and as rigorous in his approach to the work as anyone I've ever worked with. There was never any sense that he was going to leave anything unexpected or let anything that was banal or mediocre through the net."
Talking Through
To research the role, Firth read many biographies and spoke with the screenwriter, David Seidler, who stammered as a child. "He was one of the most helpful and eloquent people I could talk to," Firth says. In addition, the actor's sister, a speech therapist, provided expert knowledge and offered typical exercises that would have been in vogue during the period (late 1930s) for Firth and Rush to perform.  
Firth didn't want to make his performance an imitation of a public figure but instead sought to emphasize the future king's struggle with expressing himself. The stakes for achieving that goal were particularly high because radio was a relatively new medium, bringing the voices of the royal family into every British household. In addition, Hitler was rising in power and the entire European continent was on the brink of war. Though the monarch holds no political power, a speechless sovereign would have been disastrous for English morale. The action climaxes in the speech the newly crowned King George gives to an anxious nation. "I didn't attempt to mimic him," explains Firth. "But I did find the cadences of his speech patterns extremely useful; they were informative, if you like. Rather than something to study to imitate, I realized I was listening to a man negotiating something. I noticed a pattern of how many syllables he would speak before he took a pause. In that particular speech, 'In this grave… hour… perhaps the most fateful in our history,' a lot of those pauses are not stammering pauses. I think they are just him pacing himself so that he can manage it and he won't trip. That was very revealing, because there was such an extraordinary level of application to just get through a sentence."
Some of the greater challenges were including humor—a vital element of Seidler's screenplay—and avoiding the pitfall of pity. "There were so many different ways in which challenges were presented," says Firth. "It was challenging when you knew that there was humor and humor requires a certain pace and timing, and yet you have to play someone with a stammer. That wasn't always easy to negotiate. That speech at the very end, it's a long one, trying to pace it and give it the kind of momentum and accumulation; I didn't find that easy. I didn't want it to get boring. I wanted it to have whatever is required for rhetoric to be compelling. I was afraid that self-pity might be an issue. We do have to hear something about the history of this man's life and why he's damaged. To hear that from the character himself can sometimes smack of 'poor me.' I wanted to be sure that was not who he was. It had to be judged in a way that there was a certain amount of humor or irony or steel—whatever it is that means he's not wallowing in it."
The resultant performance goes much deeper than a stiff historical re-creation. Firth's King George VI—or Bertie, as he is known to his family—is a complex man dealing not only with repressive restrictions on his speech but also psychological scars inflicted by his distant parents and an abusive nanny. When he finally conquers his affliction and strongly delivers a moving address to his subjects, the triumph is palpable.    
OUTTAKES
-On drawing inspiration from younger actors: "I feel I have learned more and benefited more, in terms of watching people, from the young actors I work with than anybody else. It's been an interesting and pleasant surprise in the aging process to find that suddenly my inspiration is coming from people who are a generation younger than me."
-Named best actor by the Washington DC Area Film Critics Association and nominated for a British Independent Film Award for his role in "The King's Speech."