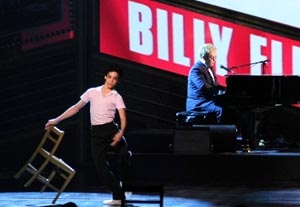 "Billy Elliot," the tale of a young boy rising from the ashes of a hardscrabble coal-mining town to soar as a ballet dancer, won 10 Tony Awards Sunday night, including best musical, providing the perfect punctuation mark to a Broadway season noted for defying expectations and overcoming arduous circumstances.
"We opened during a difficult time, in November," said Elton John, who wrote the show's music. "But it's a story of winners and survivors."
That was also the story of Broadway in 2008-09. Faced with the worst economic downturn in eight decades, the nation's home office for theater managed to earn a record $943 million in ticket sales and find enough investors to stage 43 productions, the most in a quarter century.
Big blockbuster musicals such as "Billy Elliot" played a major role in the success, as did star-studded plays such as Yasmina Reza's "God of Carnage," which earned the award for best play and two other Tonys—for best actress (Marcia Gay Harden) and best direction (Matthew Warchus). In addition to Harden, the play featured Jeff Daniels, Hope Davis, and James Gandolfini, who were also nominated for the top acting awards.
Another unlikely victor was "Hair," which won for best revival of a musical. In December, its producers had less than half of its $6.5 million capitalization. Through the intercession of Jeffrey Richards and Jerry Frankel, Broadway heavyweights who produced six shows this season, it managed to open. It has received strong critical praise and is doing well at the box office.
"We were trying to raise the money at the point that the economy was falling apart," said Andrew D. Hamingson, one of the producers. "We called Jeff and Jerry... and asked them if they wanted to partner with us. It was a resounding yes. ... It was a difficult time, and we got through it."
"The Norman Conquests," which won for best revival of a play, also was no sure thing. "It's really, really hard to raise money in this climate for a trilogy of plays," said Sonia Friedman, "particularly ones that star six British actors who aren't television or film stars."
If triumph in the face of adversity is the theme for "Billy Elliot," there was also an air of inevitability to its Tony victory. It earned a record-tying 15 nominations and was the consensus favorite before the ceremony. Still, there was no guarantee it would be as well received on Broadway as it has been.
"Bringing a musical to Broadway [from England] is like bringing coal to Newcastle, which is where I come from," said Lee Hall, who won the Tony for best book and who wrote the screenplay for the film upon which the show is based. "It's what you [Americans] do best. To be received like this is kind of fantastic."
In addition to best musical, "Billy" won for best actor, which was shared by the three boys who played the title character: David Alvarez, Trent Kowalik, and Kiril Kulish--the first time in Tony history the award has been so split. Other trophies were awarded to the show for best featured actor (Gregory Jbara); best direction (Stephen Daldry, who also directed the film); choreography (Peter Darling); and five others for design.
The Tony for best actress in a musical went to Alice Ripley in "Next to Normal," about a mother with bipolar disorder. The show also played a role in the night's only upset--winning the award for best score, which went to Tom Kitt (music) and Brian Yorkey (lyrics). Best featured actress in a musical went to Karen Olivio for her turn as Anita in "West Side Story."
"Billy Elliot" could be poised for greater stage success (a national tour is likely) and it could return to its original incarnation on film, just as recent Tony winners "The Producers" and "Hairspray" did. Whether "Billy" can also run on Broadway for at least six years is another matter. It will depend on the producers' ability to find multiple sets of three young actors to share the titular role.
The victory-in-spite-of-the-odds theme coursed throughout the evening. Early on, Angela Lansbury, 83, won her fifth Tony (best featured actress in a play) for her turn as Madame Arcadi in the revival of Noel Coward's "Blithe Spirit." With the trophy, she tied Julie Harris for the record for most acting awards.
"Who would have thought? Who knew? Who knew that this time in my life I should be presented with this award?" an increduluous Lansbury asked in her acceptance speech. "I can't believe I'm standing here. ... This is the greatest gift in my old age that I could possibly imagine. Thank you for having me back."
Roger Robinson earned his first Tony, for his turn as Bynum in "Joe Turner's Come and Gone," the second chapter of August Wilson's 10-play cycle on the African-American experience in the 20th century. Among the many he thanked was his mother, still alive at 98, "who raised seven children singlehandedly and encouraged me that I could do anything in this world."
Later, in talking with the media, Robinson noted the irony of "Joe Turner" playing at the Belasco Theatre, Broadway's second-oldest venue, which still has a separate, outside entrance for the balcony--a painful reminder of the days when African Americans were prevented from sitting in the orchestra. On May 30, among those sitting in the prime seats were President Obama and his wife, Michelle. "August Wilson would have appreciated that irony also," Robinson said. "Only in America could that happen."
Among the funniest moments of the ceremony came when host Neil Patrick Harris tweaked Jeremy Piven, the star of HBO's "Entourage," who left a revival of "Speed-the-Plow" after two months due to an alleged bout of mercury poisoning. Before the award for best actor in a play was presented, Harris ate some sushi with chopsticks and said, "This gives me so much energy. I feel as if I could eat it every day and do show after show after show."
Geoffrey Rush won the best actor/play award for his role as King Berenger in Ionesco's "Exit the King." In his acceptance speech, Rush sustained Harris' humorous note, holding a lighter aloft and saying, "Thank you, Manhattan audiences, for proving that French existential absurdist tragicomedy rocks."