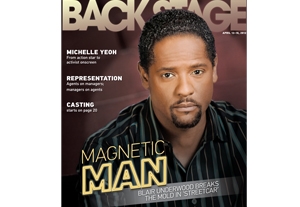 Check out the latest Back Stage for our cover story with newly minted Broadway leading man Blair Underwood, making his Main Stem debut in "A Streetcar Named Desire." Plus, we speak with actor Michelle Yeoh and collect great advice from an agent and a manager in what to look for in representation—and how to get the attention of a rep. And for anyone looking to hone their skills in an unforgettable setting, check out our articles about how to be cast in theme park and cruise ship shows!
Click here to subscribe to Back Stage!
For more Back Stage stories, pick up our issue on newsstands Thursday. And check BackStage.com for more features and reviews, posted daily.